Navigating the salary cap is one of the more important tasks for any GM. Teams that can avert total cap chaos by walking the tightrope of inking players to deals that match their value (or compensate for future value without breaking the bank) remain successful. Those that don't see struggles and front office changes.
PHR will look at every NHL team and give a thorough look at their cap situation heading into the 2019-20 season. This will focus more on those players who are integral parts of the roster versus those who may find themselves shuttling between the AHL and NHL. All cap figures are courtesy of CapFriendly.
Los Angeles Kings
Current Cap Hit: $72,759,394 (under the $81.5MM Upper Limit)
Entry-Level Contracts
F Nikolai Prokhorkin (one year, $925K)
F Blake Lizotte (two years, $925K)
F Carl Grundstrom (one year, $925K)
F Rasmus Kupari (three years, $894K)
F Gabriel Vilardi (three years, $894K)
D Kale Clague (two years, $762K)
F Austin Wagner (one year, $759K)
D Sean Walker (one year, $745K)
Potential Bonuses
Prokhorkin: $850K
Lizotte: $850K
Vilardi: $500K
Wagner: $133K
Clague: $133K
With the Kings rebuild in full swing, Los Angeles will be giving plenty of opportunities to their younger players to break out. The team finally was able to convince Prokhorkin to come over from the KHL this offseason. The fourth round pick from 2012 has scored 16 or more goals in four of the past six seasons, including career highs in goals (20) and points (41). The question is whether the 25-year-old can contribute at the NHL level, although the Kings will give him every chance to prove himself. Los Angeles also has high hopes for the 5-foot-9 Lizotte, who the team signed as an undrafted free agent in April out of St. Cloud State where he was one of college's most offensively skilled players scoring 42 points in 37 games last season. The Kings also have high hopes for Grunstrom, who the team acquired from Toronto in the Jake Muzzin deal. In a brief audition of 15 games with the Kings, the 21-year-old tallied five goals and could prove to be a valuable addition.
The team might also get some help from some of their most recent top picks as Kupari, the team's 2018 first-round pick, is expected to attend training camp in hopes of earning a spot on the Kings' opening night roster. The 19-year-old had a breakout season in the Liiga last year, posting 12 goals and 33 points in 43 games. The team still has high hopes for Vilardi, the team's top pick in 2017, who has missed most of two season with a back injury. With no updates on his status, there are many concerns whether he will ever be healthy enough to be a star in the league. However, if he can prove himself healthy, he could immediately vault himself into a top-six role.
With few veteran options on defense, the team has openings for a couple of their young prospects, including Clague, who spent last season in the AHL and could challenge for a spot this year. Walker had some limited success in 39 games last year, but will have to hold off a number of defensemen to retain his spot.
One Year Remaining, Non-Entry-Level
F Tyler Toffoli ($4.6MM, UFA)
D Derek Forbort ($2.53MM, UFA)
F Trevor Lewis ($2MM, UFA)
F Kyle Clifford ($1.6MM, UFA)
F Sheldon Rempal ($874K, RFA)
D Paul Ladue ($825K, UFA)
D Joakim Ryan ($725K, UFA)
F Mario Kempe ($700K, UFA)
G Jack Campbell ($675K, UFA)
D Kurtis MacDermid ($675K, RFA)
Toffoli looked to be on a course to have a big career after a 31-goal season back in 2015-16. However, he hasn't come that close to equaling that mark since then. He followed that season up with 16 goals, followed by 24 in 2017-18 and then plummeted to just 13 goals last season, his lowest total since his rookie campaign. With one year remaining, the team may be looking to trade off the 27-year-old at the trade deadline as he might be better off with a change of scenery. However, the Kings hope to get him off on the right foot in 2019-20 to increase his trade value. Lewis could also be a trade candidate. The 32-year-old dealt with injuries and appeared in just 44 games last season, but if the veteran could bounce back, he could be a solid trade candidate for depth.
While not an offensive defenseman, Forbort has suddenly become a veteran on a young blueline. The 27-year-old has averaged more than 20 minutes of ice time in three straight seasons and is considered to be an important part of the team's top four. However, the team will have to decide whether he is worthy of a long-term deal as he will be hitting unrestricted free agency for the first time next summer. Perhaps the bargain of the group is goaltender Jack Campbell, who had a breakout season last year when he had to fill in because of injuries. Campbell, who was once the 11th-overall pick back in 2010, looks to have finally figured things out in net, finishing the season with a 2.30 GAA and a .928 save percentage in 31 appearances and could be interesting to watch as the trade deadline nears.
Two Years Remaining
F Ilya Kovalchuk ($6.25MM, UFA)
D Alec Martinez ($4MM, UFA)
F Alex Iafallo ($2.43MM, UFA)
D Daniel Brickley ($700K, RFA)
D Matt Roy ($700K, RFA)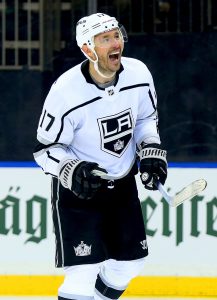 The team was the highest bidder on Kovalchuk during last year's offseason as they offered the veteran scorer a three-year deal. Unfortunatley, that deal doesn't look to have worked out as the veteran struggled early and then dealt with injuries. He finished the season with 16 goals and 32 points, but that was way below the production that the Kings had hoped for when they opted to give him a $6.25MM per year deal. The veteran clashed with coaches and often found himself on the bottom-six. Kovalchuk is hoping to rebound as the Kings failed to find a taker this offseason and can only hope that the 36-year-old still has some gas left in the tank.
The team has one of the most reliable defensemen in Martinez, who could be a prime trade candidate and was often brought up in trade talks a year ago until the team moved out Muzzin. While his offense has slipped, he has been a solid top-four defenseman with the Kings for years, finishing with just a minus-two rating, despite the team's dismal year.
Three Years Remaining
F Dustin Brown ($5.88MM, UFA)
F Jeff Carter ($5.27MM, UFA)
G Calvin Petersen ($858K, RFA)
The team still has a pair of difficult contracts that it is still paying for. Brown, who signed an eight-year, $47MM contract back in 2013, looked like a bust early on in the deal as the veteran struggled to score for a number of years, four of which where he tallied 15 goals or less. However, the 34-year-old found some of those offensive skills again with a 28-goal campaign in 2017-18 and then 22 more last season. If he can keep that up, the team might not complain as much that they are paying a 34-year-old close to $6MM per season.
After dealing with injuries for most of 2017-18, the Kings were hoping to see Carter, one of the team's leaders, return to form. However, that wasn't the case as the 34-year-old, who signed an 11-year, $58MM contract back in 2010, posted just 13 goals and 33 points. The team needs the veteran to find his game as his contract has become challenging to move. There were rumors that the Kings were working on a deal to send Carter to Arizona during the offseason, but those talks ended after the Coyotes acquired Phil Kessel instead.
Four Or More Years Remaining
D Drew Doughty ($11MM through 2026-27)
F Anze Kopitar ($10MM through 2023-24)
G Jonathan Quick ($5.8MM through 2022-23)
One contract that received quite a bit of criticism was the deal that the Kings handed to Doughty in 2018. However, that deal just kicked in now and after a disappointing campaign last season, that deal is already looking even worse. Despite averaging 26:36 of ice time, the No. 1 defender saw his offensive numbers drop and saw his defensive numbers plummet as he finished in the minus for just the third time in his career at a whopping minus-34. Now 29, the Kings will be forced to pay him until he's 37 years old, and if the veteran can't rebound this season, could be a long eight years to be paying a player who makes $11MM per year.
While it was a disastrous year throughout the lineup, Kopitar's numbers were also a disappointment after he posted a 35-goal season in 2017-18 and was among the NHL leaders in points with 92. He saw those numbers drop to just 22 goals and 60 points and the team will need to see their leader bounce back as they still have five more years of their star under contract. Quick was another player who saw his numbers drop off. The veteran, who has been the fixture to the team's defense, struggled with injuries, but even when on the ice, the 33-year-old put up a 3.38 GAA and a .888 save percentage in 46 games and didn't look anything like the superstar goaltender of the past. The team might consider moving him with some quality goalies in the system, but with those numbers the team isn't likely to give him away at the moment.
Buyouts
D Dion Phaneuf ($2.19MM in 2019-20; $4.06MM in 2020-21; $1.06MM in 2021-22 & 2022-23)
Recapture Penalty
F Mike Richards ($1.32MM in 2019-20)
Still To Sign
The team must sign Kempe, who has showed flashes of potential as a top-six player, but still finished with just 12 goals, down from the 16 he scored in 2017-18. The team brought in his brother, Mario, in hopes of adding a family element, which they hope will help impact his game on a positive level, but the team believes that Kempe could break out at some point, preferably sooner than later. With no arbitration, however, the two sides are still looking for a suitable contract between the two sides.
Best Value: Martinez
Worst Value: Doughty
Looking Ahead
This is an important year in the team's rebuilding project, but more than almost any team in the league, the Kings are just hoping to see multiple players rebound and bounce back. A good performance by any player could make it easier for the team to trade off assets at the trade deadline and move that rebuilding stage forward even quicker. However, another season of poor play could send the rebuild back a bit. The especially need to see their core players return to form as players like Kopitar and Doughty must prove that their expensive deals aren't going to be nightmares this quickly.
Photo courtesy of USA Today Sports Images.