Navigating the salary cap is one of the more important tasks for any GM. Teams that can avert total cap chaos by walking the tightrope of inking players to deals that match their value (or compensate for future value without breaking the bank) remain successful. Those that don't see struggles and front office changes.
PHR will look at every NHL team and give a thorough look at their cap situation heading into the 2019-20 season. This will focus more on those players who are integral parts of the roster versus those who may find themselves shuttling between the AHL and NHL. All cap figures are courtesy of CapFriendly.
New York Rangers
Current Cap Hit: $80,489,799 (under the $81.5MM Upper Limit)
Entry-Level Contracts
F Kaapo Kakko (three years, $925K)
F Vitali Kravtsov (three years, $925K)
D Adam Fox (three years, $925K)
G Igor Shesterkin (two years, $925K)
D Yegor Rykov (two years, $925K)
F Filip Chytil (two years, $894K)
F Lias Andersson (two years, $894K)
F Brett Howden (two years, $863K)
D Libor Hajek (two years, $833K)
G Alexandar Georgiev (one year, $792K)
Potential Bonuses:
Shesterkin: $2.85MM
Kakko: $2.65MM
Kravtsov: $850K
Fox: $850K
Andersson: $850K
Chytil: $350K
Georgiev: $133K
The Rangers are in a fantastic position to be successful for the next several years as the team hit the jackpot in the draft and with being able to sign several of their top prospects this summer. Obviously, the most attractive of the bunch will be Kakko, the team's second-overall pick in this year's draft, who is expected to jump into the Rangers' top-six immediately and is supposed to be more NHL-ready than any of the 2019 lottery picks. The 18-year-old scored 22 goals last year in the Liiga, playing alongside adults and is believed to be ready. On the other hand, the team also signed their ninth-overall pick in 2018, Vitali Kravtsov, who also spent last season playing with adults as he tallied eight goals in 50 games in the KHL. While he is expected to begin play with the Rangers next season, he may be penciled into more of a third-line role to begin with.
New York also brought in a pair of quality defenseman, which included trading for Fox, who forced a trade out of Carolina to get to the Rangers. The team then signed him to a three-year entry-level contract, prying him away from a senior season at Harvard. Fox, had a monster year as a blueliner, posting nine goals and 48 points in 33 games for the Crimson and looks ready to step into their blueline immediately. The team also managed to sign Rykov, their fifth-round pick from 2016, who has now played three full seasons in the KHL and could be ready to step in, although with the depth on their blueline, Rykov could start the season in the AHL.
On top of all that, the Rangers also managed to nab a stud goaltending prospect as well, signing Shestorkin, who many wondered whether he would ever come over to North America. At 23 years, old, Shesterkin has been a starter in the KHL for three straight years, putting up amazing numbers. Last season in 28 games, he posted a 1.11 GAA and a .953 save percentage. With the team's goaltending situation likely looking different in the next few years, Shesterkin is the most likely heir apparent on the team. One player who could stand in his way is Georgiev, who only seems to have gotten better in the last year. While his overall numbers weren't that impressive (33 games, 2.91 GAA, .914 save percentage), it did improve over the course of the year as the 23-year-old posted a 2.49 GAA and a .927 save percentage in 17 appearances after the all-star break, suggesting he could also find himself as the future.
The team also has to find out about what it has in both Chytil and Andersson. Both drafted in the first-round back in 2017, the two centers haven't proven that they are part of their future yet. Chytil showed some success last year, scoring 11 goals and 23 points in 75 games, while Andersson got into 42 games last year, but only scored two goals and six points. Both must show they are ready to take that next step or they could find themselves replaced down the road. The team also has Howden, who appeared in 66 games last season and also must prove he can take on a bigger role. He tallied six goals and 23 points last year.
One Year Remaining, Non-Entry-Level
F Chris Kreider ($4.63MM, UFA)
F Vladislav Namestnikov ($4MM, UFA)
F Ryan Strome ($3.1MM, RFA)
F Matt Beleskey ($1.9MM, UFA)
F Jesper Fast ($1.85MM, UFA)
F Greg McKegg ($750K, UFA)
F Boo Nieves ($700K, UFA)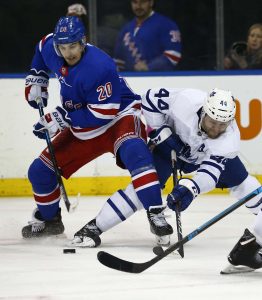 The most intriguing story that likely will go on all season is what will the Rangers do with Kreider. The 28-year-old winger posted 28 goals and 52 points last season, but after the team shelled out quite a bit of money this offseason for other key pieces to their franchise, there are a number of questions whether the team can now afford to keep Kreider, who becomes a free-agent this summer. While it's still possible that New York could trade Kreider before the season starts, it's possible the team will keep the winger to bolster their ever improving top-six and deal with his contract later or potentially move him at the trade deadline. The problem is that if the Rangers become playoff relevant next season, the team might have a difficult time moving out Kreider and then might decide to hold onto him instead, potentially losing him for nothing on July 1.
Many players will have to prove their value to get a new contract. Namestnikov, who performed well with the Lightning, has been a disappointing since coming over in the Ryan McDonagh trade. The winger scored 22 goals in 2017-18, but still struggled after the trade and then managed to get 11 goals last year. With a $4MM contract, the team could use some cap relief, but have failed to find a taker for the 26-year-old. Strome will be a restricted free agent still after next season, but if he can duplicate what he did with New York last year, he likely could have a future with the team. Despite starting the first 19 games with Edmonton with just one goal, the trade to New York got him going as he scored 18 goals in 63 games after that.
Fast, Beleskey, Nieves and McKegg all are now depth options who will have to fight to win bottom-line depth and prove their value for a potential new contract.
Two Years Remaining
G Henrik Lundqvist ($8.5MM, UFA)
D Marc Staal ($5.7MM, UFA)
D Brendan Smith ($4.35MM, UFA)
F Pavel Buchnevich ($3.25MM, RFA)
The team still has two more years remaining with Lundqvist at a high AAV, but the team has also seen the 37-year-old's play continue to decline. While his GAA has dropped consistently in the last few years, it was his save percentage that dropped to a .907 save percentage, the lowest mark of his career. Much of that could have a lot to do with the Rangers' rebuilding process this year. The team has to hope that if they can limit his starts (he played in 53 games last season) and with the improvement of both the offense and defense this season, Lundqvist should be able to bounce back. With the addition of Shesterkin and development of Georgiev, that is quite possible to pull back his starts into the 40-range.
The team is stuck with a pair of veterans in Staal and Smith. Both were discussed as potential buyout options this summer, but it was decided that neither move would have helped the team in the long-term. Staal continues to be a solid, but unspectacular blueliner and should continue in that role, while Smith will have to prove he belongs on the team and could find himself buried in the AHL as he was in the 2017-18 season due to his struggles.
The team has hopes that Buchnevich will continue to progress this season. He has gotten better each season in the league and is currently on a bridge-deal to prove his value. With 21 goals and 38 points last season, Buchnevich could be a key component of the Rangers future, especially if he can take his game up a notch next year. Ultimately, the 24-year-old is playing for a big contract in two years.
Three Years Remaining
F Mika Zibanejad ($5.35MM, UFA)
The Rangers finally got what they wanted last season when Zibanejad took that next step and proved to be the No. 1 center the team has been waiting for for years. The 26-year-old put up a career-high 30 goals, but more importantly saw his points improve from 47 points in 2017-18 to 74 points last year. With that next step taken, the Rangers have now added the firepower next to him to give the team one of the top lines in the league with Zibanejad as the centerpiece. The Rangers signed him to a five-year deal back in 2017 when he tallied just 14 goals and 37 points in 56 games, gambling on his potential, which now looks like quite a steal as the team still has three more years of a No. 1 center for a very reasonable price.
Four Or More Years Remaining
F Artemi Panarin ($11.64MM through 2025-26)
D Jacob Trouba ($8MM through 2025-26)
D Brady Skjei ($5.25MM through 2023-24)
The Rangers took the next step in their rebuilding project this summer when they spent $19.64MM AAV on two key players. They had to go higher than they wanted to for Panarin, but the Rangers inevitably sealed the deal and locked him up for the next seven years, giving them one of the best left wings in the game and another key piece to turning the franchise around. With Panarin and Zibanejad already locked into the first line, the franchise has a solid core to start the season. Who will play on the right side will be determined at training camp. The 27-year-old Panarin put up impressive numbers last season, scoring 27 goals and adding a career-high 87 points last season. The team also went out and traded for Trouba, who for years had made it clear he didn't want to be in Winnipeg. Once the Rangers acquired him, it took a little time, but they were able to extend him for seven more years. The pressure will be on Trouba, who now has everything he wants, which includes becoming the team's No. 1 defenseman. He will have to prove that he is up to it in New York.
As for Skjei, the defenseman rebounded last year with a stronger season after struggling in 2017-18. Despite seeing his offensive numbers drop from 39 points to 25 and finishing 2017-18 with a minus-27 rating from his rookie season to his sophomore campaign, the Rangers still signed Skjei to a six-year, $31.5MM deal. While his points total didn't change at all, his plus/minus did improve as he finished with just a minus-four rating last season. The hope is that his development will continue and he will remain a key top-four option for New York for years.
Buyouts
D Kevin Shattenkirk ($1.48MM in 2019-20; $6.08 in 2020-21; $1.43MM in 2021-22 & 2022-23)
D Dan Girardi ($3.61MM in 2018-19; $1.11MM from 2019-20 to 2022-23)
F Ryan Spooner ($300K through 2020-21)
Retained Salary Transactions
None
Salary Cap Recapture
None
Still To Sign
F Brendan Lemieux
D Anthony DeAngelo
The cap situation will only get more challenging. Despite the Shattenkirk buyout, the team will have to pay out $6.08MM for him next season, which will make it difficult to continue to upgrade the team, another reason why Kreider might be difficult to re-sign.
However, the team does still need to sign two younger restricted free agents in Lemieux and DeAngelo. The team likes Lemieux's irritating style of play and hope he can continue to improve in a bottom-six role with the team. DeAngelo also seems to have turned the corner and looks to be a lock on the team's defense after several years of waiting on his skills to come around. With the cap struggles it's dealing with this year, the team is still holding out hope that both players will eventually accept their qualifying offers to save the team money, while both players would prefer to get a little more.
Best Value: Zibanejad
Worst Value: Smith
Looking Ahead
The Rangers have pulled off an impressive rebuilding campaign that started in February of 2018 and in just a year in a half, the team has managed to bring in a number of top players and talent to give the team the faces of the franchise it needs to be competitive for many years into the future. With the impressive array of prospects it has managed to sign this offseason, the team has a bright future and a present that could begin as early as this year with Panarin and Trouba now under contract.
Photo courtesy of USA Today Sports Images.