Free agency is now less than a month away from opening up and there are quite a few prominent players set to hit the open market while many teams have key restricted free agents to re-sign.  San Jose should have one of the busiest off-seasons, as the team has multiple key free agents to sign or otherwise may have a completely new look next season.
Key Restricted Free Agents: F Timo Meier – With so many questions concerning their unrestricted free agents this off-season, it might be easy to forget that the team must also find a new contract from one of their young stars and Meier should get quite the pay raise this year after making just $894K last season. Meier repaid the Sharks with his best season yet, scoring a career-high 30 goals and 66 points. He also posted 15 points in 20 playoff games. With the money that many restricted free agents have been getting over the past couple of years, Meier could be in for a giant payday, regardless of whether he signs a bridge deal or the team locks him up long-term.
F Kevin Labanc – It took quite a while for Labanc to work his way into San Jose's veteran-laden lineup, but he has done quite a good job on the team's third line and could be headed for a even larger role depending on how the off-season shakes out for the Sharks. Like Meier, Labanc has had season highs in both goals (17) and points (56) and would be a likely candidate to take a bridge deal in order to prove whether he can take his game up to another level and become a top-six option for them.
Other RFAs: D Michael Brodzinski, F Rourke Chartier, D Nick DeSimone, D Cody Donaghey, D Cavan Fitzgerald, F Dylan Gambrell, F Maxim Letunov, F Jonathon Martin, F Francis Perron, D Joakim Ryan, F Alex Schoenborn, F Antti Suomela, D Kyle Wood.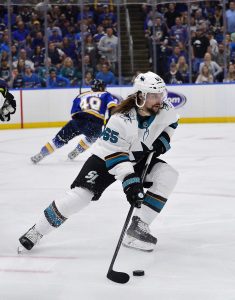 Key Unrestricted Free Agents: D Erik Karlsson – Many people expected the Sharks to lock up Karlsson to a long-term deal at the trade deadline, but when that didn't happen, there were many questions about whether he was willing to sign a deal with the Sharks at all, as well as many people who wondered whether Karlsson was worth a long-term deal considering his injury history. After all, the 29-year-old missed most of the second half of the season with a groin injury and even when he returned for the playoffs, he wasn't fully healthy as he had trouble keeping up with the quicker opposing forwards. It looks more like Karlsson intends to test the open market and head to a team he would like to play for long-term or take the best offer that he can get. Will it be San Jose though?
F Joe Pavelski – The 34-year-old captain has been a key figure for the Sharks throughout his career, but so far there have been few talks of giving the veteran a new deal. While it's hard to picture Pavelski heading elsewhere, the Sharks must factor in what a new contract for the soon-to-be 35-year-old would look like for the rest of their cap structure. Pavelski is coming off a unique 38-goal season, a number that he is unlikely to equal again, and with the difficulty of long-term deals for 35+ players, the team will likely want to avoid a multi-year deal that has a large AAV attached to it, meaning the club will have to hope that Pavelski isn't going to be asking too much.
F – Joe Thornton – It's unlikely the team is worried about money when it comes to Thornton, as the team will bring him back on a one-year deal at a reasonable cost (he signed for one year and $5MM last offseason). However, the real question is whether Thornton is ready to call it quits. Thornton will turn 40 in July and didn't make it clear during locker clean-out day that he will definitely return next season. He wants time to think about it.
Other UFAs: F Tim Clifton, F Joonas Donskoi, F Micheal Haley, D Tim Heed, F Gustav Nyquist.
Projected Cap Space: With a little over $58MM committed to 15 players for next season per CapFriendly, the Sharks should have some cap room to work with despite a number of high profile free agents this off-season. The team must try to bring back Karlsson and Pavelski, while trying to get reasonable deals in place for Meier and Labanc. While they may have to wait for a Thornton decision, they do have other important free agents they must consider for a deal as well, such as Donskoi and Nyquist. If all of these impending free agents are interested in a return, San Jose may be forced to move someone else with cap space at a premium. Regardless, the team may have to rely even more on younger players to fill holes in the bottom of their lineup next season.
Photo courtesy of USA Today Sports Images.