Free agency is now less than a month away from opening up and there are quite a few prominent players set to hit the open market while many teams have key restricted free agents to re-sign.  The Flyers have a number of both restricted and unrestricted and will likely have to use quite a bit of their cap space to lock up all of them in the coming weeks.
Key Restricted Free Agents: D Ivan Provorov — Only a year ago, Provorov's name was being bandied about as one of the top young defensemen in the league and while that hasn't necessarily changed, Provorov struggled in his third season. After tallying 17 goals in 2017-18, the 22-year-old saw those numbers drop to just seven goals this season and pick up a career-low 26 points and saw his defense take a step back. The team expects Provorov to have a bounce-back season, but have already gone out and added Matt Niskanen, who is expected to be paired with Provorov next season to give him a veteran partner in hopes of developing him into the franchise defenseman they believe he is. The one thing that has been consistent is how much the Flyers have been using him as he played a career-high 25:07 in ATOI. Provorov should get a significant raise from the $1.74MM he made last year.
F Travis Konecny — After scoring 48 goals over the past two seasons, Konecny is expected to score a big raise. The 22-year-old put up almost the exact same number two years ago and has proven to be a valuable piece in the team's top-six. On top of that, Konecny has shown himself to be an agitator on the ice (despite his smaller frame) which became even more apparent after the team traded away Wayne Simmonds at the trade deadline. Considering how young he is, the team may want to sign him to a long-term deal now in hopes that he continues to improve and get better as all signs suggest he could become a top-line scorer for the franchise. He made $1.1MM last season, but should get quite a bit more.
D Travis Sanheim — After a solid rookie season, Sanheim took his game up a notch in his first full year as he played all 82 games, averaging 19:34 minutes on the ice and nine goals and 35 points, suggesting that the first-round pick from 2014 is finally developing into the top-four blueliner that the team had hoped. You could make the case that he was the most improved player on the team last year. After making $1.26MM last season, however, the 23-year-old should get a significant raise as well.
Other RFAs: F Nicolas Aube-Kubel, F Justin Bailey, D Jacob Graves, F Ryan Hartman, F Scott Laughton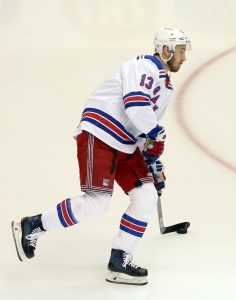 Key Unrestricted Free Agents: F Kevin Hayes — Hayes hasn't played a game for Philadelphia ever, but he might be the most significant of their free agents. The team sent Winnipeg a fifth-round pick to acquire Hayes' rights, a rare move by teams, with the hope that they could begin negotiating with Hayes now and convince him to sign a deal before other teams can begin communicating with him. The 27-year-old has been a solid centerman for two seasons now with the New York Rangers. However, when the Rangers decided he wasn't a part of the team's long-term plans, they traded him to Winnipeg. Hayes didn't have the effect on the Jets' second line that they had hoped and were happy to get something for Hayes' rights. Regardless, the Flyers need a second-line center to take over for the next couple of years until Nolan Patrick is ready to move into that role. However, with rumors that Hayes could be asking for $7MM or more, that's a steep price and so far the Flyers haven't had much luck in getting Hayes to sign early.
G Cam Talbot — There are a number of goaltenders on the team hitting unrestricted free agency, but what the team is looking for is a veteran goaltender that can help mentor young star Carter Hart. Talbot could be that top candidate as the 31-year-old was acquired at the trade deadline in hopes he could be that guy. Unfortunately he struggled in four appearances, but he remains a candidate to be brought back, especially at a heavily discounted price, although the team could just as easily find another player to fill those shoes.
Other UFAs: F Cole Bardreau, F Greg Carey, G Brian Elliott, F Byron Froese, F Tyrell Goulbourne, G Mike McKenna, G Michal Neuvirth, F Phil Varone, F Mike Vecchione
Projected Cap Space: With a little more than $49MM in commitments for next season (per CapFriendly), the team has plenty of money to make changes and moves. With a cupboard of top prospects fast approaching and a number of tradeable players, the Flyers are likely to look quite differently. However, much of the team's success this summer will be in trying to find a second-line center. The team still hopes it can be Hayes, but if not, the Flyers will have to find another candidate either through free agency or trade. Regardless, some of that $33.8MM in projected cap space will have to go to their young restricted free agents and hopefully, they can lock all of them up to long-term deals now, but there are lots of possibilities in Philadelphia this season.
Photo courtesy of USA Today Sports Images.