With the holiday season having come and gone, PHR continues its look at what teams are thankful for as the season heads towards the midway mark. There also might be a few things your team would like down the road. Let's take a look at what's gone well in the early going and what could improve in the second half for the Winnipeg Jets.  Click here for the other articles in this series. 
What are the Jets most thankful for?
In what many considered to be the most competitive division in the NHL, the Winnipeg Jets are right at the top with the Nashville Predators who are ahead by just one point. The Jets boast a 25-13-2 record and while the team has suffered numerous injuries throughout the season, the team has been in the thick of things all season and much of that is due to the team's depth and experience, especially on the blueline as multiple players, especially Dustin Byfuglien have struggled with injuries. However, the team hasn't missed a beat as they are ranked 8th in goals scored, averaging 3.33 goals per game.
Who are the Jets most thankful for?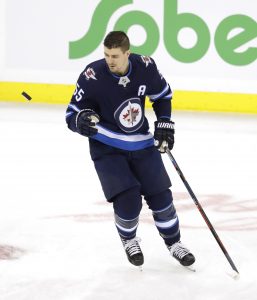 Their veterans. The team has gotten solid performances from many of their top players, but the team's top two players have been Mark Scheifele and Blake Wheeler, who have the glue to keep the team together. Scheifele has 22 goals and 27 assists and has been a constant on the team's top line, while Wheeler has just six goals, but has 44 assists on that same first line. Scheifele, who scored 23 goals last season in 60 appearances, is already one goal away from tying that mark in just 40 games. He is averaging 22:40 in ATOI this season, almost two minutes more than his career-high. Wheeler is also playing a career-high 21:26, nearly a minute better than his career-high and he is on pace to break his career high in assists.
What would the Jets be even more thankful for?
The team needs to get Connor Hellebuyck, their goaltender going if they really want to make a deep run this season. While most of the preseason chatter revolved around their backup goaltending situation, Laurent Brossoit has been nothing short of fabulous for the Jets. Hellebuyck, on the other hand, hasn't found his game yet. After being a Vezina Trophy candidate a season ago when he put up 44-11-9 record, a 2.36 GAA and a .924 save percentage, but his numbers are not nearly as impressive one year later. Through 31 appearances, Hellebuyck has 12 losses, more than he had last season with a 2.89 GAA and a .908 save percentage. The team will need more from him if they hope to make a deep run in the playoffs with teams like the Predators in their way.
What should be on the Jets' Holiday Wish List?
More depth from their other lines. The team has gotten a lot of offense from their first line and you can't complain too much about the 24 goals that Patrik Laine already has, despite having just seven assists to go with that number. However, what the team needs is more scoring. Once you get past Nikolaj Ehlers (15 goals) and Kyle Connor (13 goals), few forwards have been able to step up to add more depth scoring. The team needs more players in that middle-six to step up and start scoring goals to give the offense an even bigger spark, so that the first and second lines aren't preyed upon by opposing team's top defenses.
Photo courtesy of USA Today Sports Images.