As the holiday season approaches, PHR will take a look at what teams are thankful for as the season heads past the one-quarter mark. There also might be a few things your team would like down the road. Let's take a look at what's gone well in the early going and what could improve as the season rolls on for the Buffalo Sabres. 
What are the Sabres most thankful for?
Can Sabres' fans be any more thankful for the fact that the team, the same team that finished last in the standings one season ago, is currently in first place in the entire NHL with 34 points. That may be short lived as several teams just beneath them play before the Sabres go for their 10th straight win on Tuesday, but few could have predicted the success for second-year general manager Jason Botterill and head coach Phil Housley this season.
The Sabres shook up their entire roster from a year ago and made critical additions at every level, which included adding Jeff Skinner to their top line on offense, adding a number of solid players to their depth chart including Vladimir Sobotka, Patrik Berglund, Casey Mittelstadt, Conor Sheary and Tage Thompson, while adding 2018 first-overall pick Rasmus Dahlin (who has been as good as advertised) on defense. That doesn't include the team's success in goal. Those moves have stabilized the team's defense as they ranked sixth in the league in goals against this year as well as having one of the best penalty killing units in the league as well.
Who are the Sabres most thankful for?
While it would make sense to put Skinner and his 18 goals in this spot, we can save him for later. The tandem that has really impressed this year has been the play of the Sabres goaltenders Carter Hutton and Linus Ullmark. The team, which struggled a year ago with Robin Lehner and Chad Johnson has thrived this year. Much of that could be the improvement of the team's defense, but at the same time both goalies have been better than anyone had expected.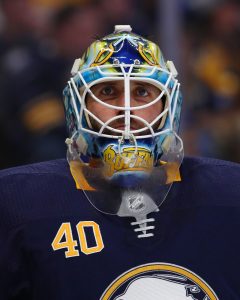 While Hutton was the top goaltender on the market this offseason, most people felt that Hutton was not capable of being a No. 1 goaltender, often comparing him to Carolina's Scott Darling. However, Hutton has been better than advertised, already netting 11 wins and posting a solid 2.53 GAA and a .919 save percentage in 18 appearances. The untested Ullmark also has looked good, although the team has been careful to not overwhelm the 25-year-old. However in five appearances, he's also posted a 2.52 GAA and an even more impressive .926 save percentage.
What would the Sabres be even more thankful for?
More production from their youth. The team is very young and is loaded with talent at the AHL level as well. And while players like Dahlin have been impressive, the team could take another step in the right direction if they can develop some of their young core even quicker. Dahlin has played well sharing No. 1 defenseman duties with Rasmus Ristolainen, but he's capable of even more. The team has gotten just four goals from Mittelstadt and would like to see him develop into a consistent presence in the top six at some point.
Others like Thompson, who has suddenly starting showing off some offense with three goals in his last four games, as well as Evan Rodrigues need to continue to develop as well to allow the team to reach peak efficiency both now and in the future. The team is also loaded with a number of prospects including defensemen Lawrence Pilut and Brendan Guhle, while they have several potential options at forward as well in C.J. Smith, Daniel O'Regan and Alexander Nylander waiting for an opportunity.
What should be on the Sabres' Holiday Wish List?
The team has made it clear they intend to work on an extension with Skinner next month, but the team really needs to make sure it can lock down the 26-year-old who leads the team in scoring this year and is only six goals away from beating his 24 goals from last season with Carolina. Skinner's deal will be the main contract the team must deal with this offseason as the team has just three unrestricted free agents (Jason Pominville and Matt Moulson being the others). Skinner's pairing with Jack Eichel has produced a powerful top line in the NHL and should only get better as the two continue to get comfortable with each other.
With the expiring contracts of Moulson and Pominville, although the team may want to attempt to retain the latter, there should be plenty of money to lock up Skinner now, so they won't have to worry about him losing him this summer.
Photo courtesy of USA Today Sports Images.