The Edmonton Oilers were one of the biggest disappointments of the 2017-18 season. Despite being led by one of the best players in the world in Connor McDavid, the team dropped 25 points in the standings and finished well out of the playoffs. Only three players on the team broke the 15-goal or 40-point thresholds, and goaltender Cam Talbot posted his worst season as a professional. Changes were obviously needed, and big things were expected from GM Peter Chiarelli, who had never been known for his hesitation in the past. Chiarelli has always been willing to trade players who he believed were problems, and acquire assets that could help his team.
In April, just after the Oilers season had come to a close, Jim Matheson of the Edmonton Journal wrote a piece outlining ten changes that could happen in order to get the team back to the playoffs in 2018-19. Among them was a common thread, that basically everyone on the roster outside of McDavid, Leon Draisaitl and Ryan Nugent-Hopkins should be considered available. Real additions also needed to be made up front, to help add some secondary scoring to the rest of the lineup. A puck-moving defenseman should be added, and something needs to be done about the left-handed imbalance of the blue line.
This summer though, almost none of those things have happened.
A change in the coaching staff was expected, and the team did bring in several new faces to help head coach Todd McLellan this season. Glen Gulutzan, Trent Yawney and Manny Viveiros were all hired as assistants, replacing several outgoing names. That should give the team a different look in terms of system, but those asked to perform will be the same. The defense corps remains relatively unchanged, other than the fact that Darnell Nurse is still without a contract and Kevin Gravel was brought in on a two-way contract. No additional puck-movers have been added, meaning as it stands the burden will once again fall on players like Nurse and Oscar Klefbom to really drive the team.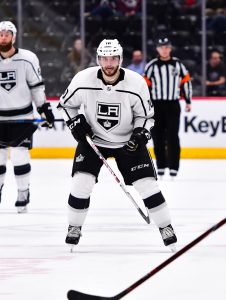 On the topic of secondary scoring, there has been little change. Tobias Rieder and Kyle Brodziak were the Oilers' big free agent additions, giving the team two more middling offensive talents to plug into the lineup. While Rieder has shown potential at times, he still only recorded 12 goals and 25 points last season. Brodziak is actually coming off one of the better offensive campaigns of his career with 10 goals and 33 points, but shouldn't be expected at age-34 to be an answer to the team's problems.
Perhaps the biggest change came in net, where the team opted to avoid signing one of the more proven names in free agency and instead brought in Mikko Koskinen from the KHL. The 30-year old goaltender had an incredible season for SKA St. Petersburg in 2017-18, but hasn't played in North America on a full-time basis since 2011. If Koskinen can push Talbot back to the level he had previously shown the Oilers will be much more competitive, but there's no guarantee they'll have any consistency in the position this year.
No instead of the big changes that were expected, the Oilers have generally sat on their hands this summer and hoped a change could come from within. Even their 10th-overall pick in the draft which they were open about potentially trading, was eventually used to pick Evan Bouchard. There's clearly a boatload of talent in the London Knights blueliner, but if Bouchard isn't able to jump right to the NHL this season he can't help a team that needs to compete immediately. If it's not Bouchard, then perhaps Jesse Puljujarvi is the key to the offseason in Edmonton. The fourth-overall pick from 2016 is now 20 years old, and needs to become an impact player this season. In 65 NHL games last year he registered 12 goals and 20 points, but those numbers need to improve drastically if the Oilers are to expect a winning season.
There is a chance that the team still makes a big splash to bring in some scoring help, but there financial situation is obviously limiting them. With just $4.98MM in cap space and Nurse still to sign, the team likely couldn't go after someone like Jeff Skinner. In order to land the talented winger from Carolina, the Hurricanes would have had to accept another contract back in order to even out the salaries. That puts the Oilers in a distinct disadvantage in trade talks, and one that won't be fixed anytime soon. None of the hefty Oilers contracts come off the books next season outside of Talbot and Koskinen, but there isn't a brilliant young goaltender ready to step into that void on an inexpensive contract. Without moving a defenseman or Milan Lucic's contract, the Oilers will remain in salary trouble as they try to add pieces in the future.
For an offseason that was expected to bring fireworks in Edmonton, and help surround McDavid with a team that could give him a legitimate chance for the Stanley Cup, things have been awfully quiet. Oilers fans will have to hope that change is coming from places they didn't expect, and someone can step up to alter their fortunes. Otherwise it could be a long season, and another wasted opportunity with one of the game's premiere talents.
Photo courtesy of USA Today Sports Images