The NHL offseason usually revolves around the salary cap. Teams struggle to fit in as much talent as possible under a fixed ceiling, and are hindered in trade negotiations because of their limited cap space. The Edmonton Oilers for instance have done little this summer despite a desperate need to return to the playoffs, strangled by their expensive long-term contracts. Few teams in the league find themselves as unencumbered as the New Jersey Devils do currently, with less than $60MM in cap commitments for this season and only two players under contract for more than three years.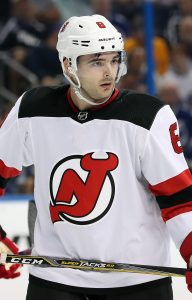 Even with the most cap space in the league the Devils haven't done much to improve their team this summer, instead deciding to take an extremely slow approach to developing a contender. Amazingly, it could pay off sooner than later. New Jersey returned to the playoffs last season on the back of a Hart Trophy-winning year from Taylor Hall and solid debuts from several of their young players. Will Butcher jumped from winning the Hobey Baker award as the best college player in the country to quarterbacking an NHL powerplay, and finished his rookie season with 44 points. That put him 20th in the league among defensemen, ahead of star players like Oliver Ekman-Larsson, Aaron Ekblad and Zach Werenski. While there are other flaws in Butcher's game, the Devils used him perfectly in a role that was best suited to take advantage of his talents.
Jesper Bratt started the year off on fire with 12 points in his first 13 games, and finished the year with a solid rookie total of 35 points. After turning 20 just a week ago, Bratt will be relied on as a key piece for years in New Jersey, despite his sixth-round draft pedigree. At the other end of the spectrum was Nico Hischier, who put up 52 points after being selected first overall and took over the team's first-line center duty by the end of the year. The teenaged Hischier looks like he could be a Selke candidate in the future, along with having big offensive potential.
While Hall has just two years remaining on his modest six-year, $36MM contract the team seems in no rush to surround him with expensive free agent talent in order to take advantage of his bargain price. Instead, seeing as they're already a playoff-caliber team, they will wait for their internal talent to blossom before eventually sitting down with Hall for a long-term extension. Hischier, Bratt, Pavel Zacha and others will mature on the roster while prospects like John Quenneville, Michael McLeod, Ty Smith and Jesper Boqvist will fight to secure jobs on it. Unlike Edmonton, who is fighting to improve the roster without any flexibility, New Jersey finds themselves in a position to wait for the right moment.
At the trade deadline last season, the Devils rewarded the solid play of their young team by adding Michael Grabner and Patrick Maroon for a playoff run. The team gave up relatively little in future assets—a pair of draft picks and two unsigned prospects—to try and make a bit more noise in the postseason. Though they wouldn't find much success against the Tampa Bay Lightning, they would gain some good experience for the future. Even Hall, who will turn 27 this November, had never reached the postseason before last year. You can bet they will be interested in doing something similar should they find themselves in a playoff hunt again this year, given their ample cap space.
The other consideration is the expected free agent class of 2019, which should include several (if not many) star-level players. GM Ray Shero already admitted that he pursued James van Riemsdyk this summer before the price got too high, but perhaps that threshold would raise when dealing with someone like Tyler Seguin or Artemi Panarin. Both are still scheduled to become unrestricted free agents next summer, along with names like Erik Karlsson, Mark Stone, Matt Duchene, Jordan Eberle, Jeff Skinner, Blake Wheeler, Joe Pavelski, Max Pacioretty, and dozens more. While many of those players will be re-signed before New Jersey ever gets a chance at them, they might find themselves in a situation where they can outbid basically any other team in the league for whoever is left.