Free agency is now a little less than a month away from opening up and there are quite a few prominent players set to hit the open market while many teams have key restricted free agents to re-sign.  Here is a breakdown of Calgary's free agent situation.
Key Restricted Free Agents: F Mark Jankowski – Heading into the 2017-18 season, there's no question that fans were frustrated with waiting for Jankowski. He had just turned 23 and was more than five years from being drafted with just a single NHL game under his belt. Sure, he'd impressed in his first full season in the AHL but after waiting so long Flames fans wanted impact, and they wanted it now.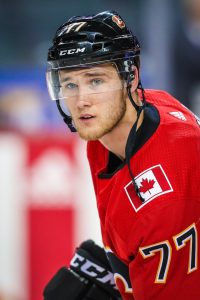 After starting in the minor leagues once again he was given a chance with the NHL club and didn't look back, recording 17 goals and 25 points in 72 games. Those numbers were inflated some by the four-goal game he had at the very end of the season, but regardless Jankowski has found a full-time roll on the club going forward. The question is how much is that role worth, as the first-round pick heads into free agency for the first time. With less than a full season of games under his belt there isn't a ton of leverage from his side, but they may not want to lock him into a long-term deal before really showing what he's capable of. It seems like a one or two-year bridge deal is in order here, limiting the risk on both sides.
G Jon Gillies/David Rittich – The Flames have to make a decision on who their backup goaltender is going to be next season, and it might as well be one of Gillies or Rittich. Both were inconsistent when given the chance to help out at the NHL level, and have Tyler Parsons and other goaltending prospects chasing them down from behind. With Mike Smith set to come back as the starter, we'll get a good indication of who will be behind him from the contracts that Gillies and Rittich receive. Both would become Group VI unrestricted free agents in the summer of 2019 if not given an NHL opportunity this year.
Other RFAs: F Nick Shore, F Garnet Hathaway, D Brett Kulak, F Hunter Shinkaruk, F Austin Carroll, F Morgan Klimchuk, F Hunter Smith, F Emile Poirier
Key Unrestricted Free Agents: F Kris Versteeg – The Flames lucked out when Versteeg decided to sign with them in the fall of 2016 despite being in training camp with the Edmonton Oilers, and were rewarded with a 37-point season. That earned the journeyman forward another contract for the most recent season worth $1.75MM, but he was unfortunately limited to just 24 games because of injury.
Even if Versteeg were willing to come back for a reduced price, it's not clear if the Flames have room for him any longer. With the emergence of young players like Jankowski, Hathaway and Curtis Lazar, there might not be any reason to re-sign the 32-year old winger. Still, depending on what happens this summer they may bring him back as a veteran option to fill out their top-nine and give them a little more secondary scoring, provided he's healthy enough to contribute.
F Matt Stajan – It's amazing that Stajan is still just 34, despite seeming to have been in the league for two decades. The veteran pivot celebrated his 1,000th game in the NHL this season, but is clearly slowing down as he enters his mid-thirties. With just 12 points in 68 games, Stajan put up the worst offensive numbers of his career and saw the ice for fewer than 11 minutes a night. Though he's still a positive veteran presence on a team that needs a bounce-back season, there likely isn't much room on the roster going forward.
Whether Stajan gets another shot elsewhere in the NHL is still very much in doubt. Unfortunately he's just slightly too young to qualify for a contract that includes performance bonuses, meaning he'll likely be looking at offers near the league minimum. If that's acceptable, perhaps he continues his career as a part-time fourth-line center for a contender. If it's the end, he'll have a long successful career to look back on even if he didn't get to the playoffs very often.
Other UFAs: F Tanner Glass, F Chris Stewart, F Marek Hrivik, D Matt Bartkowski, F Luke Gazdic, D Tyler Wotherspoon, D Cody Goloubef, D Dalton Prout
Projected Cap Space: The Flames project to have around $17MM in cap space this summer, depending on where the upper limit lands, and without any premiere restricted free agents could go after some big fish on the free agent market. They do have to worry about extensions for Sam Bennett and Matthew Tkachuk past this season, but still should have some room to play with if they want to add.
It wouldn't be surprising to see the team let all of their unrestricted free agents go, as none of them figure to be long-term contributors to the Flames success. Even if they do sign some of the minor ones, the biggest impact this summer will likely come through trade or big ticket shopping. Calgary struggled this season and doesn't have a pick in the first three rounds of the upcoming draft. Things have to change, and they have to change fast for them to see any success in the near future.
Photo courtesy of USA Today Sports Images