The Vegas Golden Knights have been an incredible story for the better part of a year. On March 6th, 2017 the team signed Reid Duke, the first player under contract with the expansion franchise and a symbol for what would transpire in the upcoming months. Duke had been a top pick by the Lethbridge Hurricanes of the WHL, fifth overall in the 2011 bantam draft. He came in with huge expectations for the junior club, only to underwhelm through his first few seasons. He was good, but not great, in those first two years with Lethbridge and fell to the sixth round in the NHL draft.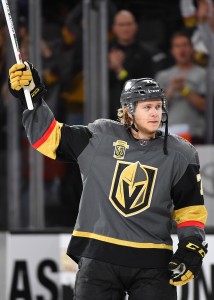 Minnesota was the team who finally took a chance on him, selecting him 169th overall. That year in junior he would be traded to the Brandon Wheat Kings, where he would again play well, but never come to an agreement on a professional contract with the Wild. Instead, he would head back to junior as an overage free agent, now adrift from the only NHL organization he'd ever been a part of. That feeling is one known by the rest of the Golden Knights squad, after they were left exposed in the expansion draft or sent to Vegas in order to protect a more valuable player.
William Karlsson may be the best example. The Columbus Blue Jackets needed to protect some of their other, more prized players—specifically Josh Anderson, who was left technically unprotected—and ended up trading first and second round picks (and the contract of David Clarkson) to do so. As GM Jarmo Kekalainen said at the time, they did it to "try to keep the core of our team intact." Karlsson, a good player who had scored 20 and 25 points in his first two NHL seasons was selected by Vegas instead.
If you've been following the NHL at all this season, it's obvious that Karlsson had more to give. He currently ranks only behind Alex Ovechkin in goals with 27, only one fewer than he had scored in his entire North American professional career (NHL and AHL combined) before this season. He sits second on the Golden Knights in points behind only Jonathan Marchessault, eight points ahead of the team's All-Star forward James Neal.
He also is a restricted free agent this summer.
The Golden Knights have already anointed Marchessault as part of the core moving forward, signing him to a six-year $30MM contract extension at the beginning of the month. The Florida Panthers cast-off is the most dangerous forward on the ice more often than not, and is proving that his 30-goal season in 2016-17 was no fluke. For Karlsson, that question still exists.
There was never an expectation that Karlsson would turn into a potential 40-goal scorer, not even when he was selected 53rd overall by the Anaheim Ducks in 2011. He'd never shown skill like that before, and though if you watch him on a nightly basis you can certainly see where it's coming from now, there is still some doubt in his ability to replicate this season in the future. Karlsson is shooting a whopping 26.7% this season, which leads Anders Lee by 4% for the league lead. He's directed just 101 shots on net, the fewest amount by anyone that has scored more than 17 goals. He trails the leaders in that category, Ovechkin and Vladimir Tarasenko, by more than 100.
Karlsson had a 7.7% shooting percentage coming into this season, and though some of the boost could be explained away by playing with some exceptional linemates, his current pace is almost impossible to maintain long-term. Whether that means it will fall back to his career average isn't a guarantee, but somewhere closer to the league average of around 9% is much more likely. That brings out the question, of what to do in terms of an extension.
The 25-year old Karlsson is earning just $1MM this season, and isn't scheduled to become an unrestricted free agent until the summer of 2020. That means any extension will be buying out two years of restricted free agency, unlike Marchessault's deal or a potential contract for Neal, who is also a UFA this summer. That helps keep it low, but there is a way to perhaps keep it even lower if the Golden Knights believe in statistical regression more than Karlsson's ability to shoot better than everyone else in the league.
Paying long-term for him at this point would likely mean handing him a very expensive extension. After all, he's among the candidates for the Rocket Richard trophy and will be a key part of the first playoff appearance (and perhaps Presidents Trophy) in franchise history. But if they were to sign him to a shorter bridge deal, while still an obvious raise on his current salary, it would force him to prove once again he can be among the league's best goal scorers before receiving out any long-term deal. The Golden Knights have to be careful not to overpay for production that isn't likely to repeat—unless of course they think it will, and that this is the new Karlsson.
The contract negotiations for Karlsson will be one of the most interesting parts of the offseason, as he also has arbitration rights. His case will be one that will show the hand of the Golden Knights in terms of traditional or analytical negotiating, and how hard they'll work to—if we can borrow a line from Karlsson's old GM—try to keep the core of their team intact.
Photo courtesy of USA Today Sports Images