In the NHL, players on entry-level contracts who are 18 or 19 years old do not burn a contract year until they play in their 10th league game. Otherwise, their contract "slides" and extends by one year. You often see this happen with players in their draft year, sent back to their respective junior or European clubs. Miro Heiskanen for example, the third-overall pick by the Dallas Stars, will see his contract extended after he returned to Finland this year*.
Around the league, there are twelve players currently on active rosters who could potentially have their contract slide by a year should they be returned to junior before playing in their 10th game. Teams will have to decide whether it is worth burning a year of their ELC to keep them around, as once returned to junior they cannot be recalled during the season except in emergency circumstances. The list is as follows:
Four Games Played
Alex DeBrincat (CHI)
Victor Mete (MTL)
Nolan Patrick (PHI)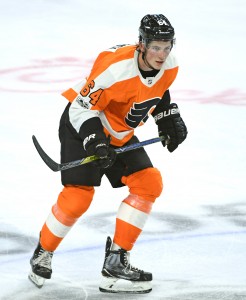 It seems like DeBrincat and Patrick have their spots locked up after quick starts to the season, and should be kept with the team for the entire year. The interesting one in this group is Mete, who has played exceptionally for the Canadiens but could still be sent back anyway.
Montreal is in a crunch on defense as David Schlemko nears a return, and if they can't find a trade partner for Mark Streit, will need to waive one of their defensemen to protect Mete. That crunch could result in them sending him back to the London Knights for a year, if the team believes they can succeed without him. That's a big assumption though, as Mete has easily looked like the best puck-moving defenseman on the roster.
Three Games Played
Jesper Bratt (NJD)
Nico Hischier (NJD)
Pierre-Luc Dubois (CBJ)
Mikhail Sergachev (TBL)
The pair of New Jersey rookies will certainly be staying after their early explosion this season. Bratt has six points in three games and an early lead in the Calder Trophy battle, while Hischier has been a key part of the Devils' new speed attack. Sending either away at this point would be a huge surprise.
Dubois made the team after an exceptional camp, but saw his ice time reduced to just 11:37 in their most recent game. Josh Anderson re-joined the squad for that contest, and it's not clear what Dubois' role will be going forward. If he's ticketed for fourth-line minutes on a regular basis, it might be worth sending him back to the QMJHL for another season to dominate and potentially even play at both the World Juniors and Olympics.
Sergachev on the other hand has several things working against him. While the young defenseman has shown that he can be an NHL contributor, there are several other options for the Lightning. In addition, conditions on the trade from Montreal would give Tampa Bay an additional second-round pick if Sergachev plays fewer than 40 games this season. While obviously the Lightning are going for a Stanley Cup and will take the best team, picks like that—even if it is likely a late second rounder—don't come around every day.
Two Games Played
Janne Kuokkanen (CAR)
Kailer Yamamoto (EDM)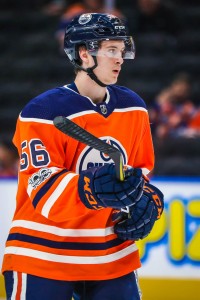 Kuokkanen is in a different situation than most, as he was drafted out of the Europe in 2016. Even though he played for London last season, he's not held to the same CHL-NHL agreement as players drafted out of the league, meaning he could play in the AHL this season if the Hurricanes so choose. That could keep him close, and let the team make a decision to burn a year only if they are in desperate need. While Kuokkanen is talented, he's played sparingly through the Hurricanes' first two games.
Yamamoto blew everyone away in his first training camp, and made the club over fellow first-round pick Jesse Puljujarvi. That doesn't seem destined to last though, as Yamamoto was a scratch in the team's second game and was given fewer than 12 minutes in their third. The diminutive forward is hard to bet against, but it seems poor management to keep him around just to play him every other game.
One Game Played
Logan Brown (OTT)
Alex Formenton (OTT)
Samuel Girard (NSH)
Neither Brown nor Formenton were expected to make the Senators' roster out of camp, and yet due to injury and their own impressive play both did. Now, it's extremely unlikely the team keeps both around but as of yesterday they weren't willing to make a decision. Pierre Dorion admitted that since Brown had already dominated the junior circuit, spending time around the NHL club—even if it isn't in games—isn't a bad thing. It does seem like both will eventually be sent back at this point.
Girard got into his first NHL game last night due to an injury to Roman Josi, and didn't look out of place. He recorded his first NHL point on a Filip Forsberg goal, and skated almost 19 minutes. He's done everything he can to prove he should be a full-time option for the Predators, and with Ryan Ellis out long-term with injury perhaps they keep him around. He's certainly ready to be a contributor, even if he does need to be sheltered somewhat.
*For more information about entry-level slides, check out CapFriendly's tracker.
Photos courtesy of USA Today Sports Images