We've discussed the draft profiles of Andrei Svechnikov and Rasmus Dahlin in the past, the two favorites to be the first-overall pick next summer in the 2018 NHL Entry Draft. Both have a real shot at going at the top, thanks to dynamic offensive abilities from their respective positions.
Svechnikov is lighting up the OHL with his power-speed combination, scoring eight goals through his first eight games. Dahlin on the other hand is starring in the Swedish professional ranks, and even scored his first Champions League goal yesterday. Improbably, his defensive game looks nearly as developed as his offense, and at this point looks like a lock to play in the NHL for a long time.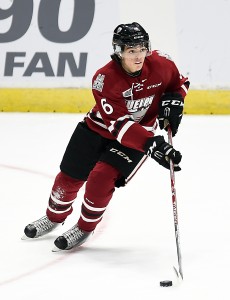 While those two dominate many of the headlines early on, there are several other candidates to push for the top spot. One of them, Ryan Merkley, was profiled by Aaron Vickers of NHL.com who spoke to several scouts and teammates. The undersized defenseman has wowed spectators and coaches for years in southern Ontario, and is already showing he might be among the best players in the OHL—at 17. It won't be surprising if Merkley leads all OHL defensemen in points this year, and he could be in for a race to the top defensive spot with Dahlin by the end of the year. Sometimes, even in the world of instant worldwide communication, the player closer to home is given a bit of a boost on draft boards. While every team will certainly have scouts attending Dahlin's games, many front offices can attend Merkley's games in person on a regular basis if they choose.
None of this is to say that Merkley is a lock for the top spot, or even the first few. While his ability to skate the puck out of trouble and distribute scoring chances for his teammates is incredible, he's still listed at just 5'11" 170-lbs (which seems generous) and will always have his size working against him. While the league is slowly moving away from lumbering giants and embracing smaller skilled players, there are still some teams who would rather take the risk on a 6'1″ Jared McIsaac or 6'2″ Bode Wilde to plug into their blueline. Both are wonderful prospects in their own right, and have distinct size advantages over Merkley.
The biggest thing to take from Vickers' profile, is how strong the 2018 draft is shaping up to be. There is a real chance a prospect like Merkley could fall to the middle of the first round, given the immense group of high-impact names that will be available. While last year had a deeper talent pool than some realize, 2018 is shaping up to be one of the best draft classes in several years, with at least a handful of players that have franchise-altering potential. Obviously many of them won't reach that potential, but their ceilings will make for an interesting draft floor—expect teams to be very active trying to get their favorite new toy.