Patrick Roy quit unexpectedly. The team has just 35 points. And Nikita Zadorov is out for the year after getting hurt in practice. The 2016-17 season has been an unmitigated disaster for the Avalanche and as the season slips away, there has to be a new blueprint for a once proud organization that once won two Stanley Cups in six seasons. Though that feels like a lifetime ago, hope isn't all lost as the Avs have several pieces in place to build around. The real problem is what route is best when it comes to rebuilding a team in shambles?
The Denver Post's Mike Chambers indicates that the Avs are in full sell mode. That's pretty obvious when Executive Vice President of Hockey Operations/General Manager Joe Sakic has been honest in his assessment of making players available. It's been widely reported that the asking price is high for anyone the Avs are willing to trade, whether it be Matt Duchene, or Gabriel Landeskog. Chambers includes Jarome Iginla, Fedor Tyutin, John Mitchell, Andreas Martinsen  Rene Bourque, and Cody Goloubef as pieces to trade off since they're all set to be unrestricted free agents.
Though they could fetch a number of draft picks and prospects, especially if Landeskog or Duchene are moved, it might be something else the Avs should look at. Especially since the return on those trades are absolutely crucial.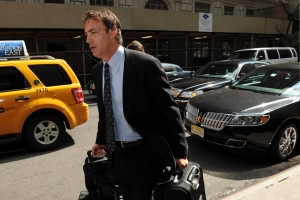 I asked about Joe Sakic's role in all of this back in December, and nearly 73% of our readers thought he should be shown the door. But is it that easy? Would firing Sakic really change a team in turmoil? If anything, perhaps Sakic goes out and instead of green lighting someone from the "glory days" when he played, grabs a knowledgeable former general manager or up and coming assistant that could help sort out the mess. Outside of opinion pieces, there hasn't been anything to suggest that Sakic is feeling heat. As one of the leaders of the organization, hiring another pair of eyes to help, whether it be in a scouting or management capacity, would help Sakic and the organization most. Especially if there is no urgency from ownership when it comes to firing him.
Aside from the 2013-14 season, the Avalanche haven't seen a lot of success since getting bounced during the 2010 playoffs. Since then, they've only returned once, and that one time was with Sakic in charge. Even if he begins selling off assets to rebuild, it takes keen eyes to pull of a successful rebuild. They take time, patience, and a lot of smarts. Look at Toronto.
Fixing the Avalanche begins with ownership taking a good hard look at what task is in front of them. Keeping Sakic works if he's surrounded with more experience. Otherwise, it's nothing more than an organization living in the past while flailing in the present, and inevitably, the future.