Navigating the salary cap is one of the more important tasks for any GM.  Teams that can avoid total cap chaos by walking the tightrope of inking players to deals that match their value (or compensate for future value without breaking the bank) remain successful.  Those that don't see struggles and front office changes.
PHR will look at every NHL team and give a thorough look at their cap situation heading into the 2023-24 season.  This will focus more on players who are regulars on the roster versus those who may find themselves shuttling between the AHL and NHL.  All cap figures are courtesy of CapFriendly.
Florida Panthers
Current Cap Hit: $83,525,001 (over the $83.5MM Upper Limit)
Entry-Level Contracts
F Anton Lundell (one year, $925K)
Potential Bonuses
Lundell: $850K
Lundell's sophomore campaign wasn't as strong as his first but he still was a key part of their secondary core, taking regular shifts on both special teams units, a trend that continued into the playoffs.  He's someone who will be a part of their plans for a long time but with who else is on an expiring deal next summer, they're probably going to be forced to look at a bridge deal that could fall in the $3.5MM range if he's able to get back to his rookie-season output.
Signed Through 2023-24, Non-Entry-Level
D Lucas Carlsson ($775K, UFA)
F Nick Cousins ($1.1MM, UFA)
D Oliver Ekman-Larsson ($2.25MM, UFA)
D Gustav Forsling ($2.67MM, UFA)
D Matt Kiersted ($762.5K, UFA)
D Dmitry Kulikov ($1MM, UFA)
F Ryan Lomberg ($800K, UFA)
F Steven Lorentz ($1.05MM, UFA)
D Josh Mahura ($925K, RFA)
D Brandon Montour ($3.5MM, UFA)
D Mike Reilly ($1MM, UFA)
F Sam Reinhart ($6.5MM, UFA)
F Kevin Stenlund ($1MM, UFA)
G Anthony Stolarz ($1.1MM, UFA)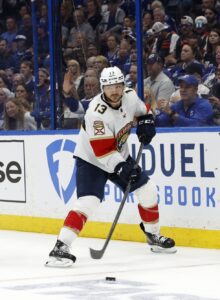 When Florida traded a first-round pick and Devon Levi to Buffalo to get Reinhart and signed him to this deal, it was a sign they were banking on him having another gear to get to offensively.  That turned out to be an accurate prediction as his last two seasons have been his best by a considerable margin and he has turned into a top-line player.  Notably, he also has spent more time down the middle since joining the Panthers which will only boost his asking price as there will be teams looking at him as a center if he gets to the open market.  At this point, an extension might fall between the $8.5MM and $9MM range and if Reinhart goes and boosts his production closer to the point per game mark, it'll go even higher from there.
Cousins has bounced around throughout his career but is a serviceable fourth liner that can move up in a pinch.  Having tested free agency a few times already, it's fair to say that his current price tag is about what his market value should be next year.  Lorentz came over in the Anthony Duclair trade and is likely to stay in a similar fourth-line role to the one he had a year ago; his next deal should also land around this price point.  The same can be said for Stenlund as well who signed with Florida this summer after playing in Winnipeg last season.  Lomberg, however, has seen his stock rise over the last couple of years and is the type of role player teams will pay up a bit more for.  Doubling his current price tag isn't out of the question next summer.
The upside had always been there with Montour with multiple teams thinking they could be the one to unlock it.  The Panthers did just that last season as he went from being a slightly above-average offensive contributor to one of the top-scoring blueliners in the NHL.  A carryover injury from the playoffs will delay the start of his season but it will be worth watching to see if he can repeat that performance.  If he can, his price tag should more than double.
Forsling has been one of the top waiver claims in recent memory as since he came over from Carolina, he has emerged as an all-around threat while he also logged top-pair minutes last season.  He isn't a true number one option but the market for a legitimate number two option has also gone up considerably.  Accordingly, he's also set to more than double his current price tag a year from now.   Ekman-Larsson was bought out by Vancouver and found a soft landing spot with Florida where he won't be counted on to play as many minutes.  If he shows well on the second pairing, he should have a better market a year from now.
Reilly was also bought out this summer after spending most of last year in the minors with Boston.  He's more of a depth option in an ideal world but with a full season, he should produce enough to command a small raise next summer.  Kulikov won't put up many points but can still log upwards of 20 minutes a night.  This contract seemed a bit low for him, especially as an early signing, but his market might not have been as favorable as it might have seemed back in July.  Mahura emerged as a regular on the third pairing last season after being claimed off waivers.  If he can maintain that spot in the lineup, he'll be due a small raise at least but arbitration eligibility could work against him if Florida needs to put a cheaper player in that spot.  Carlsson and Kiersted both spent more time last season in the minors but one of them could break camp with the team due to injuries.  Both players are likely to stay around the minimum moving forward.
Stolarz battled injuries last season but still managed to land his richest deal as the market for quality third-string options really improved this summer.  He's likely ticketed for the minors but will be a capable stand-in should injuries arise.
Signed Through 2024-25
F Sam Bennett ($4.425MM, UFA)
F Grigori Denisenko ($775K, RFA)
D Aaron Ekblad ($7.5MM, UFA)
F Carter Verhaeghe ($4.167MM, UFA)
As he did with Reinhart, GM Bill Zito saw more in Bennett than what he was providing in Calgary and swung a big trade to get him.  This one worked out well too.  Bennett isn't a top-liner but is a quality second-line power forward who can also kill penalties.  His camp might be looking at Tom Wilson's recent extension which carries an AAV of $6.5MM as a target starting point for negotiations.
Verhaeghe has been a bargain since the moment he joined Florida.  He vastly outperformed his first deal, then accepted an early extension, an understandable move considering he had been in the minors just a couple of years earlier.  He then went and scored 42 goals in the first season of this deal.  Even if he takes a step back from that, he could push for $6.5MM or more on his next contract as well.  Denisenko has primarily played in the minors but is now waiver-eligible, likely resulting in him breaking camp with the team.  For now, it's more about locking down a lineup spot than it is worrying about his next contract.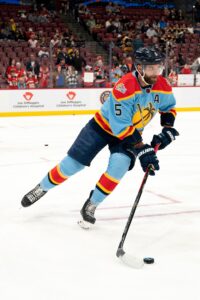 Ekblad's contract was a record-setter at the time as both sides bypassed the bridge deal in favor of a lucrative second deal.  All things considered, it has held up pretty well so far.  No, he hasn't emerged as that high-end number one defender – he doesn't produce enough to get into that territory – but this cap hit isn't anywhere near what some of those players are making.  He plays big minutes in all situations while still providing a fair amount of offense.  As a result, he's positioning himself to command another max-term agreement after this one and likely at least a small raise along the way.  He isn't flashy but Florida has gotten a good return on their first-overall selection in 2014.
Signed Through 2025-26
G Sergei Bobrovsky ($10MM, UFA)
G Spencer Knight ($4.5MM, RFA)
D Niko Mikkola ($2.5MM, UFA)
Mikkola has been more of a fifth defenseman so far and when everyone on Florida's back end is healthy, that's about as high as he'll be on the depth chart which makes the term given out here a bit surprising.  They're looking to him to help replace Radko Gudas who left for Anaheim this summer while giving them at least one dependable option signed beyond 2025.  But if he has a limited role on the third pairing, this will be a bit of an above-market contract.
Bobrovsky had a stellar first three rounds of the playoffs, playing a big role in Florida's run to the Stanley Cup Final.  However, it came on the heels of a subpar season that saw him post just a .901 SV%.  He's historically quite streaky but as the highest-paid active goalie in the league, expectations should be higher than consistently inconsistent.  That played a role in Zito handing Knight this deal early last season, a move that raised more than a few eyebrows given his lack of experience.  Now back from his stint in the Player Assistance Program, if he gets back on track and pushes for that number one role, they'll do fine with his deal.  Otherwise, they'll have two pricey netminders on their hands for not a great return.