Navigating the salary cap is one of the more important tasks for any GM.  Teams that can avoid total cap chaos by walking the tightrope of inking players to deals that match their value (or compensate for future value without breaking the bank) remain successful.  Those that don't see struggles and front office changes.
PHR will look at every NHL team and give a thorough look at their cap situation for the 2023-24 season.  This will focus more on players who are regulars on the roster versus those who may find themselves shuttling between the AHL and NHL.  All cap figures are courtesy of CapFriendly.
Vancouver Canucks
Current Cap Hit: $86,578,549 (over the $83.5MM Upper Limit)
Entry-Level Contracts
None on the active roster
Signed Through 2023-24, Non-Entry-Level
F Anthony Beauvillier ($4.15MM, UFA)
F Teddy Blueger ($1.9MM, UFA)
D Ian Cole ($3MM, UFA)
G Casey DeSmith ($1.8MM, UFA)
D Mark Friedman ($775K, UFA)
F Dakota Joshua ($825K, UFA)
D Filip Hronek ($4.4MM, RFA)
F Sam Lafferty ($1.15MM, UFA)
D Tyler Myers ($6MM, UFA)
F Elias Pettersson ($7.35MM, RFA)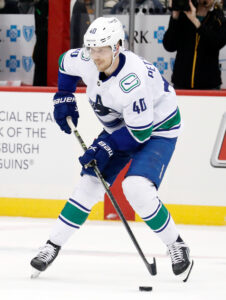 Headlines were made when discussions about an extension with Pettersson were called off by the center's camp, citing a desire to play out the season and see where things sit.  That apparently is on hold now as GM Patrik Allvin acknowledged recently that they're working on a new deal.  It's fair to say it will be a very pricey one.  After a career year last season, he's off to an even better start in 2023-24 and has been among the league leaders in scoring (at times the outright leader).  He plays a premium position and is a year away from UFA eligibility which also works in Pettersson's favor.  Heading into the year, an AAV between $10.5MM and $11MM felt like a possible landing spot.  Now, it seems likely to fall about a million higher.
Beauvillier came over as part of the Bo Horvat trade last season and did well with his new team down the stretch but has underachieved this season.  He has reached at least 18 goals in four of the last six years, however, and that type of offensive consistency will help on the open market.  A big raise doesn't seem likely but something near this on the open market could be doable.  Blueger opted for a one-year deal over the summer after splitting last season between Pittsburgh and Vegas.  As a bottom-six forward, his market shouldn't be much stronger next summer unless he's either able to hit new benchmarks offensively or is able to sustain his 56% success rate on the draw that he had down the stretch with Vegas.
Lafferty was acquired late in training camp with Toronto needing to clear salary.  When he was with Chicago, he did well in a middle-six role but was a lot quieter on the fourth line with the Maple Leafs.  Things have gone well so far with his new team which could push his AAV closer to the $2MM mark in the summer.  As for Joshua, he did quite well in his first year with Vancouver last season, his first full year of NHL action.  If he gets to the double-digit-goal mark again while bringing plenty of physicality, he could double this on the open market.
Myers was the subject of trade speculation throughout the summer but remains with Vancouver.  He's still capable of playing in the top four although his best role might be as a fifth that moves up when injuries arise.  In free agency, that's closer to a $3.5MM player.  It's worth noting that the bulk of his salary was paid in September as a signing bonus so if he was to be acquired midseason, his new team wouldn't have to pay much in the way of actual money.  Hronek was brought in from Detroit at the trade deadline, a confusing move on the surface for a team that was selling.  He has been quite productive early on so far and should be in good shape to land much more than his $5.28MM qualifying offer this summer.  Like Pettersson, he has just one year of club control remaining.  Friedman has played regular minutes since being acquired early in the year but has cleared waivers in two straight years now, suggesting that he will probably stay near the minimum moving forward.
DeSmith is another newcomer to the team after being acquired at the start of training camp.  Over the last few years, he has been a capable backup and with that market going up in recent years, a good showing this season could propel him to a deal closer to the $3MM mark next summer.
Signed Through 2024-25
F Brock Boeser ($6.65MM, UFA)
D Guillaume Brisebois ($775K, UFA)
F Phillip Di Giuseppe ($775K, UFA)
D Akito Hirose ($787.5K, RFA)
F Nils Hoglander ($1.1MM, RFA)
D Noah Juulsen ($775K, UFA)
F Andrei Kuzmenko ($5.5MM, UFA)
D Tucker Poolman ($2.5MM, UFA)
F Pius Suter ($1.6MM, UFA)
Boeser was in trade speculation last season when things weren't going too well offensively.  He stated his desire to stay and got his wish.  That has worked out quite well considering the hot start he has had.  That said, if he stays in the 25-goal range, it's hard to see this price tag going much higher; he'll need to carry this hot start to a career year to have a shot at any sort of significant raise.  Kuzmenko had a very strong first NHL season but with his track record being short, the two sides ultimately worked out a bridge extension.  If he has two more years of 70 or more points, he could push past the $7MM mark in 2025.
Suter was a late signing in free agency after a down year with Detroit.  That said, he has scored at least 14 goals in each of his first three NHL seasons and spent most of that time at center.  As long as he holds down a regular spot on the third line, they'll do well with this contract.  Meanwhile, a couple more years scoring at that rate would give Suter a much better platform to hit the open market with.  Hoglander spent most of last year in the minors but did enough before that to get a seven-figure bridge deal.  Now, it's about re-establishing himself as a regular and if he can produce in a top-nine role (he's not an ideal fourth line candidate), he could push for closer to $2MM with arbitration rights.  Di Giuseppe has largely been a journeyman, often splitting time between the NHL and AHL with several organizations but has found a home with Vancouver where he's seeing regular minutes and producing.  Given his age (30), it's unlikely a significant bump is coming his way but if he stays a regular, a one-way deal around the $1.5MM mark could be doable.
Poolman is once again on LTIR with concussion issues that have limited him to just 43 games with the Canucks over the last two seasons, only three of which came last year.  At this point, it's hard to see him playing again.  If he does try to push through it and play after this deal, his injury history will limit him to a league-minimum contract.  Hirose impressed after signing as a college free agent down the stretch, earning this deal for his efforts, one that converts to a one-way salary next season.  If he's established as a roster regular at that point (even if he's in the sixth or seventh depth role), arbitration eligibility would push him past $1MM.  As for Juulsen and Brisebois, both are depth defenders who are likely to continue to stay at or close to the minimum moving forward.
Signed Through 2025-26
G Thatcher Demko ($5MM, UFA)
F Conor Garland ($4.95MM, UFA)
F Ilya Mikheyev ($4.75MM, UFA)
D Carson Soucy ($3.25MM, UFA)
Garland has been a capable secondary scorer throughout his career but his contract was viewed as a negative with Arizona and he's now in that situation with Vancouver despite starting off rather well with them.  While his agent has been given permission to try to facilitate a move, that will be hard to do without salary retention and possibly taking a contract back.  Meanwhile, Garland will need to get back to the 50-point mark if he wants a shot at another deal like this.  Mikheyev's contract raised some eyebrows given his limited track record and injury history with Toronto.  However, when healthy, he has produced at a rate worthy of this type of contract.  If he can continue that and stay off the injury list, he could tick past the $5MM mark next time.
Soucy came over from Seattle as a pricey third pairing option.  He does well in his limited role, however, which helps to justify the price tag.  Given his playing style and the fact he'll be entering his age-32 year on his next contract though, it would be surprising to see a big raise coming his way.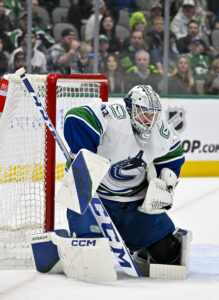 When Demko is on his game, he can be among the top goalies in the league.  We saw it a couple of years ago when Vancouver nearly pulled off the improbable comeback to make the playoffs (coming up just short) and we're seeing it early on this year.  When things are going well, this is a contract that's well below market value.  Of course, things didn't go anywhere near as well last season which was a big reason for their drop in the standings.  While the starting goalie market has largely stagnated lately with the backups getting a boost in free agency instead, Demko could help break that trend.  If he plays up to his capabilities for the rest of this contract, a long-term deal worth $7MM or more should be doable.  If it goes really well, he'll be eyeing Connor Hellebuyck's $8.5MM but his track record isn't as strong at the moment.
Signed Through 2026-27 Or Longer
D Quinn Hughes ($7.85MM through 2026-27)
F J.T. Miller ($8MM through 2029-30)
Miller looked to be a lock to be dealt last summer but then signed when few were expecting it, ultimately resulting in Horvat being moved.  It's a deal that's not expected to age all that well – few long-term deals to a player in his 30s do – but with how he produced the last two years on his old contract and early into this season on this new one, the Canucks are certainly getting good bang for their buck at the moment.
They're also getting strong value on Hughes' deal.  He has blossomed into one of the NHL's top offensive defenders while logging heavy minutes on the top pairing.  Hughes even takes some penalty killing shifts so he's not just an offense-only player.  The price tag on elite producers from the point has increased recently.  Four years from now, the cap hit percentage on current comparables (Cale Makar and Adam Fox among them) will likely push Hughes' next contract past the $10MM mark; even $11MM might not be a stretch.
Buyouts
D Oliver Ekman-Larsson ($147K in 2023-24, $2.347MM in 2024-25, $4.767MM in 2025-26 and 2026-27, $2.127MM from 2027-28 through 2030-31)
Retained Salary Transactions
None
Best Value: Pettersson
Worst Value: Myers
Looking Ahead
With Poolman likely on LTIR for the season, Vancouver isn't going to be in a position to bank in-season cap room.  On top of that, they're tight enough to the cap ceiling even with that LTIR relief that making an in-season upgrade would be hard.  However, if they can get a low-cap team to take on Myers (again, most of his salary has been paid already), that could change their short-term cap fortunes in a hurry.
Longer term, they're not in bad shape compared to what it has been.  Beauvillier and Myers coming off the books will pay for the raises to Pettersson and Hronek next summer.  They should be able to re-sign or replace at least one of Boeser and Kuzmenko the following year.  Meanwhile, Miller is the only true long-term contract on the books (for now, at least).  Accordingly, if they play their cards right, they should have a lot more flexibility than they've had recently when it comes to the salary cap.
Photos courtesy of USA Today Sports Images.