Two-time Stanley Cup champion winger Carl Hagelin announced his retirement today via an Instagram post. Now 35 years old, Hagelin missed the 2022-23 season due to severe eye and hip injuries.
"It's been an amazing ride, but it ends here," Hagelin said. "Unfortunately, my eye injury is too severe to keep playing the game I love." He told reporters at the beginning of the offseason that he hoped to return to NHL play for the 2023-24 campaign, but unfortunately, that won't be the case. His four-year, $11MM extension he'd signed with Washington in 2019 expired on July 1.
Picked in the sixth round of the 2007 NHL Draft by the New York Rangers out of Södertälje SK's junior program in Sweden, Hagelin took a somewhat unconventional path for European prospects and immediately came over to North America, embarking on a four-year collegiate career with the University of Michigan. It was undoubtedly the right choice, however – by his senior year, he was named team captain and produced over a point per game over his last two seasons.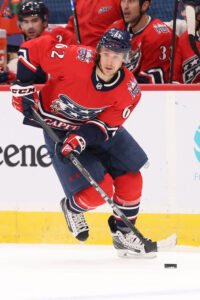 Aside from a few games in the minors in 2011-12, Hagelin made the jump to the NHL immediately from college, recording 38 points in 64 games during his rookie season with the Rangers, along with a +24 rating. That placed him fifth in Calder Trophy voting and even earned him a few votes for the Selke Trophy.
He would continue consistently producing in the 30-40 point range over his four-year tenure with the Rangers but never really built on that rookie campaign. That's not a knock on Hagelin at all, however. He was a quintessential two-way middle-six secondary scoring forward with a good amount of speed to his game. That's even more impressive in relation to his sixth-round selection, given he went on to play over 700 NHL games.
His tenure in New York ended somewhat unceremoniously. A restricted free agent at the end of 2014-15, he couldn't agree to a new deal with the Rangers and his signing rights were dealt to the Anaheim Ducks in exchange for depth forward Emerson Etem (along with some draft picks changing hands, but nothing of significance). Anaheim compensated him nicely by signing him to the richest contract of his career (four years, $16MM), but Hagelin couldn't really find his game in Southern California. He recorded just 12 points in 43 games to begin 2015-16 before Anaheim moved him to the Pittsburgh Penguins for David Perron, who was similarly underperforming in Pittsburgh.
It would turn out to be one of the most underrated transactions in Penguins history. Down the stretch, Hagelin would complete the famed third line with Nick Bonino and Phil Kessel that played such a crucial role in Pittsburgh winning their first of back-to-back Stanley Cups in 2016. Hagelin exploded for 27 points in 37 games after the trade and added 16 points in 24 playoff games en route to the championship.
Again, he couldn't quite recapture that performance the following season. While he would win another championship in 2017, he scored just two goals in 15 games during that playoff run. Fast forward to 2018-19, and Hagelin had scored only one goal and two assists through the first 16 games of the season. A move to the Los Angeles Kings in November didn't do much for him, either – he recorded just five points in 22 games there. It was near the 2018-19 deadline that the Kings moved him to Washington, where he notched 11 points in the final 20 games of the season, appearing rejuvenated and earning himself the final four-year extension.
Hagelin would wrap up his career by scoring 20 goals and 66 points throughout 187 games in a Capitals uniform, posting solid numbers for a bottom-six scoring winger. Unfortunately, it was a freak eye injury in a practice in March of 2022 that would end his career.
PHR extends our best wishes to Hagelin in his continued recovery from both injuries and congratulates him on a championship-caliber career.