Free agency is now a little more than a month away from opening up and there are quite a few prominent players set to hit the open market while many teams have key restricted free agents to re-sign.  Los Angeles has a very small group of unrestricted free agents but they have a few notable younger players in need of new contracts.  Here's a closer look at their free agent situation.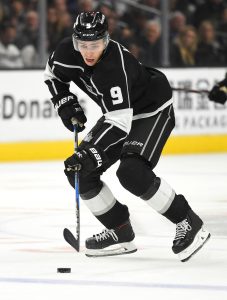 Key Restricted Free Agents: F Adrian Kempe – While Kempe saw his offensive numbers dip this past season, that's something that can be said for just about everyone on the Kings so it would be tough to hold that against him too much.  He remains well below average at the faceoff dot but made improvements in that area this past season and he is still an effective checker.  The hope that he could potentially become a top-six forward is probably unrealistic at this point but there's still enough upside for him to be a quality two-way third liner for quite a while.  Considering Kempe's inconsistency at the offensive end though, a bridge contract is a very likely outcome here, particularly since he doesn't have arbitration eligibility.
F Alex Iafallo – As far as undrafted college free agent signings go, Iafallo has been one of the better ones in recent years.  He spent a good chunk of time on the top line in 2018-19 and put up a respectable 33 points in his sophomore campaign.  It's doubtful that he's going to one day produce like a top line player but at the very least, the Kings should be able to pencil him as a capable secondary scorer for a few more seasons.  Although he's just coming off his entry-level deal, he is eligible for arbitration already.
Other RFAs: F Michael Amadio, D Daniel Brickley, F Matheson Iacopelli, F Pavel Jenys, F Brendan Leipsic, D Alex Lintuniemi, G Cal Petersen, F Sheldon Rempal, D Matt Roy, F Nikita Scherbak
Key Unrestricted Free Agents: F Jonny Brodzinski – The bad news for Brodzinski is that a shoulder injury cost him nearly the entire season and in the process, it stopped him from getting an opportunity to play a regular role for the rebuilding Kings.  The good news is that the injury prevented him from getting to the 80-game mark for his career, allowing him to qualify for Group VI unrestricted free agency.  While he hasn't been overly productive at the NHL level, he has a decent track record of success in the minors which makes him one of the more intriguing players out of this group of free agents.
F Zack Mitchell – Mitchell played in precisely zero NHL games this past season but makes the list by default as the only other unrestricted free agent on the roster.  The 26-year-old had actually played in 34 games over the previous two seasons with Minnesota and will likely once again sign a two-way deal and serve as injury insurance if a team starts to get banged up.
Other UFAs: None
Projected Cap Space: With a little over $71MM committed to 19 players for next season per CapFriendly and not many notable players in need of new contracts, the Kings should have a bit of wiggle room to work with this offseason.  However, they'll need to determine if they're better off utilizing that space on a free agent or two or if they should look to take advantage of some teams in tough against the Upper Limit and take a contract back with some additional younger assets.  Considering that they appear to have embraced the rebuilding process for the time being, that may wind up being the more optimal route.  Either way, after being right up against the cap at the start of last season, Los Angeles shouldn't be finding themselves in that situation at any point in 2019-20.
Photo courtesy of USA Today Sports Images.