Navigating the salary cap is one of the more important tasks for any GM.  Teams that can avoid total cap chaos by walking the tightrope of inking players to deals that match their value (or compensate for future value without breaking the bank) remain successful.  Those that don't see struggles and front office changes.
PHR will look at every NHL team and give a thorough look at their cap situation heading into the 2023-24 season.  This will focus more on players who are regulars on the roster versus those who may find themselves shuttling between the AHL and NHL.  All cap figures are courtesy of CapFriendly.
Winnipeg Jets
Current Cap Hit: $81,720,357 (under the $83.5MM Upper Limit)
Entry-Level Contracts
D Ville Heinola (one year, $863K)
F Cole Perfetti (one year, $894K)
Potential Bonuses
Heinola: $425K
Perfetti: $850K
Total: $1.275MM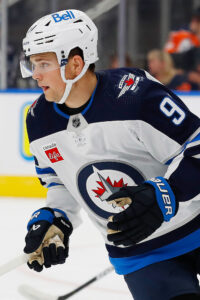 Last season was Perfetti's first full year at the NHL level and it was going along well in the first half of the season, spending a fair bit of time in the top six while collecting 30 points in 51 games.  However, an upper-body injury ended his season early.  After only playing 18 games in his first year, there probably isn't enough of a track record for a long-term agreement.  But if he returns and stays in that role, a short-term bridge deal in the $2MM range should be doable.  Perfetti's bonuses are of the Class A variety (tied to specific thresholds).  Had he stayed healthy, he probably would have reached one of those last season and if he takes a step forward, two or three could be legitimate possibilities which will be notable for GM Kevin Cheveldayoff to keep in mind.
Heinola is a victim of Winnipeg's depth chart as his performance with AHL Manitoba has demonstrated that he's worthy of a longer-term look with the Jets.  That chance doesn't appear to be coming at the moment although a trade or two can certainly change things.  Having said that, unless he's on the roster and in the lineup regularly, he's unlikely to reach his two 'A' bonuses and will almost certainly be heading for a short-term second contract.
Signed Through 2023-24, Non-Entry-Level
G Laurent Brossoit ($1.75MM, UFA)
D Kyle Capobianco ($762.5K, RFA)
D Declan Chisholm ($775K, RFA)
D Dylan DeMelo ($3MM, UFA)
D Brenden Dillon ($3.9MM, UFA)
F David Gustafsson ($775K, RFA)
G Connor Hellebuyck ($6.167MM, UFA)
F Nino Niederreiter ($4MM, UFA)
F Mark Scheifele ($6.125MM, UFA)
D Logan Stanley ($1MM, RFA)
Scheifele's future with the Jets has been in question for a while now and wasn't resolved over the summer either by trade or extension.  While he doesn't produce a point per game most seasons, he's still a number one option for Winnipeg and would be for several other teams.  Accordingly, he's well-positioned to earn an extra couple million per season at a minimum.  Whether that's from Winnipeg or another team remains to be seen.
Niederreiter was a victim of the down market in 2022 when he signed this deal with Nashville (who flipped him to Winnipeg near the trade deadline).  He has reached the 20-goal mark in the last three seasons and if he can make it four, he might have a shot at doing a little better than this next summer.  But as a winger best suited for the middle six, his earnings upside is going to be limited.  Gustavsson had a very limited role last season and while he played in a career-best 46 games, he didn't do much to push for a spot higher in the lineup.  Unless that changes, his next contract should be below the $1MM mark even with arbitration rights.
Dillon has been a capable piece on the second pairing for the past two seasons after being acquired from San Jose.  Offense is hard to come by but as a defender who can kill penalties, block shots, and play physical, there should still be a market for him next summer.  It'd be surprising to see him command a big raise at 33 but a multi-year deal in this price range should be doable.  DeMelo has shown that he can be more than a full-time third-pairing option but beyond last season, points have been hard to come by.  Being a right-shot option helps but again, a big pay jump doesn't seem likely; instead, another multi-year deal close to this point makes more sense.
Stanley had a hard time locking down a regular spot in the lineup last season, leading to a trade request that appears to have since been rescinded.  But with their depth chart, playing time is still going to be hard to come by.  He'll basically need to keep going year-to-year until that changes for him either with the Jets or another organization.  Capobianco and Chisholm will be battling for one spot on the roster.  Capobianco held it last year but didn't play much while Chisholm is waiver-eligible for the first time.  Capobianco is likely to stay close to the minimum salary being a bit older while Chisholm will need to carve out a spot in the lineup to be able to get any sort of significant raise next summer.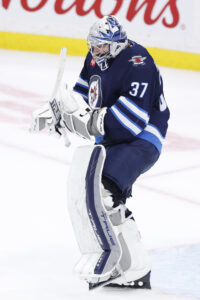 Hellebuyck's situation is well-known by now.  After the season, it didn't appear as if he was interested in signing a long-term extension to stay in Winnipeg, fueling trade speculation.  However, a reported asking price of $9.5MM on a new contract cooled that speculation pretty quickly.  Even though he's among the higher-paid starters already, he's still underpaid relative to the value he brings to the Jets.  A true starter capable of carrying one of the heaviest workloads in the NHL, Hellebuyck has done a lot to keep Winnipeg in the playoff picture over the years.  But he'll be 31 when his next contract begins, making a max-term agreement a bit less palatable, particularly at his desired price point.
Signed Through 2024-25
F Mason Appleton ($2.167MM, UFA)
F Morgan Barron ($1.35MM, RFA)
F Nikolaj Ehlers ($6MM, UFA)
F Axel Jonsson-Fjallby ($775K, UFA)
F Rasmus Kupari ($1MM, RFA)
F Alex Iafallo ($4MM, UFA)
F Vladislav Namestnikov ($2MM, UFA)
D Neal Pionk ($5.875MM, UFA)
D Dylan Samberg ($1.4MM, RFA)
D Nate Schmidt ($5.95MM, UFA)
F Gabriel Vilardi ($3.438MM, RFA)
Ehlers, when healthy, has been a top-line producer in recent years.  However, staying healthy has been a challenge for him over the past three seasons.  If he can stay healthy over the next couple of years, he'll still be well-positioned for a decent-sized raise but if the injury issues continue, it will certainly hurt his market.  Iafallo comes over from Los Angeles in the Pierre-Luc Dubois swap and is in a similar situation as Niederreiter – a middle-six winger who can be moved around the lineup.  However, Iafallo's scoring touch is a bit more limited which, if not bolstered by the change of scenery, might limit him to a contract similar to this one in 2025, not a more lucrative pact.
Let's stick with pieces acquired in the Dubois swap.  Vilardi was the headliner of that trade, a 24-year-old who has played center in the past and is coming off a 23-goal campaign despite missing 19 games.  This contract basically amounts to a second bridge deal to see if there's another gear to get to or if he'll settle in closer to the offensive range of Iafallo and Niederreiter.  Obviously, whichever outcome he winds up at will go a long way toward determining his next deal but it's worth noting he'll have a $3.6MM qualifier.  Kupari was the other player involved in the swap, another former first-round pick but he has been limited in the NHL so far.  He'll need to at least grab a hold of a third-line spot over the next two seasons to position himself considerably more than his $1.1MM qualifier.
Appleton hasn't been able to match his output in 2020-21 although he had a chance to do so last year had he stayed healthy.  His production is at the level of a third-liner which is in line with his salary although he plays a bit more than a typical bottom-six forward.  He'll need to improve his output to have a shot at cracking the $3MM mark on his next deal.  Namestnikov has bounced around lately (eight teams over the last six seasons) and his market value has hovered in this range for the last few years.  Barring any big improvements or injuries, his next one should be in this area as well.  Barron's first full NHL campaign was a decent one and this is a traditional bridge contract to better assess his future.  Jonsson-Fjallby, meanwhile, was on waivers twice last season and will simply be looking to lock down a full-time roster spot.
On the back end, Schmidt was acquired for relatively cheap at the time with Vancouver looking to clear some cap space.  His first season with them was good but he took a step back last year.  If he's going to be more of a fourth option moving forward, this will be a negative-value deal for them.  Pionk has also had some ups and downs in his three seasons in Winnipeg.  He hasn't matched his per-game output from his first year with them but has settled in nicely as a second or third option most nights.  If his ten-goal total from last season is repeatable, he'll be in good shape for another jump in 2025.  Samberg was a regular most nights in 2022-23, albeit in a limited role.  Like Barron and Kupari, this is a true bridge agreement; he'll be looking to get into a top-four spot where he'll be better-positioned for a significant raise.
Signed Through 2025-26
F Kyle Connor ($7.143MM, UFA)
F Adam Lowry ($3.25MM, UFA)
Connor has somewhat quietly averaged more than a point per game over the last four seasons combined with the last two being particularly impressive, including a 47-goal showing in 2021-22.  He'll be 29 when he signs his next contract and even if his output remains at the 80-point mark it was a year ago, Connor should be in a good spot to get a max-term agreement and another couple million on that pact.  Lowry, the newly-named captain, is on a contract that's a bit high for a third-liner but he was a bit more productive last season, notching 36 points.  If he can stay around that mark, they'll do fine with this contract.
Signed Through 2026-27 Or Longer
D Josh Morrissey ($6.25MM through 2027-28)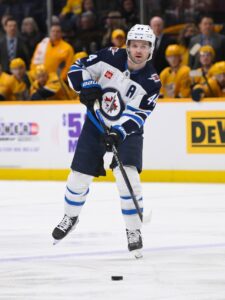 Morrissey has really blossomed into a legitimate top-pairing defenseman over the past few years.  However, he found a whole new gear last season, more than doubling his previous career high in points while logging over 24 minutes a night in all situations.  That helped him finish fifth in Norris Trophy voting in his first season of even receiving a single vote.  With the jump he had, it's hard to forecast this as being the new normal for Morrissey.  If it is, this is a multi-million-dollar bargain and one of the better-value contracts for a top-end defenseman.  If not, even if he goes back to his output from 2021-22 (37 points in 79 games), for the minutes he covers, this is a fair-market deal.  Anything in between that will be a team-friendly contract.
Buyouts
F Blake Wheeler ($2.75MM through 2024-25)
Retained Salary Transactions
None
Still To Sign
None
Best Value: Morrissey
Worst Value: Schmidt
Looking Ahead
Winnipeg projects to be one of the few teams in the West with playoff hopes that should have the ability to bank some in-season cap space as long as they don't run into significant injuries.  That could give them a big boost if they're looking to add at the trade deadline.  But that's a big if with the pending expiring contracts of Scheifele and Hellebuyck which loom large.
Right now, there may not be a team with cleaner long-term books than Winnipeg with just three regulars signed for more than two years.  That means there is plenty of wiggle room for Cheveldayoff to reshape his roster in the near future.  As a result, things could look a lot different for the Jets in a couple of seasons.
Photos courtesy of USA Today Sports Images.