A second Canadian franchise has named a player captain in just as many days. After the Vancouver Canucks named star defenseman Quinn Hughes as their next captain, the Winnipeg Jets have followed up with their own choice, tapping center Adam Lowry to wear the "C."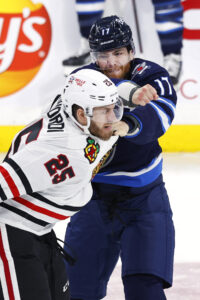 Lowry is the Jets' third captain since the club relocated to Winnipeg from Atlanta. The previous captains were Andrew Ladd, who officially retired on Sunday, and Blake Wheeler, who was stripped of the captaincy before the 2022-23 season.
Lowry isn't exactly a surprising choice for the role, as although the Jets have bigger-name star players on their roster, Lowry has long been recognized for exemplary leadership skills.
The 30-year-old veteran forward has been a captain before in his career, leading the WHL's Swift Current Broncos during the 2012-13 season.
Before this past year, Lowry's on-ice production may not have been exactly what one would expect for a player set to take on the prominent role of captaining a team in a high-pressure Canadian market. Bottom-six players typically don't have a ton of staying power on their teams, and change clubs with more frequency than higher-scoring stars.
But this past season was the best of Lowry's career, one that cemented his place in Winnipeg for years to come. He scored 13 goals and 36 points in the regular season and five points in five playoff games.
Lowry is under contract through the 2025-26 season, and seeing as he's only played for the Jets so far, it wouldn't be a surprise to see him play his entire NHL career in Winnipeg. It's also worth noting is also that Lowry is a second-generation NHL captain. Lowry's father, Dave Lowry, captained the Calgary Flames from 2000 to 2002.
With significant uncertainty facing the Jets due to the looming expiration of contracts for franchise netminder Connor Hellebuyck and Mark Scheifele, this is an extremely important season for the club to make a strong competitive push.
Now, today's announcement confirms that Lowry's leadership will take a central role in any competitive push the team makes.
Photos courtesy of USA Today Sports Images