Topics in this edition of the PHR Mailbag include the Calder Trophy battle for Rookie of the Year, a look at potential bonuses available for players on entry-level deals, and much more.  If your question doesn't appear here, check back in last weekend's mailbag.
DevilShark: Review of Luke Hughes' Calder chances, please! Convince me he is not next to Bedard as a top-two favorite or, if you agree, explain why he doesn't seem to be on anyone's radar for this award. Thanks!
Cyclone: Hypothetical… If Bedard underwhelms, Hughes, Cooley, or Fantilli for the Calder?
The reason Hughes isn't on the radar for the Calder is that his name isn't Connor Bedard.  It's really as simple as that; it's him versus the field.  If Bedard stays healthy, it's his award to lose.
Should he be second?  I don't think I'd have him there, to be honest.  This isn't a bad thing in reality but the fact he's on a good team will hurt him.  He's not going to be getting top power play time, not with Dougie Hamilton in the fold.  I'm not sure he plays higher than fourth at even strength at the start of the year, barring injuries.  That's not going to give him prime opportunities to rack up the points.
Logan Cooley will have that opportunity in Arizona.  He could be their top center right away.  Adam Fantilli might get that chance in Columbus.  More minutes should lead to more power play time and scoring opportunities.  The Calder Trophy is often numbers-dependent and while Hughes should be a very important piece for the Devils this season, I'm not sure he'll put up enough numbers to really get him near the top of the radar.
I feel like there's one other player that warrants a mention here, Buffalo's Devon Levi.  If the Sabres finally snap their playoff drought and he's the number one goalie that helps get them to the postseason, I think there's a good chance he'll appear pretty high on some ballots as well.
KRB: The CHL and NHL have a rule that 18-and 19-year-olds drafted out of juniors can't play in a North American professional league unless it's the NHL. I understand why the rule was put in place: to keep professional leagues like the AHL and ECHL from stripping Canadian juniors of high-end talent. But the rule can hurt some players, for example, Shane Wright. Do you see this rule continuing, or do you think perhaps they may grant "exceptional status" to certain 18-and 19-year-olds to play in professional minor leagues, similar to that granted to 15-year-olds like Connor Bedard, to play in major juniors?
I do see this rule continuing for the foreseeable future.  As unpopular as it might be, the presence of those top players in major junior helps make those leagues as strong as they are from a competition perspective.  If they're out of the league and the competition level goes down, it's going to be harder to attract the top players that have NCAA or USHL options as well.
Those top players also help drive revenues.  While there are a handful of big teams across Canada, many CHL squads are in smaller cities where the profit margins are small.  Fewer star players means less merchandise, ticket sales, etc.  That would also be quite detrimental to the league.
I've wondered about what an exemption could look like.  In my mind, it'd have to be limited to one 19-year-old player per team at a time (an exception being if a prospect on an AHL exemption gets traded to a team that is already using it).  And if the team uses it, the developmental fee paid is substantially higher.  Instead of it being paid out as part of the pool the CHL receives now from the NHL, the team using the exemption has to pay two or three times that amount to at least help offset some of the financial element.  But still, I don't see it happening.  I'm not sure it could be done by "exceptional status" though as those cases are judged case-by-case; there won't be any set criteria.  Anything that is judged as it pertains to an NHL team could carry the appearance of bias.
I'm honestly a bit surprised Wright was granted an exemption even though there was a logical case for it. I suspect he will be the last to get one for a while.
Zakis: What are the 'A' and 'B' bonuses for ELC's based on position?
Let's start with the A bonuses.  For forwards, it's the following categories:
1) Top six among forwards in ATOI, minimum 42 GP
2) 20 goals
3) 35 assists
4) 60 points
5) 0.73 points per game, minimum 42 GP
6) Top three among forwards in plus/minus, minimum 42 GP
7) Makes the All-Rookie Team
8) Selected to the All-Star Game
9) All-Star Game MVP
For defense, it's the following:
1) Top four among defensemen in ATOI, minimum 42 GP
2) 10 goals
3) 25 assists
4) 40 points
5) 0.49 points per game, minimum 42 GP
6) Top three among defensemen in plus/minus, minimum 42 GP
7) Top two among defensemen in blocked shots, minimum 42 GP
8) Makes the All-Rookie Team
9) Selected to the All-Star Game
10) All-Star Game MVP
And for goalies:
1) 1,800 minutes played
2) GAA is equal to or below the median GAA of all goalies who play 25 or more games
3) SV% is equal to or above the median SV% of all goalies who play 25 or more games
4) 20 wins, minimum 30 minutes played in each victory
5) Shutouts are equal to or above the median number of shutouts of all goalies who play 25 or more games
6) Makes the All-Rookie Team
7) Selected to the All-Star Game
8) All-Star Game MVP
Individual games played bonuses can also be negotiated.  The maximum 'A' bonuses in a deal are capped at $1MM, or $250K per bonus for deals signed since 2022.  Before that, the limits were $850K and $212.5K, respectively.
The 'B' bonuses I'm not going to go into as much detail here as it's basically four pages in the CBA.  Here's the quick version.  Bonuses can be negotiated based on end-of-season awards.  For forwards, there are potential amounts for finishing in the top ten in goals, assists, points, or points per game (minimum 42 GP).  For defense, it's those four plus ATOI.  For goalies, it's top five in GAA, SV%, or wins (minimum 25 games played).  The value of any of these can't exceed $2.5MM, previously $2MM.  These ones aren't anywhere near as common as 'A' bonuses and generally, only the top few picks get them.
Unclemike1526: The Blackhawks have immensely upgraded their forward group since last year. Their defensemen will go as far as Korchinski, Vlasic, Allan, and Kaiser will take them. The obvious weakness is G where Soderblom, Commesso, and Stauber are untested and Mrazek is just plain horrible. What do you think the odds are Davidson speeds up the rebuild by trading for Hellebuyck? He's supposedly on the market and the Hawks are probably one of the few teams that have both the Prospect, Draft, and Salary Cap Capital to get a deal done. I think Davidson could get a deal done for just about anyone they want. The Hawks could take on half of Mrazek's contract back as it's an expiring deal and would give the Jets something to maybe flip at the deadline for something anyway to add to the kitty. Thoughts?
You're correct in identifying that Chicago is one of the few teams that could afford Connor Hellebuyck's contract now and have the capital to make a compelling offer.  But there are two key issues with the idea of the Blackhawks making a move for him.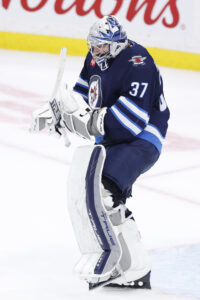 First, the addition of Hellebuyck to the Blackhawks doesn't really expedite the rebuild.  Instead of being a really bad non-playoff team, they'd be a non-playoff team with good goaltending.  If Chicago was only a goalie away from being a playoff-caliber squad, I'd say this makes sense for them.  But they're nowhere close to pushing for a postseason spot so why trade assets for a rental goalie that doesn't get you to the playoffs?
Second, Winnipeg has no intention of throwing in the towel this season.  At least not yet.  That's why Hellebuyck is still there.  So a package of some futures and Petr Mrazek isn't going to move the needle for them.  They want someone who can help them win now and Mrazek isn't that netminder.
I could see a scenario where Chicago goes after Hellebuyck next summer in free agency.  At that point, their cap space is a big asset and maybe a year of Bedard helps up interest in Chicago as a market across the league.  He still might not get them to the playoffs right away but at that point, he's only costing money, not other assets.  But in terms of trading for him now, no, I don't think that would be a wise move for them.
pawtucket: Has Vegas' recent Cup win using four goalies set the future of the position? Are NHL goalies going to be treated like running backs in the NFL (where teams are starting to roster 4-5 on cheaper contracts as they are replaceable) and will we see their contracts affected in a similar way?
For the Golden Knights, last season felt like they were a victim of circumstance more than a legitimate strategy to go with extra goalies.  Part of the reason they went and got Adin Hill in camp last year was the Robin Lehner injury that they didn't necessarily trust Laurent Brossoit who had struggled considerably in his first season with the team.  Then, when more injuries arose, they opted to bring in Jonathan Quick as insurance.
But in a perfect world, their tandem last year would have just been Hill and Logan Thompson with Brossoit waiting in the wings as an experienced third option.  That is the trend I think we'll start to see more of.  The value for third-string netminders went up a lot this summer as teams see the value of having an experienced option that has had some success in their system.  Vegas showed that a team can have success going four deep into their goaltenders but I don't expect teams will be trying to duplicate that exact strategy.
Jasen: I am wondering about the development of Cayden Primeau and his future role with the Habs. Seems to me that he's not getting a lot of opportunities. Or maybe he's just not ready?
Or maybe he still has enough potential to be part of a package to address a more dire roster need?
Primeau's body of work in the minors has been decent.  Not great, but a .909 SV% in the AHL shows he has some talent.  But it has been surprising just how much he has struggled in limited action in the NHL which has played a role in his lack of opportunities thus far.
He's at the point of his career where another AHL season might not be the best for him.  He has 139 games at that level under his belt including the playoffs which is a fair bit.  More NHL time is the logical next step but he hasn't done enough to supplant either of Sam Montembeault or Jake Allen.  It seems like they're hesitant to waive him so now they're stuck between the proverbial rock and a hard place.  I don't think there's much more he can do to really be ready.  He just needs playing time to show if he actually is ready.
I don't think the 24-year-old has much trade value.  He might not have any, to be honest.  That's not a shot at him but rather the situation he's in.  Is he an NHL-level player?  I don't think anyone knows for sure so that doesn't help his value.  He can't go to the minors so that hurts his value as well.  And third-string goalies are in high supply and low demand right now so if a team wants to carry an extra netminder, they can claim one of the many that will be waived in the next week and a half.
This is a no-win situation for both Primeau and the Canadiens.  His future role could very well still be an NHL netminder but we're still a pretty long way from finding out one way or the other.  After four professional seasons, that's not a great outcome so far.
PyramidHeadcrab: Can you give the readers a bit of a primer on what's going on with pro women's hockey in North America? It would seem the PHF has been dissolved and reformed into a new league, but I would love to know more about what happened there.
Back in June, an agreement was struck to buy certain assets of the PHF for the purpose of forming a new league that basically merged that one with the independent PHWPA group.  There's now a new six-team league, the PWHL.  Each team was allowed to sign three free agents and then everyone else went through a draft that was completed earlier this month.  The season gets underway in January.  That league now has Brian Burke heading up the Players' Association, giving them a strong voice on that side of the table.  Here's hoping that the league is able to get some footing and stability which is something women's hockey has needed for a while.
Photo courtesy of USA Today Sports Images.