Topics in this edition of the PHR Mailbag include some players to keep an eye on when it comes to waivers over the next few weeks, Logan Couture's short-term future, and more.  If your question doesn't appear here, check back in next weekend's column.
Grocery Stick: What are candidates to be exposed on waivers after training camp and claimed by another team? Does the current cap situation make it easier to sneak players through waivers?
Here are a few names that I'll be keeping an eye on when it comes to waivers in the coming weeks.
Michael Carcone (ARI) – A dominant AHL season coupled with a surprisingly strong showing at the Worlds with Canada helped earn him a two-year, one-way deal to avoid free agency.  Since then, Arizona has bolstered its forward depth which could push him out.  He's worthy of a longer NHL look but at 27, will a team be willing to take a shot on a bit of an older option?
Declan Chisholm (WPG) – Winnipeg has strong defensive depth but something has to give.  If Logan Stanley is indeed going to stay now, they're going to be hard-pressed to keep Chisholm up unless it's in the number eight role.  After seeing Johnathan Kovacevic – a by-product of AHL Manitoba as well – get claimed and have success in Montreal last year, teams may try to duplicate that with Chisholm.
Brett Murray (BUF) – While Murray cleared waivers last year, he then turned around and had a productive year with AHL Rochester, notching 23 goals and 26 assists.  At 6'5, there could be teams intrigued by his size and uptick in production which means they might be inclined to give him a shot on their fourth line.
Lassi Thomson (OTT) – It's not very often that a player still on his entry-level deal is waiver-eligible but Thomson qualifies with four pro seasons under his belt.  The 2019 first-rounder is a right-shot defender (which already makes him intriguing) and has had success in the minors the last two seasons.  A rebuilding team that can commit a roster spot to someone who might not quite be NHL-ready yet will want to take a long look here.
As for the second part of your question, the current cap situation makes it easier to sneak some through waivers but not all.  The players I listed above are all either at the minimum salary or close to it.  That is particularly appealing to cap-strapped teams which there are a lot of this season.  Those players become more likely to be picked up as a result.  But if a team decides to send a player making a million or more down, the fact that so few teams have cap space makes it more likely that they'll pass through unclaimed.  There will be some established players that hit the wire in the coming weeks that stand next to no chance of being picked up thanks to their contract.
My list of lower-cost options is hardly exhaustive either.  There will be quite a few others with similar profiles that will be waived and sometimes, it's the lesser-known pieces that draw attention more than the ones that are more proven.
Weasel 3: Do non-competitive teams intentionally hold back cap space each year looking for early waiver claims? If so, do they tend to flip the resource or hold on to them?
I don't think weaker teams are holding back space for that reason.  Yes, they're the teams more likely in theory to place a claim on someone but those teams will be looking for the younger options that probably don't make too much money.  Those teams bank cap space for strict cost savings.  If you're a team going nowhere and have no hopes of playoff revenue, why not lower your salary costs in the process?  I think that's the bigger driver for teams well below the Upper Limit.
Claim-and-flips are hard to pull off.  The CBA notes (Sec. 13.20(b)) that if a player is claimed, he first has to be offered to any other team that placed a claim on him.  Only if that team (or teams) declines to take the player can he be flipped via a trade.  If the player is any good, chances are that more than one team would have placed a claim originally and the ones that didn't get him would probably be interested if he was to be made available again.  That isn't to say that it doesn't happen – it does periodically – but the players are usually of the lesser variety.  Generally speaking, the team either keeps the player or puts them back on waivers.
MillvilleMeteor: What kind of return could the Ducks expect if they can't work out a deal with Trevor Zegras and decide to trade him?
First, let me say that I don't see this scenario playing out.  At this point, a bridge deal seems like the inevitable outcome and a three-year pact seems most likely.  That would mean Zegras would still be under team control at its expiration with arbitration eligibility.  At this point, the AAV is the hold-up and perhaps to a lesser extent, the year-to-year breakdown which affects the qualifying offer.  This should get done over the next few weeks.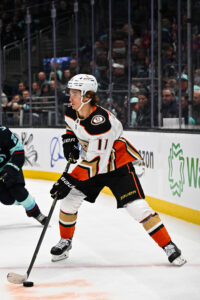 But I'll play along with your scenario.  Pretty much any team that gets him would need to offset the money and considering Anaheim's cap space, the team might want to work in a pricey deal as part of the swap.  So I'd say two NHL pieces for starters, a young core piece with several years of club control left and a more expensive money-matcher.
If I'm GM Pat Verbeek, I'm asking for at least two 'A' prospects (or equivalent picks but prospects would be preferred).  Is Zegras a franchise center?  He might be, he might not be.  If I'm trading him, it's at the level where someone's treating him like he is one.  I'd also expect a 'dart-throw' prospect in there, a drafted player who someone on Anaheim's scouting staff feels could be an under-the-radar pickup.  On the other end, I would expect the Ducks to also move out someone like Brett Leason, a league-minimum roster filler option to help match contracts and give the acquiring team a second NHL player to replace the two they're sending out.
Having said all that, how many teams realistically can make that type of offer?  Longer-term contenders don't have the prospect pool or draft capital to make that offer.  Non-playoff teams won't want to part with top futures and there are only a handful of teams that fall somewhere in between those two categories.  How many of those would make a higher-end move at this time?  Probably not many which is why I don't see a swap happening.
DevilShark: Where will Logan Couture be playing on this day next year and which team(s) will be paying his salary?
Earlier this week, Sharks GM Mike Grier told reporters including Curtis Pashelka of The Mercury News that if Couture (or Tomas Hertl) approached him with a desire to move to a playoff-bound team, he'd be open to the idea of honoring that request.  But we're not at that point yet; Couture himself reiterated his desire to stay with San Jose just last month.
Could the reality of what's likely to be another ugly season change that mindset?  Perhaps.  But I think he'd be willing to stick it out a little longer at least.  Perhaps in a couple of years if this is looking like an Arizona-style long rebuild, then he'd look to change his mind.  But not yet.
The other factor to consider here is his contract.  Couture has four years left on his deal and turns 35 in March.  His AAV is $8MM which is on the higher side for someone whose career high in points is 70.  There's a market for him but in this cap environment, it's probably not the strongest.  In a couple of years when the deal is a bit shorter and the cap potentially a fair bit higher, it might be a bit easier to move.  The Sharks aren't going to get a great return but simply moving him for a minimal return like they did with Brent Burns last summer doesn't need to happen and frankly shouldn't.
So, on September 23, 2024, I'm predicting Couture is still a member of the Sharks.
PyramidHeadcrab: Is Mike Babcock's stint as head coach in Columbus the shortest in NHL history? Let's exclude interim coaches, for the sake of argument.
YzerPlan19: Has any coach been fired/resigned without coaching a game? Or running a practice even?
Off the top of my head, I couldn't think of another coach whose official stint with a team lasted zero games and a cursory search didn't reveal any either.  I can't say with certainty that there weren't any but it doesn't look like there is.  And, to be fair, there probably shouldn't be; this is a pretty unique situation that frankly didn't exist a generation ago where players could be heard on privacy concerns.  Tough love was the name of the game across the league so these types of actions (or whatever the equivalent back then would have been) just weren't heard of.
While not a coach, the closest to this I can think of is Neil Smith's stint as GM of the Islanders.  He was hired in June 2006 and lasted all of six weeks, meaning his stint at the helm with then was a 0-0-0 record.  Garth Snow then retired and was named GM, giving that whole set of events a similar set of bizarreness as Babcock's.
Black Ace57: Is there any idea on when we might actually hear the findings of the Hockey Canada investigation? Are they really going to let this drag on into the season?
I don't think anyone really knows when the results are coming.  This is the type of investigation where all involved are going to be very meticulous before anything gets announced for obvious reasons.  It wouldn't shock me if the league wants to do some sort of negotiation with teams of the affected players – if charges are laid – to try to do some sort of agreed-upon suspension that can be announced concurrently with the results.  That will also take some time.  The story isn't going away but yes, there is a very realistic chance that the outcome isn't made public within the next few weeks.
Photo courtesy of USA Today Sports Images.