With the Senators not being able to afford even a two-year bridge deal for Shane Pinto, some had wondered if they might try a lower-cost one-year offer for the unsigned middleman.  Sportsnet's Elliotte Friedman reports that Ottawa did attempt to go that route this week and it was not received well by Pinto's camp with the offer coming in the $1MM range.
Even that offer would be difficult for them to afford as they currently have a little over $120K in cap space, per CapFriendly with a projected 21-player roster.  That doesn't leave them much in the way of wiggle room to re-sign Pinto or to try to sign veteran Josh Bailey who is in camp on a PTO agreement.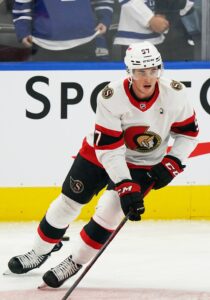 Pinto doesn't have much in the way of leverage here as he is ineligible to sign an offer sheet as he doesn't have enough service time for one having not met the games played criteria in each of his first two seasons.  That basically means his options are to hold out until he gets a contract he wants or ask for a trade, an option that he doesn't have any interest in pursuing at this time, Friedman reports.
The 22-year-old's first full NHL season was a strong one as he netted 20 goals along with 15 assists while averaging just shy of 16 minutes a night.  He also won a little over 52% of his faceoffs.  That has the Sens rightly viewing Pinto as an important part of their future.
On the surface, there are three mid-tier contracts that would appear to be candidates to be dealt to open up cap space.  Winger Mathieu Joseph has been the one most speculated about but with three years left on his deal at $2.95MM and the fact he's coming off a season that saw him score just three goals in 56 games, the price for teams to take on the contract would be high.
Meanwhile, winger Dominik Kubalik is in the final year of his contract with a $2.5MM cap charge that might be easier to offload.  He's also coming off a career season that saw him put up 20 goals and 25 assists with Detroit so there could be some positive trade value although subtracting him from their offense would certainly hurt.
The other contract in that range is defenseman Erik Brannstrom who is on a $2MM deal and will be arbitration-eligible again next summer.  When he was first acquired, he was viewed as an important part of their then-rebuild and while he has become a regular player, he hasn't had the impact they were hoping for.  He's likely earmarked for the third pairing which could make him expendable.  But with Pinto's likely contract to come in the $2.5MM range, moving Brannstrom alone wouldn't create enough cap space to re-sign Pinto.
With the regular season starting in ten days, pressure is starting to pick up on GM Pierre Dorion to find a solution to this situation.  But with only a few teams having cap space, finding a suitable trade to open up cap flexibility to get Pinto signed is going to be easier said than done.  For now, the waiting game continues.
Photo courtesy of USA Today Sports Images.