As expected, the turn of the calendar has resulted in an uptick of activity around the NHL, the bulk of it coming away from the ice, including an early extension for Seattle GM Ron Francis and surgery for pending UFA Patrick Kane.  We recap the most notable news in our key stories.
Treliving To Toronto: After parting ways with Kyle Dubas a couple of weeks ago, the Maple Leafs have found their new GM, hiring Brad Treliving for the role.  The 53-year-old had been in the same role with Calgary for the last nine seasons before stepping aside at the end of the regular season.  Treliving is no stranger to roster shakeups after making several changes of note for the Flames last year and will be tasked with determining if a core move needs to be made plus the future of head coach Sheldon Keefe.  While Treliving is in charge now, it's worth noting that he will not be permitted to be at the draft table later this month, a stipulation they agreed to before receiving permission to interview Treliving, whose deal with Calgary ran until the end of June.
Dubas To Pittsburgh: It didn't take long for Dubas to find his next team as he has joined Pittsburgh as their President Of Hockey Operations.  The term of the deal wasn't officially released but Sportsnet's Elliotte Friedman reports (video link) that it's a seven-year agreement.  Dubas had been GM in Toronto for the past five seasons, building a team that has been quite strong during the regular season but has struggled in the playoffs with just a single series victory.  He'll be asked to try to get the Penguins' core back in the playoff picture after the team came up just short this season, resulting in the departures of Ron Hextall and Brian Burke.  Dubas will hold GM duties as well for the time being but is expected to hire one later this summer.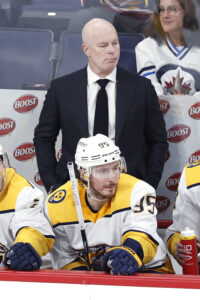 Changes In Nashville: After a long review and search of the coaching options available, incoming Predators GM Barry Trotz opted to make a change behind the bench, firing John Hynes while hiring Andrew Brunette as their next head coach.  Hynes spent a little over three seasons with the Preds, compiling a 134-95-18 record during the regular season but the team won just three of 14 playoff contests.  The 48-year-old has just over 600 games under his belt including his time in New Jersey and if he doesn't land a job this summer, his name will likely come up in midseason openings.  As for Brunette, this will be his second time running an NHL bench after he coached Florida for the bulk of the 2021-22 campaign.  Brunette was passed over for the full-time spot with the Panthers that summer, sending him to New Jersey as an associate coach.  Trotz indicated that he's hoping that Brunette can bring more of an offensive focus to the team, a stark contrast to his own philosophies when he was behind the bench.
More Coaching Moves: The Capitals were actually the first team to bring in their new bench boss, bringing in Spencer Carbery on a four-year contract.  It's the second stint with Washington for the 41-year-old who was the head coach for their AHL affiliate in Hershey for three years before leaving to serve as an assistant with Toronto for the last two seasons.  He is the fourth first-time hire out of Washington's last six head coaches.  Meanwhile, the Blue Jackets appear to have their next coach as veteran Mike Babcock is set to return behind an NHL bench for the first time since 2019-20.  The 60-year-old has a 700-418-183 record over parts of 17 seasons and will be tasked with turning around a Columbus franchise that improved on paper last summer but dropped to the bottom of the Eastern Conference.  The hire is expected to be made official next month once his contract with Toronto expires.
Gibson Hoping For A Trade: The goaltending market this summer just got a bit more interesting following a report that Ducks netminder John Gibson indicated to the team last month that he'd like a change of scenery.  The 29-year-old was one of the top goalies in the league a few years ago but as Anaheim has struggled, so has he as he posted a 3.99 GAA with a .899 SV% this season while leading the league in goals allowed and losses.  However, on a more competitive win-now franchise, there's reason to hope that he could turn things around.  Gibson has four years left on his contract at a $6.4MM cap charge so the Ducks may have to retain salary or take a contract back to help facilitate a move.
Photo courtesy of USA Today Sports Images.