The offseason has arrived for all but the two teams that still have a shot at winning the Stanley Cup.  It's time to examine what those eliminated squads will need to accomplish over the coming months.  Next up is a look at Tampa Bay.
After three straight Stanley Cup Final appearances, the Lightning weren't able to make it four straight this season.  Instead, the third seed in the Atlantic Division fell in six to Toronto.  GM Julien BriseBois is all in on trying to keep as much of this core as possible so accordingly, their checklist this summer revolves around that desire.
Sign A Backup Goalie
Let's start with a relatively simple one for Tampa Bay to hit on.  Brian Elliott has been the backup for the Lightning for the last two seasons.  The first one went well – better than expected, even – but 2022-23 was nowhere near that level.  His goals-against-average was up by nearly a full goal (2.43 to 3.40) while his save percentage dipped 21 points (.912 to .891).  He basically went from an above-average second-stringer to a below-average one.  Of course, the 38-year-old still provided some value for the team thanks to his $900K cap hit, just $150K below the league minimum.
With a little over $7MM in cap room per CapFriendly (which includes Brent Seabrook's LTIR space), the cost of Andrei Vasilevskiy's backup next season is almost as important as how they perform.  Is there a goalie on the open market that will be willing to take close to the minimum salary to play 20-25 games next season for the Lightning?  Probably.  Will that netminder be better than another season of Elliott?  That's a decision that will need to be made once the free agent market opens up next month.
Try To Keep Killorn
Alex Killorn picked a pretty good time for a career year.  More specifically, another career year.  After setting new personal benchmarks in 2021-22 in assists (34) and points (59) as a 32-year-old, he went and did it again this season with 27 goals, 37 assists, and 64 points.  Impressively, he was able to do so despite seeing his ice time cut by nearly a minute and a half per game with a lot of that drop coming from the power play.  Heading into an opportunity to test the open market for the first time in his career, things went pretty well this year for Killorn.
His seven-year, $31.5MM started out on the pricey side relative to his point totals but has turned into a team-friendly deal the last couple of years.  Now, the 33-year-old will enter the market as the highest-scoring UFA, putting him in a spot to cash in with one last long-term agreement.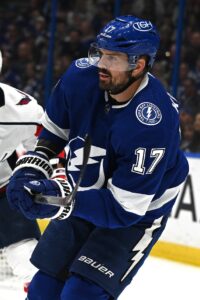 Tampa Bay would love for Killorn's tenure to continue with them.  Making that happen, however, will certainly be challenging.  There's no way they can afford to pay market value to bring the winger back as they need to spread that $7MM in cap room across at least five roster spots.  Even if the other four were at the minimum salary, the maximum they could offer Killorn would still represent a small cut from what he was making before.
Basically, their only hope to keep him around as things stand might be to work out a max-term contract or very close to it.  In exchange for being paid into his early 40s, Killorn would likely accept a price tag below what he made on his now-expiring contract and well below market value.  Frankly, even that feels like a stretch, not to mention the pressure points it would put on their other free agents (more on them momentarily).  Their other option to try to keep Killorn would be to move another player out to create some extra cap room.  Nick Paul ($3.15MM) is one candidate that stands out but he's signed through 2028-29, a term that might be too long for most other teams to willingly take on.
It certainly doesn't feel like Killorn will be back with the Lightning next season unless he's willing to leave a lot of money on the table to stay with the only NHL organization he has ever been with since they drafted him back in 2007.  However, given his importance to the team, expect BriseBois to exhaust every possible way to try to make it happen over the next few weeks.
Deal With Pending RFAs
Now let's get to those pending restricted free agents.  Tampa Bay has two of note to deal with this summer, wingers Tanner Jeannot and Ross Colton.  Notably, both players are arbitration-eligible and have one year of club control left before they can become unrestricted free agents as soon as 2024.  That option does give them some leverage in upcoming negotiations.
Jeannot was the Lightning's key acquisition at the trade deadline when they parted with five draft picks over the next three seasons (one in each of the first five rounds of the draft) along with young defenseman Cal Foote to bring in the rugged winger.  In 2021-22, he had a breakout year with Nashville, notching 24 goals and 17 assists along with 130 penalty minutes and 318 hits, putting him in the top ten in Calder Trophy voting.
However, he wasn't able to repeat the offensive production this season, notching just six goals with a dozen assists with 107 penalty minutes and 290 hits.  That said, considering how much they paid to get him, it stands to reason that BriseBois will be looking to sign Jeannot to a multi-year deal and make him a big part of their bottom six moving forward.  A contract like that will push past the $2MM mark at a minimum, likely closer to $3MM if it's a long-term pact.
As for Colton, he has worked his way into a capable secondary scorer the last two seasons after scoring the Cup-clinching goal in 2021.  He had 16 goals and 16 assists this season, a year after putting up 22 tallies and 17 helpers.  Colton can play down the middle which also boosts his value.  Basically, his value has gone up to a point where it's quite unlikely that they'll be able to afford to keep him; a multi-year deal likely pushes the $3MM mark.
The good news for Tampa Bay is that Colton should have some value on the trade market.  Even with a lot of teams being tight to the cap, a capable middleman with a decent playoff track record is sure to generate some interest.  Draft picks and prospects would certainly help but it wouldn't be shocking to see the Lightning try to acquire a controllable depth piece or two to help offset the potential losses of Corey Perry and Pierre-Edouard Bellemare, important role players that are set to hit the open market this summer.  Tampa has had to move quality pieces in recent years and there's a good chance that Colton finds himself in that situation this summer.
Stamkos Extension Talks
Over the last couple of years, BriseBois has actively sought to sign players to extensions as soon as they become eligible.  Last summer, Mikhail Sergachev, Erik Cernak, and Anthony Cirelli all signed on July 1st.  The year before, it was Brayden Point getting his new deal in place on July 28th, the first day of the new league year.  With that in mind, it wouldn't be surprising to see history repeat itself, this time with captain Steven Stamkos.
The 33-year-old hasn't been able to get back to the 50-goal mark that he did in two of his first four seasons but he remains a consistent impact scorer.  A year after putting up a career-high 106 points, Stamkos took a small step back this season but still scored 34 goals along with 50 assists in 81 games to finish third on the team in scoring.  While it's fair to believe that he will start slowing down at some point, he should have several more strong seasons in him before that point.
Given his age, Stamkos' next contract should come in below his current $8.5MM AAV.  It's possible that they look to do what they've tried to with Killorn by offering a longer-term agreement in exchange for a more favorable cap charge but if they opt for more of a medium-term contract, it should check in closer to the $7.5MM to $8MM range.  This is something that isn't a rush for the Lightning – Stamkos' last negotiation came much closer to the wire – but knowing the affinity BriseBois has for his core, expect him to take a run at getting this done early in the summer, possibly as soon as July 1st, the first day a new deal can be finalized.
Photo courtesy of USA Today Sports Images.