Goaltender John Gibson has been a fixture between the pipes in Anaheim for the better part of a decade now and is one of their longest-tenured players.  However, it appears that he's hoping his time with the team has come to an end as Daily Faceoff's Frank Seravalli reports that the veteran has told the team that he is ready for a change of scenery.  Lisa Dillman of the Orange County Register adds that the request was made last month.
In his end-of-season presser back in April, Gibson made it clear that he wants to win.  He hasn't been doing much of that lately as the Ducks have missed the playoffs in each of the last five years.  Although they've made some good progress in their rebuild by adding several key youngsters to the puzzle (including another with the second-overall pick later this month), they're still not at the point yet where they're ready to emerge as a consistent playoff contender.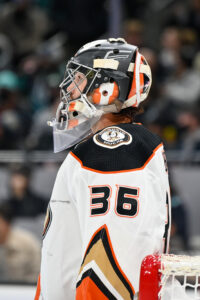 With the team in front of him struggling, Gibson has seen his performance drop steadily as well.  He posted a 3.99 GAA this season, leading the league in goals allowed (200) and losses (31) although he still managed a .899 SV% which is right around the league average.  His highest save percentage over the last four seasons is .904 after putting up four straight seasons of .917 or better so it's not as if this was a one-time dip.
It's Gibson's previous performance back when Anaheim was a playoff-caliber team that is likely to have teams interested in him this summer.  How much of his weakened performance was due to the struggles of the team in front of him, particularly their back end which has gotten considerably weaker over the years?  Is he still an above-average goalie with a better team in front of him?  If teams believe so, he'll shoot to either the top of the list or close to it for desired acquisitions this summer in a goalie market that doesn't have a lot of number one options.
However, the 29-year-old does have a bit of a pricey contract, one that has four years remaining at a $6.4MM AAV.  While plenty of teams could use a goaltending upgrade, not many of them can necessarily afford to take on the full freight of that deal.  Anaheim hasn't used any of their three salary retention slots for 2023-24 and beyond although it should be noted that they have two retentions on the books (defensemen John Klingberg and Dmitry Kulikov) until July 1st.  Would they be willing to carry some dead cap space for four seasons to help facilitate a trade?  Alternatively, taking a high-priced contract back as an offset might be more palatable for GM Pat Verbeek.
It wouldn't be surprising to see Anaheim look to get a goaltender back as part of a return if they move Gibson.  Veteran Anthony Stolarz battled injury issues this season and is set to his unrestricted free agency and while Lukas Dostal might be ready to move up full-time to the NHL, he's far from ready to take over as the starter.  If not, they'll have to turn to free agency for a replacement but Pittsburgh's Tristan Jarry is the only true number one on the market, assuming he doesn't re-sign in the coming weeks.
Seravalli noted that Gibson was available last summer but the asking price was quite high.  While their asking price is still likely on the high side, if they're more motivated to move him now as a result of Gibson's ask, there's a good chance that he'll be suiting up somewhere else next season.
Photo courtesy of USA Today Sports Images.