With Bo Horvat off the market now following his trade (and subsequent extension), the intrigue surrounding Red Wings center Dylan Larkin has started to pick up.  To that end, there were a few questions about him in our latest mailbag callout.  Rather than squeeze answers these into yesterday's column, let's assess Larkin's specific situation here instead.  The rest of the mailbag will run next weekend as usual.
joebad34: With Dylan Larkin having difficulties getting a new contract from Detroit, is he now on the trading block? What would be the asking price? Would the Sabres sending, #1, Mittelstadt, Olofsson, Krebs and the rights to Portillo or Johnson work, if the Sabres and Larkin agree to a deal?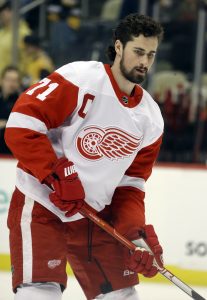 So, let's look at where things stand first.  It was reported latest last month that Larkin's camp rejected an eight-year, $64MM extension.  At first glance, it could be inferred that he's likely to be traded, especially since that offer represented a notable increase on his current $6.1MM AAV.  Not so fast.  Larkin told reporters (including ESPN's Greg Wyshynski) earlier this week that he still sees himself as a Red Wing long-term and reiterated his hope to stay with his hometown team.
With that in mind, I would suggest that right now, he's not on the trade block.  While I'm among the many that are stunned that an extension isn't done yet, a month is still a fairly long time to get something done.  At this point, there's no immediate rush to start soliciting offers; Plan A is still getting a deal signed.  Until things get to the point where an extension for sure isn't getting done, I expect GM Steve Yzerman's sole focus will be on the contract, not a trade.
Now, as to this trade proposal, you have too much going back.  Three players, a prospect, and a first-rounder is too much even with the expected premium that would be associated with doing a sign-and-trade.  I also wonder how much value the prospects have.  If Ryan Johnson's heart is set on testing free agency this summer, how useful is he to Detroit, aside from the compensatory late second-round pick?  It's a similar question for Erik Portillo who doesn't have the compensatory pick option and frankly, the Red Wings are hoping Sebastian Cossa is their goalie of the future even with his first pro season not going the smoothest.
Out of the other pieces, I think a combo of Peyton Krebs, the first-round pick, and Casey Mittelstadt would be of interest to Detroit; I don't sense Victor Olofsson would be the type of player Detroit would be willing to take on.  Is that enough for an extended Larkin?  I would say no but as a pure rental, that type of offer might get them in the mix if Detroit does wind up moving him and Buffalo decides to try to make a trade splash.
tigers22 2: What would possible packages be for Larkin and Bertuzzi if the Red Wings aren't able to get new contracts with them done and decide to deal them?
The Horvat trade provides a pretty good idea of what Larkin's trade market should be.  They're in the same tier talent-wise (I know Horvat's having a big year offensively but historically, they're comparable), on somewhat close contracts, and are seeking a pretty big raise.  Horvat (with 25% retention) yielded a cap matcher (Anthony Beauvillier), a protected first-round pick, and a good prospect in Aatu Raty.  Larkin's numbers aren't as good but if Detroit was willing to retain 50% instead of the 25% Vancouver retained, that would help even out the difference.  There are too many teams to break down the same type of offer from but that would be a reasonable framework.
Then there's Tyler Bertuzzi, a player whose value has probably taken a beating this season.  A year ago, he produced like a top-line winger.  This year, he can't stay healthy and has just one goal in 17 games.  If you're Detroit, you're hyping last season's numbers.  If you're another team, you're pointing at how poorly things have gone this season and are offering accordingly.  With 50% retention, I could see a team going as high a second-round pick if they think he can rebound and perhaps fit beyond this season.  I don't expect there to be much more of a package than that though unless the acquiring team needs to send some money back.
Johnny Z: What do you think of Larkin being traded to Boston? A Horvat-type return would be DeBrusk, Brett Harrison, and a 23 1st for Larkin at 1/2 salary. Does that sound about right?
I really like the idea of Larkin to Boston in theory (again, this assumes an extension doesn't get done).  Patrice Bergeron and David Krejci aren't going to be around much longer and at some point, he's going to need to be replaced.  Internally, their options are basically moving Pavel Zacha back down the middle and Charlie Coyle.  They're both good players but neither of them are top centers.  Getting and extending Larkin would be a great outcome but fitting him and a re-signed David Pastrnak in could be tricky.
I'm not quite as bullish on the idea of him being a rental player.  Yes, this is a go-for-broke type of season but is an acquisition that pushes Krejci to the third line the right move to make?  If it's a pure rental, I think a top-four defender might be the better way to go to work as injury insurance and really deepen that part of their lineup.  They're the top-scoring team and the top defensive team so either way, it's adding to an organizational strength but I think the back end is the thinner part to address.  Don't get me wrong, Larkin as a rental would certainly help as well but it might not be the most optimal spot to address for a short-term upgrade.
As for the offer, I'm not sure Jake DeBrusk is someone that Boston wants to part with right now.  He's at a considerably higher level than Beauvillier, a player some have suggested that the Isles were open to moving in the past just to get him off the books let alone for a return of quality.  That's a sunk cost whereas DeBrusk is in the middle of a career year.  Mike Reilly is more of a salary ballast type of player.
Now, with Boston's pick set to be considerably lower than New York's, that prospect needs to be better than Raty.  I'm not sure Brett Harrison is, at least to a big enough extent.  I could see Detroit wanting Fabian Lysell here, especially if it's a sign-and-trade while Mason Lohrei could be the difference-splitter as someone that could conceivably push for a spot with Detroit as soon as next season.  Is that an offer that would vault them to the top?  Perhaps not but it'd be high enough to have them legitimately in the bidding should the Red Wings get to that point if discussions on an extension with Larkin fall apart.
Photo courtesy of USA Today Sports Images.