The New York Islanders have agreed to an eight-year contract extension with recent trade acquisition Bo Horvat. The terms of the contract have not been officially disclosed at this time, but Sportsnet's Elliotte Friedman reports that the extension carries an $8.5MM average annual value. The deal will keep him under contract until he is 36 years old.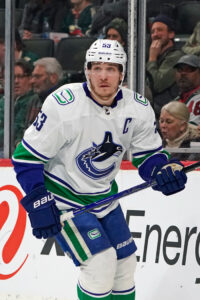 As reported by NYI Hockey Now's Stefen Rosner, Islanders General Manager Lou Lamoriello had the following to say regarding this newly-signed extension: "It's too long and it's too much money."
Lamoriello also noted that the contract was finalized as the first order of business this morning. When the Islanders initially acquired Horvat, the team had not yet discussed the framework for a contract extension.
The contract extension comes after the Islanders made a surprising trade to acquire the former Vancouver Canucks captain. The Islanders, who are already paying contracts with term attached to four centers, were not one of the teams most expected to be in the mix for Horvat's services.
Given what the Islanders gave up to acquire Horvat, though, (a first-round pick Anthony Beauvillier, and prospect Aatu Raty) it makes sense that the team would be interested in retaining Horvat beyond this season.
The presence of Mathew Barzal ($9.15MM through 2031, kicking in next season), Brock Nelson ($6MM through 2025), Jean-Gabriel Pageau ($5MM through 2026) and Casey Cizikas ($2.5MM through 2027) didn't stop Lamoriello from taking out his checkbook to pay for another pivot. With Horvat locked into the team's forward core for the rest of the decade, it seems one of those Islanders will at least in the short term switch to the wing.
Horvat earns this max-term contract extension on the heels of the best offensive season of his career. Horvat's career high in points is 61, and with 54 in 49 games this season he looks on pace to fly past that mark.
He already has 31 goals this year, which matches his previous high that he set last season. A two-time All-Star, Horvat is respected across the NHL for his leadership and two-way ability. Horvat has served as the Canucks' captain for the past four years.
In his one taste of playoff action, he scored 12 points in 17 games, leading the Canucks to an upset victory over the St. Louis Blues in the first round and then through a seven-game dogfight where they nearly knocked off the first-seeded Vegas Golden Knights.
The playoffs are exactly where the Islanders are hoping to end up with Horvat, and despite long odds for this season this extension seems to be the franchise doubling down on their short-term competitive goals. It was only a short time ago that the Islanders looked like the second-best team in the NHL, losing back-to-back Eastern Conference Finals to the Tampa Bay Lightning, the latter series going all seven games.
At the moment, the Islanders sit sixth in the Metropolitan Division with 25-22-5 record and 55 points. While they're technically just two points back of the Pittsburgh Penguins for the final Wild Card spot, the Penguins have three games in hand, and the Buffalo Sabres (who are above the Islanders with 56 points) have two games in hand.
Even if the Islanders fail to make the playoffs this season, it's true that this extension will improve their team's odds of getting there in subsequent seasons. Horvat is an unquestionably talented player and someone who can be a great second-line pivot on a contending team. The Islanders have Barzal as their incumbent first-line center, though it's possible that this signing shifts Barzal to Horvat's wing.
Horvat is one of the league's better players at the faceoff dot, and has won 56% of his draws this season. In contrast, Barzal has won just 35.9% of his draws. Should head coach Lane Lambert prefer a better face-off man as his first-line center, Barzal could very well end up on the wing moving forward.
The Islanders have quite a few pricey contracts for veteran forwards on their books, and this deal only adds to it. Barzal, Nelson, Pageau, Anders Lee, Josh Bailey, Kyle Palmieri, Ryan Pulock, and Adam Pelech are all under contract beyond this season at above a $5MM cap hit. Horvat adds an $8.5MM hit on top of that and leaves the Islanders in a relatively precarious salary cap position.
With so much of their core locked into contracts, the team has been left with precious little wiggle room to make changes and upgrades to their roster. A rise in the salary cap would benefit them enormously, especially as Ilya Sorokin is scheduled to hit unrestricted free agency in the summer of 2024.
This is an Islanders team that has severely underperformed relative to what their veteran players have been capable of producing in the past. If Lambert and his coaching staff can get a few of these underperforming veterans to pick things up, then this can be a very competitive team in the near future.
But that's far from a given, and many of their players have been trending downward for multiple seasons. Such a trajectory might cause some franchises to consider pivoting toward younger players and building toward another competitive window. Other franchises, like the Islanders here with this extension, choose to acquire more veteran talent to supplement the players they already have.
There's no exact right answer to the question of what to do with an underperforming team. There are major risks to trading quality players for draft picks and prospects, and the allure of a low-pressure rebuild can shroud the very real possibility that the prospects acquired don't pan out and the draft picks selected don't meet expectations.
Building a competitive NHL team is hard. It's a steep challenge, and while Lamoriello himself stated that the price tag attached to this deal is a bit high, it's also unavoidable. Giving talented players contracts that might be somewhat unsavory is simply the cost of doing business in the NHL. if a team wants to get better, this is usually the area of the market they need to shop in.
Is this extension risky? Absolutely. The Islanders could continue their downward trend and be locked into another pricey contract for an aging veteran. The deal would absolutely be a setback. But looking at things more generously, Horvat could be exactly the kind of player the Islanders need to spark a team-wide resurgence.
Although those long-term question marks linger, the Islanders have unquestionably improved with Horvat's acquisition. With this Horvat extension, they have ensured the source of that improvement doesn't end up leaving for another team in just a few months, which is a bit of business that's difficult to complain about.