Topics in this edition of the PHR Mailbag include the future of Flyers GM Chuck Fletcher, the challenges the Penguins will face if they try to rebuild, the trade deadline challenge for the Avalanche, and more.  If your question doesn't appear here, check for it in next weekend's mailbag.  Unless you asked about Dylan Larkin.  He'll be the focus of a bonus mailbag column tomorrow.
Gmm8811: It pains me to say this but I fear the Blues are in need of a major overhaul from top to bottom. Their fiscal situation isn't sustainable. They need to start stockpiling draft picks. Their reserve list is ok but pretty bare of any significant talent. Tarasenko and O'Reilly could bring some nice draft picks. Parayko has become the fans whipping boy…I can see him being moved. Maybe Krug goes too. Binnington overpaid for the return the team gets from him. Defense needs to get tougher and bottom six forwards need to improve. This team is not set up for the future at all in my opinion.
I would be surprised to see anywhere this level of an overhaul coming from St. Louis in the coming weeks before the deadline.  Yes, some changes will be coming, largely because of their cap situation when $10.65MM gets added to their books with the new deals for Jordan Kyrou and Robert Thomas kick in and that won't allow them to re-sign or replace both Vladimir Tarasenko and Ryan O'Reilly.  Barring a drastic improvement over the next few weeks, the pending UFAs could be traded but I doubt we'll see much more than moving out their rentals by March 3rd.
I do think there's a desire for the back end to be tougher but this is an easier-said-than-done scenario.  Colton Parayko's injury history hurts his value, as does the fact he's signed until 2030.  There's some concern that his contract won't age well.  Given his importance on their current back end, I don't think they want to sell low on him.  Torey Krug has four years left at $6.5MM as well.  Look at what happened with Shayne Gostisbehere a couple of years ago with Philadelphia having to pay to get the last two years of his deal off their books.  I don't think that's a route they want to take.  Jordan Binnington is in a similar situation, four years left at $6MM is a negative-value deal right now.  In the short term, creating a spot for Tyler Tucker to play regularly on the third pairing will give them a bit more physicality while I wouldn't hold your breath about big improvements coming to the bottom six for cap reasons.
There's a changing of the guard underway with Kyrou and Thomas becoming the new centerpieces of their forward group.  I think that change will continue but it will be gradual.  Once some of these longer-term contracts start to get shorter (think a couple of years from now) and become easier to move, that's when I think we'll start to see some more of the veteran core changing up.
DonnieBaseBallHOFer: How surprising is it that Fletcher still with the Flyers? If he is allowed to make moves at the deadline, doesn't that pretty well mean he stays even into next season? Not fair to a potential new GM to let Fletch make any moves now…is Briere ready to take the next step? If so, do they risk losing him to another team by sticking with Fletch now?
I'm not that surprised that Chuck Fletcher is still at the helm for Philadelphia.  This season hasn't been pretty but injuries certainly haven't helped things which could be a factor.  It's also year one of a coaching change.  To me, the fact the team allowed Fletcher to give John Tortorella a four-year, $16MM contract means they still had a lot of faith in him at that time.  They're six points out of a playoff spot despite not having Sean Couturier, Ryan Ellis, and Cam Atkinson all season long.  I don't think there's a big appetite internally to change things as a result.  I wouldn't say Fletcher has a long leash but I don't think there will be any restrictions on him at the deadline.
As for Daniel Briere, I don't think the Flyers are at much risk in terms of losing him.  Yes, he was in the mix for Montreal's job last season but they're a team that places high importance on speaking French which doesn't give them a deep pool to choose from.  Since then, I don't think Briere has been a serious candidate for the few openings that have come up.
He's still pretty inexperienced in the NHL in terms of management.  He has been a consultant for a year and a half and a special assistant for a year and a half.  Sure, some experience building up ECHL Maine from the ground helps but is he a little too green to take over a team?  I think other organizations think he is.  Give it a year or two, then he should come up in speculation a bit more.  Who knows, perhaps at that time, Fletcher moves up to Team President and Briere takes over as GM, something we've seen other organizations do?  I'm sure that's not your favorite scenario but unless this team completely nosedives next season, I wouldn't be shocked if it happened.
mhaftman7: The Flyers DESPERATELY need to go all in on a rebuild. Is Provorov to the Kings for a package including Byfield realistic? Could Hayes, JVR, Konecny, and Ristolainen all be moved?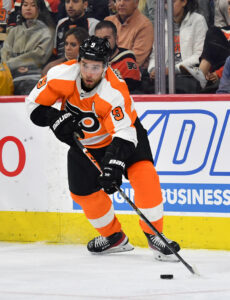 On paper, I like the fit of your trade idea.  Ivan Provorov would certainly fill a need in Los Angeles and while his value is down, so too is Quinton Byfield's so it'd be an interesting buy-low move on both sides assuming the other pieces are in place to make the money work (and we'd be talking about needing to match his $6.75MM contract, more or less).  Is it realistic right now?  I'm not so sure.  I think the PR element from what happened last month during Philadelphia's Pride Night is going to come into play in trade talks.  On top of that, these types of trades are likelier to happen at the draft or in the summer than they are now.
As for the need to do a rebuild, I don't disagree.  At best, this is a team that's spinning its wheels.  But a healthy Couturier and Atkinson (I'll leave Ellis out as who knows if he'll play again) probably get this team a few more points in the standings and then they'd be right in the Wild Card battle.  I don't see a big blow-it-up scenario happening as a result.
But let's look at your trade options.  Kevin Hayes has too pricey of a contract to move.  Same for Rasmus Ristolainen.  At best, they're summer swaps for other expensive deals but I expect them to stay put.  I think James van Riemsdyk goes with 50% retention for a draft pick.  Travis Konecny though, that one's tricky.  If they intend to go for the playoffs next season, he stays.  If they actually consider taking a step back though, this is a sell-high situation for someone in the prime of his career with two years left after this on what's looking like a team-friendly $5.5MM.  I wouldn't put him in the likely-to-be-dealt category but in the back of my head, he's an interesting dark horse candidate.
NYRFan 2: The Rangers NEED to get more ❤️ not prettier. Any chance they package some younger talent like Hajek, Robertson, Jones, or Blais and a pick or so for players like Jeannot (who is struggling) and Xhekaj who plays a game Jeff Gorton hates? Instead of multiple firsts and talent for a rental when I don't think we are there yet. Need guys to hammer pucks and bodies!
Let's look at your trade chips first.  Libor Hajek's trade value right now is next to non-existent.  He can't go to the minors and hasn't played well enough to stay in the lineup which has limited him to just ten games.  He's a throw-in piece at this point.  So is Sammy Blais who is basically salary ballast.  Matthew Robertson still has some value but he's not a headliner in a move for an impact player.  Zachary Jones could be though.  I think his value is down a bit this year but there will be rebuilding teams that look at him and think there's a spot on the depth chart.  Jones, a pick, and one of the throw-ins is a package that could be of some interest to fill a need in the coming weeks.
That said, I don't think Nashville has any interest in selling low on Tanner Jeannot and that trade combo as a result would certainly be selling low.  I could see a scenario where Montreal considers moving Arber Xhekaj as they have a lot of left-side depth in their defenseman pipeline but that would be to fill another organizational need, not replacing him with another left-side defender in Jones.
Maybe it's just me but I don't look at New York's back end and think that they need more toughness.  Adam Fox is a finesse player, sure, but there isn't anyone else that I'd put in that category.  (Ryan Lindgren isn't the most physical but he's capable of playing a hard game.)  I think they need an 18-minute player to partner with Braden Schneider, one that can kill penalties and move up if injuries arise.  That player doesn't really profile as the intimidator that you're aiming for.
Offensively, I think they should be targeting someone that can score as the Rangers have a middle-of-the-pack attack.  A key top-six addition could push them closer to a top-ten offense which, coupled with Igor Shesterkin, would make them very dangerous heading into the postseason.  They could benefit from adding a heavy player in the bottom six (preferably one that could kill penalties) but you'll need to set your sights lower than Jeannot.
koz125: I'm embarrassed to be a Penguins fan at the moment. Shouldn't they just start the rebuild with how terrible GMRH has screwed the team over? Obviously, they're no longer a serious contender and likely not a playoff team either.
On the surface, it's one thing to say they should start the rebuild.  But how exactly do they do that?  Sidney Crosby, Kris Letang, and Evgeni Malkin aren't going anywhere; even if Pittsburgh wanted to move them, I think they'd invoke their no-trade protection.  That's a sizable chunk of their veteran core right there which makes a full-scale rebuild a lot harder to do.
Could they move Jeff Petry?  Sure.  Jake Guentzel would fetch a nice return as well.  But Bryan Rust probably isn't movable with his long-term contract and lower production.  Rickard Rakell has had a nice year but his up-and-down track record will give teams pause, especially in the current cap environment.  Jason Zucker would bring back a draft pick at the deadline as a rental so I suppose that's something but that's not moving the needle much.  Brian Dumoulin has had a tough year so his value isn't great and I think if they could have moved Marcus Pettersson by now, he'd be playing somewhere else.  That doesn't leave them much of tradable options in terms of their core (or at least higher-priced) players.
This is probably going to sound a little goofy but staying on the current path might make more sense.  If you can't rebuild properly, why go halfway and sit in the mushy middle of non-playoff teams?  If the other veterans don't want to move or can't be moved, they can't really do a full-scale rebuild.  I agree that this team isn't a contender but they're close enough to the playoffs to justify staying the course for now.
It's not a great spot to be in but quite frankly, none of their options are ideal at this point – do nothing, take a step back to become a non-playoff team that'll finish 12th in the conference, or spend to try to sneak into a Wild Card spot.  If they fall out of the race a bit more in the coming weeks (Tristan Jarry's injury will play a role there), then sure, flip Zucker and get a future asset for someone that you'd otherwise lose for nothing.  But that's about the only rebuilding move I can see them making over the next few weeks.
@iwtfwc: Horvat gone! What do u see Colorado doing for 2C before deadline? Monahan, J. Toews, O'Reilly, Domi? Do u think they make a move for a banged up D core? Gavrikov, Karlsson, Gostisbehere, Schenn? What's the cost?
In an ideal world, I think GM Chris MacFarland is hoping to add a second center and at least some more defensive depth.  However, we have no idea what type of cap world it's going to be for the Avs in early March.  Injuries have prevented them from banking any sort of meaningful cap space and they've spent most of the year in LTIR.  If Gabriel Landeskog is able to return before the end of the regular season, they need to be able to get cap-compliant to activate him and in that case, the question changes from what do they want to do to what can they afford to do.  (In a spot of needing to basically match money, the answer is not much.)
On the other hand, if he's out for the full season (or they can find a way to drag it out until the playoffs) and they have his LTIR space to work with, they could make a couple of moves in theory.  All of a sudden, they can be more of an aggressive buyer, at least in theory.
It's important to note here that Colorado doesn't have a ton of trade assets.  If they don't want to move a first-rounder, their next-best pick asset is a 2025 second-round selection.  That's not going to get you much.  The prospect pool isn't the deepest either, an expected outcome after the Avs went for it (and won) last year.
I've liked Sean Monahan as a fit for them for a while but his injury situation (he stopped skating more than a week ago) presents some question marks.  Although, if he's going to be out for a while, he could be acquired into Landeskog's LTIR room with the hope he could be back for the playoffs.  O'Reilly's a good fit and if there's a way to make money work (that's a big if), I'd have him as Plan A.  I don't think they can afford Jonathan Toews so I'd take him off the list.  If Max Domi's market is thin, he could be an option as well.  I kind of like Ivan Barbashev as a fit for them.  He can play center (though he's better on the wing) but he's a pretty versatile player.  With the idea of trying to replicate Artturi Lehkonen's acquisition, I could see that being a move they could do (and might be able to afford on their cap with retention).
Defensively, I don't think they'll swing big here.  Bowen Byram is skating and is getting close to a return while Josh Manson is getting closer by the sounds of things.  Their returns will be their 'acquisitions'.  Sure, they'd love to add an impact piece but with a lack of cap space and trade assets, I think their focus will be more towards getting a sixth defender that they can stash as a seventh as injury insurance to allow them to use their best chip for a forward.  The cost for that type of player is a mid-round pick which is much cheaper than it will take for any of the options you listed.  Luke Schenn fits the bill cap-wise but because of that low AAV, it'd take that 2025 second-rounder (that they'll probably need for the center) plus another asset to get him.  They need to aim a bit lower in the defense pool as a result.
GBear: Being that the Preds have been playing somewhat better of late, do you think Poile does something to help their scoring inconsistency or does he continue to ponder the future of the team he built while watching Tolvanen score a lot of goals in Seattle?
This is another team that doesn't have an ideal path to go here.  His comments last month tell me that he's legitimately not sure which direction to try to take things over the next few weeks.  If he sells, there's not much in short-term assets to try to move in terms of rentals or veterans on short-term contracts that could be of interest elsewhere.  And with the team being on the periphery of the playoff race, there's not much of a justification to buy.  Meanwhile, standing pat doesn't do a whole lot either.
Long-term, I'm starting to lean towards thinking they rebuild but that's a process that's easier to start at the draft and in the summer when it's a bit easier to move bigger contracts (this is where a Mattias Ekholm trade could fit, for example).  But their best rental asset is Kevin Lankinen whose trade value is minimal so it's a process they can afford to wait on; it's not like not selling in the coming weeks will result in a bunch of missed opportunities.
If they opt to stay the course this season and just see how things shake out, I can see GM David Poile shopping the bargain bin of the market, players that be acquired for a very minimal return that can upgrade the bottom six and give them a small boost.  It's not too exciting but to answer your question, I'll go with Poile continuing to ponder the future and it being an uneventful trade deadline for the Predators.
FearTheWilson: Why is the Players Association taking so long to find a replacement for Donald Fehr?
Good timing for this topic with this question coming just before word came out that U.S. Secretary of Labor Marty Walsh appears to be the strong front-runner for the position although it's not supposed to be finalized this weekend.  The last time the NHLPA went with someone that didn't have a sports background was Paul Kelly and that didn't last too long as he was ousted in less than two years.  Assuming Walsh gets the position, I'm intrigued to see if he'll be more of a hard-liner or if we'll see a continuation of the less contentious period we're currently in.
To answer your question, there was no immediate rush to replace Fehr.  The heavy lifting is done for a few years.  The CBA was extended without much fanfare through 2025-26, there's an agreement to try to participate in the Olympics and there was some progress on a World Cup of Hockey before things went sideways.  Even with Fehr being outgoing in his role since April when it was announced he'd be replaced, he's more than capable of continuing to serve in the interim to allow a thorough search to be done.
I like how the NHLPA has handled this.  They've very quietly vetted several candidates over the last few months with minimal leaks (until now) about who was in the mix.  With them taking this much time, one would think they're going to be confident that they have the right person for the job and if that's the case, it'll be well worth the wait for them.
Photo courtesy of USA Today Sports Images.