With the new year upon us, the NHL season is in full swing. Teams are jockeying for playoff position, and many players with expiring contracts across the NHL are playing games that could ultimately determine what type of payday they might receive in the summer.
In a multi-part series, we'll take a look at each position group of the upcoming free agent class, and do a rundown on how those upcoming unrestricted free agents have performed this year. Which players have increased their odds of landing a massive contract? Which players have potentially hurt their earning potential with their play? We'll break it all down here.
The Marquee Names
Frederik Andersen, Carolina Hurricanes
Andersen didn't have the best platform year heading into his last trip to unrestricted free agency two years ago. The Danish netminder lost the starting role on the Toronto Maple Leafs to Jack Campbell, relinquishing a number-one slot he'd held tightly to for four straight seasons.
Andersen had posted a .909 save percentage in 2019-20, and had an .895 in his final year in Toronto, the first time in his professional career that his save percentage dropped below .900. Past the age of 30, he wasn't nearly the type of sure-fire investment he had once seemed to be, and he settled for a relatively modest two-year $4.5MM AAV guarantee from the Carolina Hurricanes.
In his first year in Carolina, Andersen completely flipped the narrative surrounding his career trend. He was no longer a declining asset, he was now a two-time Jennings trophy winner who may have been a contender for the Vezina trophy had Igor Shesterkin not authored the most impressive season by a goaltender since Carey Price's Hart Trophy-winning campaign.
In 52 games played Andersen went 35-14-3 with a 2.17 goals-against-average and a .922 save percentage. Although some might attribute such impressive success to the fact that the Hurricanes have one of the NHL's best defenses, Andersen still ranked near the top of the league in goals saved above expected, meaning he was making more than just the saves any goalie would be expected to make.
This season, Andersen hasn't had as much success thanks to an injury that's knocked him out for quite a while. He has just a .903 save percentage in 10 games played, but that sample size isn't large enough to make any larger claims about a decline from last season's impressive form.
If Andersen hits the open market, he'll do so in far better standing than he was two years ago, and his next contract is likely to reflect that.
Tristan Jarry, Pittsburgh Penguins
Like Andersen, Jarry was in a shaky place after the 2020-21 season. That year was his first as the unquestioned starter in Pittsburgh, and although he was impressive at times in the regular season, he lacked consistency.
In addition to that up-and-down regular season, Jarry made several significant mistakes in the Penguins' playoff series against the New York Islanders, mistakes that were a major reason why the Islanders were able to eliminate Pittsburgh. As a result, there were serious questions as to whether the Penguins could afford to trust Jarry as the goaltender to carry them through the twilight years Sidney Crosby, Evgeni Malkin, and Kris Letang's careers.
Jarry has answered those questions resoundingly with his performance in these past two seasons, though. Last year he played 58 games and posted a .919 save percentage, a performance that earned him one Vezina Trophy vote.
An unfortunate late injury kept him from playing a major role in the Penguins' brief playoff run, although one could certainly make the case that with a healthy Jarry, the Penguins would have likely prevailed over the Rangers. The Rangers took seven games to eliminate Pittsburgh, despite the Penguins being backstopped by third-stringer Louis Domingue for a significant portion of the series.
Had he not lost time due to injury, it's possible Jarry would have shown the Penguins organization that his ability to play on hockey's biggest stage wouldn't be defined by the mistakes he made in the series against the Islanders. But the injury cost him that chance, although he will get another opportunity if the Penguins make the playoffs.
Jarry, who will turn 28 in April, is in a strong position heading into the expiry of his contract. A deep playoff run could potentially vault him above Andersen to the top of this free agent class.
The Solid Contributors
Cam Talbot, Ottawa Senators
Just a year ago, Talbot looked to have found a nice landing spot as a starter with the Minnesota Wild. Then the team acquired Vezina Trophy winner Marc-Andre Fleury, and, after an offseason saga not lacking in drama, Talbot was off to Ottawa.
With the Senators, Talbot has performed solidly, although perhaps not quite to the standard he set in Minnesota (or all the way back in 2016-17, when he was a workhorse starter for the Edmonton Oilers.) Talbot has posted a .906 save percentage in 24 games played, and has had some hot stretches and some games he'd likely want to have back.
For example, from December 10th to December 27th, Talbot went 5-1-1 with a .927 save percentage. Since that point, in his last four games, Talbot has gone 1-3 with an .854 save percentage. While judging a goalie by his hot and cold stretches is always going to yield a semblance of inconsistency, the reality is Talbot has not provided the Senators with the type of goaltending they'd need to emerge as a playoff contender.
Over the course of his full tenure so far in Ottawa, Talbot has been adequate, but nothing more. At 35 years old, the market for solid-if-unimpressive goaltenders isn't known to be robust, so Talbot may not receive the type of deal he was lined up for just a year ago. But for a team looking to stabilize their situation in the crease and add an experienced veteran, Talbot is a highly respectable option.
Martin Jones, Seattle Kraken
Jones' season isn't the easiest to explain. His career path has been a bit of a rollercoaster, as he's gone from promising young Sharks starter to underperforming salary cap anchor, to unexciting backup with the Philadelphia Flyers. Last summer, Jones signed a one-year deal with the Seattle Kraken after the team's presumptive backup goalie, Chris Driedger, went down with a major injury.
Jones has taken the opportunity afforded to him in Seattle and run with it, seizing the role of number-one goalie from Philipp Grubauer. He's played in 31 games to Grubauer's 14, and has posted an extremely impressive 21-5-3 record, bolstered by back-to-back shutouts against Montreal and Boston.
But despite all that good news, Jones' save percentage remains below .900. Whether that says more about Jones' performance or the value of using save percentage as a be-all-end-all metric to evaluate goalie performance is for others to decide, but the fact remains that goalies posting below .900 save percentages aren't typically hot commodities in free agency, especially when those goalies haven't been above .900 in a half-decade.
That's the battle Jones could be fighting if his numbers remain where they currently are, although given his current performance there's strong reason to believe they'll improve. Given his age and inconsistent track record, it's difficult to imagine any team investing in Jones on a long-term basis with an expensive average annual value.
But if a team is hoping Jones' breakout performance can continue on their roster, it's possible Jones could net a nice raise from the $2MM he's making this season.
James Reimer, San Jose Sharks
Jones' replacement in San Jose, James Reimer, has long been a respected veteran option for NHL teams looking to add a tandem netminder.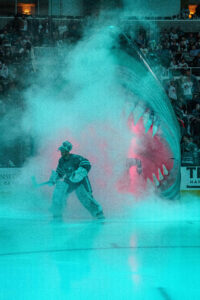 Last season, Reimer set a career-high in games played, appearing in 48 contests and posting a .911 save percentage and a 2.90 goals-against-average.
Reimer's performance is made all the more impressive by the fact that the Sharks defense he was playing behind was among the NHL's weaker units.
Reimer has been particularly good on the penalty kill in San Jose, but this season he's seen his overall numbers decline sharply.
He's at an .895 save percentage now and has an .879 since returning from injury on December 13th. If his numbers remain around this range, let alone get worse, Reimer will likely go from being one of the better tandem options on the open market to more of a bounce-back candidate.
Semyon Varlamov, New York Islanders
As Ilya Sorokin has taken the reins on Long Island and become one of the NHL's top netminders, Varlamov has faded somewhat from where he once was. The Russian earned a first-place Vezina Trophy vote in 2020-21, posting a highly impressive .929 save percentage in 36 games.
Since that point, Varlamov has ceded his role as the Islanders' number-one goalie to Sorokin, and his save percentage has declined from .920 and above to the low teens. Since he'll be 35 years old when the market opens, it's possible that teams now view Varlamov as more of a tandem or backup option than the slam-dunk starter he was just a short time ago.
Even so, it's undeniable that Varlamov was seen as one of the NHL's best goalies quite recently. If he's able to be had at a more affordable price than some of the big-name goalies on the open market, signing Varlamov could pay major dividends. There's risk to investing in any player getting into their mid-thirties, but there also is a precedent for goaltenders being able to play well even to the age of 40, as we saw with Mike Smith.
He may have to take a pay cut from the $5MM he's making now, but Varlamov should have a solid market to consider should be be available on the open market in the summer.
Jonathan Quick, Los Angeles Kings
One of the more legendary playoff performers in modern NHL history, Quick's performance in recent years has been highly uneven. In 2020-21, it looked as though Quick's days as a number-one goalie were over, as Cal Petersen played in far more games than Quick and posted a far better save percentage.
Then last season, Petersen struggled and Quick re-took the starter's crease, leading the Kings back to the playoffs with a 23-13-9 record, 2.59 goals-against-average, and .910 save percentage. It seemed Quick was back.
Now, this season, as the Kings have struggled as a whole in their own end, Quick's numbers have taken a major hit. He's rocking an .883 save percentage and ranks near the bottom of the NHL in MoneyPuck's goals saved above expected metric.
Quick will turn 37 later this month, and with players his age it's more likely that sharp declines in performance end up permanent, rather than temporary setbacks.
If there's anything Quick has shown over the course of his storied career, it's that people who bet against him will end up paying a high price. So knowing how well he's played in the past, it's impossible to write him off after a difficult 23-game start to this season. But if he keeps letting in goals at this rate everything is on the table.
Joonas Korpisalo, Columbus Blue Jackets
There are few netminders in the NHL who have been dealt a worse hand this season than Korpisalo. The Blue Jackets have been besieged by injuries, particularly on the blueline where they quickly lost franchise defenseman Zach Werenski to a long-term injury.
The severe struggles of Elvis Merzlikins have put even more pressure on Korpisalo to play well, and all things considered, he has done an admirable job tending the crease for one of the NHL's worst teams.
Through 18 games Korpisalo has a .908 save percentage, one that is significantly higher than the .865 mark Merzlikins has posted in just about the same number of games. That .908 mark also represents a massive improvement from the save percentages he's had in the last two years, including the nightmarish .877 he posted last season.
All things considered, there's a lot for Korpisalo to be proud of in his performance this season. MoneyPuck's work marks him as having a higher goals saved above expected than netminders such as Jarry, Vitek Vanecek, and Stuart Skinner, starters for teams that are likely to be in the playoffs.
Whether his impressive performance through 18 games will earn him a solid next contract is still a mystery, though. Korpisalo's inconsistency looms large over any strong runs he has this year, and it could be difficult for interested clubs to justify a sizeable investment in a player with such a shaky track record.
But the struggles Korpisalo faced in the past are not something he can change now. All he can do is attempt to weather the storm the Blue Jackets have faced this season and play well in these adverse conditions. So far, he's done exactly that, and his efforts won't go unnoticed by other clubs.
Antti Raanta, Carolina Hurricanes
Raanta, now 33 years old, has settled into a comfortable role as a backup netminder in Carolina. Due to injuries to Andersen, the team's starter, Raanta has been able to showcase his talent on a bigger stage than he'd likely anticipated, and under that microscope he's impressed.
He posted a .922 save percentage in 13 playoff starts last season, a hugely impressive performance in a league that places major value on playoff goaltending. In the regular season, he went 15-5-4 with a .912 save percentage. This year, Raanta's save percentage is down, but he's still winning the Hurricanes hockey games and his 2.63 goals-against-average is only a minor decline from last year.
This decline in save percentage likely won't be the largest factor working against Raanta on the open market, it'll be his struggles to stay healthy. Raanta hasn't started more than 32 games since 2017-18, and hasn't been able to stay consistently healthy throughout his NHL career.
When he does manage to get on the ice, he's shown he can be one of the better backups in the NHL, capable of even providing impressive performances on hockey's biggest stages. But one of the best things a backup goaltender can provide, beyond quality performances, is reliability and consistent availability.
That's been Raanta's biggest weakness in his NHL career, and despite solid performances in Carolina it'll likely be what costs him in his return to unrestricted free agency.
The Role Players
Adin Hill, Vegas Golden Knights
In the summer of 2021, the Sharks surrendered a second-round draft choice in order to acquire Hill from the Arizona Coyotes. Yet just a year later, they traded him to Vegas for a fourth-rounder. Hill never quite found his footing in San Jose, posting a .906 save percentage in 22 starts.
He had some strong performances, but injuries took their toll and by the end of the year the Sharks made the choice to look elsewhere to fill out their crease. In Vegas, Hill's numbers are remarkably similar to what he posted in San Jose, only he's already at 15 starts this season, just seven away from his total from the entirety of 2021-22.
By staying healthy, Hill has enhanced his value. He'll be 27 if he hits the open market in the summer, and if he can keep up his sound run of health he'll be a quality option for a team looking to add a younger option to their crease.
Kevin Lankinen, Nashville Predators
After an impressive rookie season that resulted in him picking up some down-ballot Calder Trophy votes, Lankinen had a nightmarish 2021-22, his save percentage crashing from .909 to .891 and his goals-against-average ballooning from 3.01 to 3.50.
That decline led to his departure from Chicago, which paved the way for him to sign in Nashville to be Juuse Saros' backup. In a more minor role than the one he shouldered with the Blackhawks, Lankinen has thrived.
He's posted a .918 save percentage in 10 games, and his performances have been a moderate help toward the Predators' efforts to remain in the hunt for a Wild Card spot. That ten-game sample size is, of course, not enough to make any long-term decisions about Lankinen's future.
But what it does indicate is that Lankinen is perhaps better suited to perform well in a role as a true backup, rather than as the number-one goalie he was in his rookie year or the tandem netminder he was last season. Lankinen is earning $1.5MM against the cap this season, and if he can keep up his performances for a full year, he'll get a pay raise as one of the better backups on the market in the summer.
Alex Nedeljkovic, Detroit Red Wings
The Hurricanes made a somewhat controversial decision in the 2021 offseason, trading Nedeljkovic, a Calder Trophy finalist and goalie they had spent several years developing, rather than give him the contract he felt he'd earned as a restricted free agent.
The Red Wings were happy to pounce on a still-young goalie who had posted a .932 save percentage that year, but it's fair to say at this point that the Hurricanes' choice to go with Andersen over Nedeljkovic was the right one.
While Andersen became a Vezina Trophy contender in Carolina, Nedeljkovic struggled in Detroit. On a team far weaker than what he'd played behind in Carolina, Nedeljkovic's numbers declined, and he finished 2021-22 with a .901 save percentage through 52 starts.
Nedeljkovic's lack of size means he relies more on his athleticism than other goalies, and on a team less capable of playing quality defense in front of him Nedeljkovic suffered. With an .880 save percentage this season in nine games played, Nedeljkovic finds himself battling with Magnus Hellberg for the right to back up Ville Husso.
Heading into free agency, it's likely Nedeljkovic will be viewed as a bounce-back candidate rather than someone to invest in for a role where a team requires reliability and consistency.
Pheonix Copley, Los Angeles Kings
With only 45 NHL games to his name, Copley's resume is far thinner than most of the goalies he'll hit the open market with in the summer. Yet unlike many of the goalies with more extensive track records, Copley has performed well this season, posting a hugely impressive 12-2 record in 14 starts.
His actual performance hasn't been all that flashy, but he's given the Kings a chance to win in each night he's played, which is something any team can appreciate.
Without a major track record, it's difficult to imagine Copley having a massive market when his contract expires. But if he keeps winning like this, anything's possible.
Others Of Note
Anthony Stolarz, Anaheim Ducks
After posting a rock-solid .917 save percentage in 28 games on a bad Duck's team last year, Stolarz has declined to an .895 this season. Stolarz has proven all he can prove at the AHL level, meaning his floor in terms of role is as a team's number-three goalie.
Whether he is signed to be a backup or as a competitive third-stringer could depend on how well he performs over the course of the rest of the season.
Alex Stalock, Chicago Blackhawks
Stalock has seemingly overcome the major health issues he faced in recent years and re-established himself as a legitimate NHL goaltender. That alone is worthy of celebrating. But Stalock's actual performance this year makes his return to the ice all that more impressive.
On a team stripped for parts and built for the future, Stalock has posted a .918 save percentage in 14 games. MoneyPuck's goals saved above expected stat ranks him in the upper portion of the NHL, ahead of some big-name players.
At 35 years old, it's not particularly likely that Stalock has suddenly become an elite goaltender, despite his elite numbers. But what he's done this year has definitely raised his stock leaguewide, and could earn him a raise on his next contract from the $750K he's making this season.
Pictures courtesy of USA Today Sports Images