As soon as they put the finishing touches on a statement win over the Toronto Maple Leafs, the Boston Bruins announced a contract extension for Pavel Zacha. The four-year deal will carry a cap hit of $4.75MM and keeps Zacha under contract through 2026-27.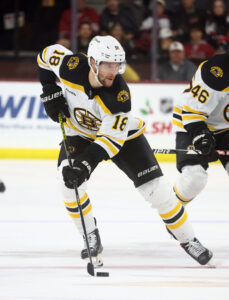 Zacha, 25, was acquired from the New Jersey Devils in an offseason trade last summer and agreed to a one-year, $3.5MM deal as an RFA. That would have walked him right to unrestricted free agency at the end of the season, and after a great performance so far, earned a serious extension.
The defensive forward has fit in nicely for the stingy Bruins, adding 25 points in 41 games. That has him on pace to set a new career-high (his previous is just 36), though only five of them are goals.
His scoring talents have become secondary over the years though, as Zacha refined his defensive game more and more. He can now be deployed on any line, at any point in the game, and help tilt the ice in the Bruins favor.
While it is certainly no guarantee that continues, the Boston front office must believe he can be a core piece moving forward. The Bruins have a massive contract negotiation still pending with David Pastrnak, which will eat up a ton of cap space moving forward.
Luckily, there's plenty of money coming off the books even with Zacha signed. Nick Foligno, Craig Smith, Tomas Nosek, Chris Wagner, Anton Stralman, and Connor Clifton are all pending UFAs, not to mention Patrice Bergeron and David Krejci who are going year-to-year at this point.
With Zacha in place, the team still has more than $20MM to work with as they try to rebuild the roster for next season.
Photo courtesy of USA Today Sports Images