The regular season is underway for two teams while the rest of the league gets started in the coming days.  Accordingly, activity has picked up over the coming days and the upcoming week will likely be a busy one.  Before that, let's take a look back at the key stories from the week that was.
Under The Knife Again: The long-term injury to Marco Scandella was supposed to present an opportunity for Scott Perunovich to earn a regular spot in the lineup.  Unfortunately for him and the Blues, that's not going to happen as he'll miss at least the next six months and will need shoulder surgery.  It's the second major shoulder injury of his career although it's not the same issue as the torn labrum that cost him the 2020-21 campaign.  Perunovich was a productive defenseman in college and averaged more than a point per game in 17 contests with AHL Springfield last season but he'll be waiting a while now to have a chance at making a consistent impact in St. Louis.
Extending In Calgary: MacKenzie Weegar's camp was hoping to get an extension worked out before the season and they got their wish, inking a max-term eight-year deal that carries a $6.25MM AAV.  The defenseman was the other key roster player that came as part of the Matthew Tkachuk trade this summer.  (The other roster piece, Jonathan Huberdeau, inked a max-term extension himself not long ago.)  Weegar has blossomed from being a late-round pick in his second year of eligibility to an all-around impact defender and will help anchor Calgary's back end for years to come.  Meanwhile, the team will continue to be led behind the bench by Darryl Sutter, who agreed to a two-year extension of his own.  The reigning Jack Adams Award winner was entering the final year of his deal and at 64, a short-term agreement was expected.  He'll be leading a new-look Flames squad that also lost Johnny Gaudreau this summer while they also picked up Nazem Kadri.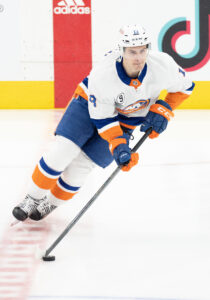 Staying With The Islanders: Recently, Mathew Barzal had indicated a desire to get a long-term deal done with the Islanders and they were able to do just that as the center signed a max-term eight-year, $73.2MM ($9.15MM AAV) contract extension that begins next season.  The pact will give him a 22-team no-trade clause when he becomes eligible for one in 2024-25.  Barzal burst onto the NHL scene in 2017-18, leading the team in points with 85 while winning the Calder Trophy.  However, he has failed to come close to that output since then, topping out at 62 over the last four years.  With that in mind, the price tag might seem a little steep but this deal ensures that New York will have their top center locked up for quite a while as they hope that the coaching change to Lane Lambert will help Barzal regain some of his lost production.
Creating Cap Room: There are some teams that need to free up cap space and not a lot of teams are willing to take on extra money.  Vancouver was a team wanting some flexibility while Chicago had made it known they'd be open to doing so at the right price.  That right price evidently was a 2024 second-round pick as the Blackhawks acquired one along with center Jason Dickinson from the Canucks in exchange for defenseman Riley Stillman.  Dickinson struggled mightily in his only season with Vancouver (after they moved a third-rounder to get him) with just 11 points in 62 games, hardly a good return on a $2.65MM investment that runs through 2023-24.  Stillman, meanwhile, makes $1.35MM in each of the next two seasons, giving Vancouver $1.3MM in cap room while filling a short-term void on the back end with both Tyler Myers and Travis Dermott out of the lineup right now.
Finding Middle Ground: The belief was that the Stars were going to work out either a short-term bridge deal or a long-term pact with RFA winger Jason Robertson.  In the end, they settled on something in between, agreeing to a four-year deal that carries a $7.75MM AAV.  Notably, this does not walk the 23-year-old to unrestricted free agency as he'll still have one year of RFA eligibility remaining where he'll have arbitration rights and be owed a $9.3MM qualifying offer.  Robertson is coming off a breakout year that saw him finish second on Dallas in scoring for the second straight year while posting 41 goals and 38 assists in 74 games, becoming an integral part of their forward group in the process.  This deal ensures he'll be in the lineup on opening night while guaranteeing him an even bigger payday in 2026.
Photo courtesy of USA Today Sports Images.