We have a trade to announce. Per a team release, the Vancouver Canucks are trading center Jason Dickinson and a 2024 second-round pick to the Chicago Blackhawks for defenseman Riley Stillman. The Canucks have also announced the deal.
From both the Canucks' side of the trade and the Blackhawks', the deal makes a lot of sense. From Chicago's point of view, this swap fits their overarching organizational vision. The Blackhawks are undergoing a full-scale rebuild, and this whole past offseason they proved they would leave no stone unturned in their quest to accumulate as many draft picks and prospects as possible.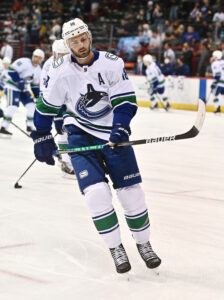 At a time when the value of cap space is at an absolute premium, the Blackhawks, by acquiring Dickinson, (who has a $2.65MM cap hit for the next two seasons) have cashed in some of their cap space in order to land a valuable draft pick from another club.
Additionally, the acquisition of Dickinson fits in with some of their other additions from this offseason, in the sense that he is a player whose value has declined from previous seasons and has room to rebound. In the summer of 2021, the Canucks thought highly enough of Dickinson to surrender a third-round pick for his services, and now after just one season he's relegated to being a negative-value asset in a cap-shedding trade.
While Dickinson's lone season in Vancouver was admittedly a poor one, the Blackhawks are now hoping that he will respond well to greater opportunity on their team and rehabilitate his value enough to possibly be flipped for even more draft picks either at this trade deadline season or this summer.
Dickinson, 27, was a 2013 first-round pick and has at times shown the ability to be a quality defensive center. But in Vancouver his offense almost completely dried up, meaning improving Dickinson's play offensively will likely be the first priority for head coach Luke Richardson and his staff.
From Vancouver's perspective, this deal seems less about acquiring Stillman and more about clearing Dickinson's contract off their books. Just a few hours ago, we covered how 22-year-old Swedish import Nils Aman was in pole position to seize the Canucks' fourth-line center role, a development that, prior to this trade, would have left Dickinson either without a regular spot in the lineup or perhaps even on waivers and headed to AHL Abbotsford. Now, the Canucks' roster decision-making process will be a lot simpler.
While clearing Dickinson's deal off the cap-strapped Canucks' books was likely the main purpose of this trade, acquiring Stillman is not without its usefulness as well. Today we learned that Tyler Myers would be out with an injury for the start of the regular season, so perhaps Stillman was acquired in part to help the team make up for his absence.
Stillman, 24, played 52 games last season in Chicago and scored 12 points. The former Oshawa General is a defense-first, physical defenseman who saw some time on the Blackhawks' penalty kill as well. While it's unlikely that he'll climb the Canucks' competitive defensive depth chart, he'll be a useful reinforcement as Vancouver looks to pick up where they left off under Bruce Boudreau last year.
Pictures courtesy of USA Today Sports Images