The Calgary Flames have signed another one of their newcomers to a massive extension. The Flames and MacKenzie Weegar have agreed to an eight-year extension worth $50MM ($6.25MM AAV). Weegar was scheduled for unrestricted free agency after the upcoming season. Frank Seravalli of Daily Faceoff adds that it has a full no-trade clause for the first four years of the deal and a partial no-trade for the final four. Pierre LeBrun of The Athletic has the full breakdown:
2023-24: $4.25MM salary + $2.0MM signing bonus
2024-25: $4.25MM salary + $2.0MM signing bonus
2025-26: $4.25MM salary + $2.0MM signing bonus
2026-27: $4.25MM salary + $2.0MM signing bonus
2027-28: $6.25MM salary
2028-29: $6.25MM salary
2029-30: $6.25MM salary
2030-31: $6.25MM salary
Acquired along with Jonathan Huberdeau, Cole Schwindt, and a first-round pick this summer in exchange for Matthew Tkachuk (and a fourth-rounder), Weegar immediately publicized his desire to stay in Calgary long-term. It makes sense that a player who has climbed from being a seventh-round afterthought to a first-pairing star would be looking for some security, and the Flames are happy to oblige.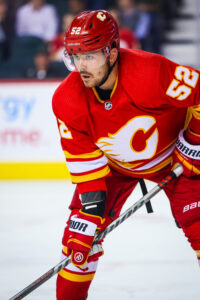 Still, given that Weegar will turn 29 this season, an eight-year extension is a rather risky commitment. He'll be 37 by the time the contract ends, not exactly in the traditional prime of an NHL defenseman.
There is a real possibility for surplus value in the first few years, given how well Weegar has played the last few seasons, but even then he'll already be getting paid like a top-pairing option. A $6.25MM cap hit will tie him with Jeff Petry, Ryan Ellis, Mattias Ekholm, and Josh Morrissey for the 34th highest-paid defenseman in the league.
A couple of those names should send a little bit of hesitation down the spine of Flames fans who don't want to be stuck with an overpaid, underperforming veteran, but there are a few things in Calgary's favor.
One, the salary cap is expected to increase significantly over the next few years, meaning Weegar's contract will not be as significant as those other numbers have been. Second, the team is obviously focused on keeping their competitive window open right now, even after losing Tkachuk and Johnny Gaudreau in the offseason. Huberdeau's massive eight-year, $84MM extension proves that. That contract will likely look terrible down the line but for now, the team has at least two years with this exceptional core in place.
Notably, both Elias Lindholm and Noah Hanifin, two of the most important players on the team, are scheduled for UFA status after 2023-24. They will both be looking for raises, and the Flames may have to make some tough decisions with the rest of their roster to keep them. If that means cutting talent elsewhere, they'll at least have Huberdeau and Weegar (and Nazem Kadri, Blake Coleman, and Rasmus Andersson) locked in as leaders for the long term.
Photo courtesy of USA Today Sports Images