There's nothing like a little nighttime news breaking. The Dallas Stars have reached an agreement with restricted free agent Jason Robertson, signing the breakout star to a four-year contract that carries an average annual value of $7.75MM. The deal ends a standoff that had kept Robertson out of the majority of training camp but should have him ready to go in time for the start of the regular season next week.
Stars general manager Jim Nill released this statement:
Jason is an integral part of the present and future of our team and we're thrilled to have him for the next four years. Since he was drafted by our organization, he has worked tirelessly to become a better player every day. His knack for scoring goals and seeing plays develop on the ice are just some of the tremendous assets that he brings to our team. He is one of the best young players in the NHL and we look forward to seeing him continue to progress.
PuckPedia provides the full breakdown of the deal, which is heavily back-loaded:
2022-23: $1.5MM salary + $3.0MM signing bonus
2023-24: $8.0MM salary
2024-25: $9.2MM salary
2025-26: $9.3MM salary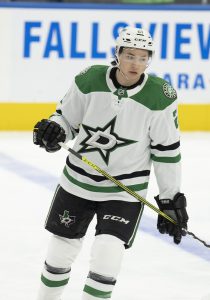 The contract will leave Robertson a restricted free agent in the summer of 2026 but one with arbitration rights. It will also mean he is due a $9.3MM qualifying offer that offseason, something that could walk him directly to UFA status in 2027.
It's hard to explain quite how impressive Robertson has been since entering the league in 2020. The second-round pick has 125 points in 128 career games and is coming off a season with 41 goals. He sits 30th among players with over 100 appearances during that period in points-per-game, and he has done it while averaging fewer than 18 minutes a night – a number lower than every single player ahead of him on that list.
That kind of offensive production is rewarded no matter how hard a team tries to avoid it, and Robertson has landed an incredibly lucrative deal with this contract. As Matthew DeFranks of the Dallas Morning News points out, there are only two active RFA contracts in the NHL that are four years or fewer, with an average annual value of at least $7.75MM: Robertson's new deal and Patrik Laine's four-year, $34.8MM deal signed earlier this summer. Laine's contract of course is buying out mostly UFA years, while Robertson will still be under (some) team control at the expiry of this deal.
The key for Dallas, is that even if Robertson continues his meteoric rise and demands a massive extension in four years, they will have quite a bit of money to work with. Not only is the salary cap expected to rise significantly by then, but Jamie Benn's $9.5MM cap hit will also be off the books, along with Ryan Suter's $3.65MM. Even Esa Lindell, Mason Marchment, and Radek Faksa could all be gone, leaving the Stars with plenty of flexibility to build a roster around Robertson, Miro Heiskanen, Roope Hintz (who is now eligible for an extension), and Jake Oettinger.
A deal like this cuts into the surplus value that they received from Robertson since his debut but doesn't limit it entirely. A $7.75MM cap hit is reasonable enough that the team doesn't need to move out significant pieces to accommodate it, while four years is long enough to really see whether Robertson is a true superstar or just a top-end player. The 23-year-old can now focus entirely on what remains of training camp and getting ready for the regular season in a few days.
Photo courtesy of USA Today Sports Images