Nick Paul made a very good impression on the Lightning after being acquired from Ottawa at the trade deadline.  He did well enough, in fact, to earn a long-term contract as the team announced that they've signed the forward to a seven-year contract with an AAV of $3.15MM.  CapFriendly reports (Twitter link) that the deal breaks down as follows:
2022-23: $750K base salary, $3.4MM signing bonus, full no-trade clause
2023-24: $2.15MM base salary, $2MM signing bonus, full no-trade clause
2024-25: $3.25MM base salary, full no-trade clause
2025-26: $3MM base salary, full no-trade clause
2026-27: $1.5MM base salary, $1MM signing bonus, 16-team no-trade clause
2027-28: $1.5MM base salary, $1MM signing bonus, 16-team no-trade clause
2028-29: $1.5MM base salary, $1MM signing bonus, 16-team no-trade clause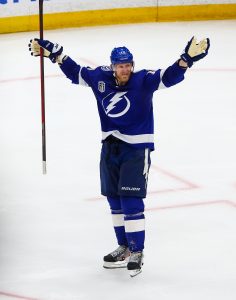 The 27-year-old had a career year in 2021-22, picking up 16 goals and 16 assists in 80 games between the Senators and Lightning but his production in Tampa Bay was certainly noteworthy as he collected 14 points in 21 contests despite seeing his average ice time drop by more than three minutes per game to 14:06.  Most of that time was spent on the wing but that changed in the playoffs as he mostly played down the middle.  His production dropped to just five goals and four helpers in their 23 postseason matches but he took 382 draws in what was largely a checking role while his playing time jumped to over 18 minutes a night in the process.
Paul had been believed to be seeking a multi-year deal with an AAV around the $3MM mark while with Ottawa, a price they clearly didn't want to pay which resulted in him being sent to Tampa Bay for Mathieu Joseph and a 2024 fourth-round pick.  His showing down the stretch and in the playoffs certainly bolstered his market and he was able to surpass the $3MM threshold while getting close to a max-term agreement in the process.
Of course, this contract further tightens Tampa Bay's salary cap situation.  They now have more than $87.6MM in commitments for next season, per CapFriendly, with a projected minimum-sized roster.  They'll have some relief with Brent Seabrook's $6.875MM remaining on LTIR but that doesn't give them much room to work with as they look to find a way to keep winger Ondrej Palat and defenseman Jan Rutta in the fold; both players are pending unrestricted free agents.  On Thursday, it was reported that the Lightning were working with blueliner Ryan McDonagh to see if there's a suitable trade he'd be open to which would give them some flexibility with the veteran carrying a $6.75MM cap charge for the next four years.  GM Julien BriseBois can check off one key item of his summer to-do list but there is still some work to be done.
TSN's Darren Dreger was the first to report the two sides were closing in on an agreement while Sportsnet's Elliotte Friedman was the first to report the seven-year term.
Photo courtesy of USA Today Sports Images.