Free agency is now less than a week away and teams are looking ahead to when it opens up.  There will be several prominent players set to hit the open market in mid-July while many teams have key restricted free agents to re-sign as well.  Next up is a look at the Calgary Flames.
Key Restricted Free Agents
F Matthew Tkachuk – While the contract negotiations between the Flames and Gaudreau have soaked up most of the headlines, the team's upcoming negotiations with Matthew Tkachuk are of equal (if not greater) importance. Tkachuk is a 24-year-old player coming off a 104-point season. He's a big, mean power forward who can score at an elite level. Those players are tough to find and Tkachuk is a unique player when you look at the landscape of superstar wingers across the NHL. If the Flames are serious about wanting to compete for many years moving forward, retaining Tkachuk on a long-term contract is something they simply have to do. But it's not entirely up to them. Tkachuk is getting precariously close to hitting unrestricted free agency, and he could simply walk himself there by taking his $9MM qualifying offer and then hitting the market next summer. With a $9MM qualifying offer in his hands, that could potentially be seen as the floor for any long-term extension the Flames offer Tkachuk. With a trip to unrestricted free agency only a year away, it wouldn't be surprising if Tkachuk hit double digits on the average annual value of a long-term deal in Calgary.
F Andrew Mangiapane – After two consecutive seasons as a full-time NHL-er, it looked as though Mangiapane's long-term NHL projection was quite clear. He had scored 32 points in both years, and his goal totals were consistent as well, with 17 in 2020-21 and 18 in 2021-22. Mangiapane looked like a solid, high-energy middle-six winger with some scoring touch. This year, though, Mangiapane reached new heights in offensive production, finishing the year with 35 goals and 55 points. Mangiapane also offers a two-way game as well, and he averaged 1:17 time-on-ice per game on the Flames' penalty kill, a kill that ranked sixth in the NHL. While some might point to Mangiapane's 18.9% shooting percentage as an indication that his goal-scoring was a fluke, Mangiapane actually had a higher shooting percentage in 2020-21 and has been able to sustain a shooting percentage above 15% in each of his three seasons as a productive NHL regular. The larger concern with Mangiapane's goal-scoring might be how streaky it was, as Mangiapane burst out the gates at the start of the regular season only to slow down as the year wore on. Still, even with that concern, Mangiapane has lined himself up for a nice contract extension. Whether that extension comes from the Flames remains to be seen, as his 35-goal performance may have priced him out of a Flames team that's currently attempting to sign two other wingers to mega-extensions in Tkachuk and Gaudreau.
D Oliver Kylington – There was a time when Flames defenseman Oliver Kylington was seen as a bit of a "bust." The Stockholm native had struggled to make any mark at the NHL level in his limited action in 2018-19 and 2019-20, and frequently played with the kind of reckless abandon that did not endear himself to his coaches. Under Darryl Sutter, though, Kylington's game has become more polished, and Kylington has learned how to better leverage his tools to have success in an NHL that harshly punishes defensive mistakes. He finished with 31 points in 73 games in 2021-22 and was a top-four defenseman on a strong Flames team, averaging over 18 minutes of ice time per game. Kylington's transitional game fits what's expected of modern NHL defensemen, and his level of offensive production despite ranking outside the top ten among Flames skaters in power-play time-on-ice is impressive. A short-term deal could be wise if the Flames wish to keep his price tag low to maximize their current competitive window, although a long-term deal could be better if the Flames believe Kylington will continue his upward trajectory.
Other RFA's: F Matthew Phillips, F Martin Pospisil, F Adam Ruzicka, F Eetu Tuulola, D Johannes Kinnvall, D Colton Poolman, G Tyler Parsons
Key Unrestricted Free Agents
F Johnny Gaudreau – The Flames believe they can compete for a Stanley Cup next year and for many years after that. It's hard to disagree with their assessment when one considers their incredibly successful regular season, but that forecast may need to change depending on where Johnny Gaudreau is playing next season. Gaudreau had the best season of his career in 2021-22, scoring 40 goals and 115 points en route to the second fourth-place Hart Trophy finish of his career. Gaudreau proved that he was among the league's best play-driving wingers and helped dissuade those who were down on his game after a difficult prior two seasons. Gaudreau also had a productive playoff run, scoring 14 points in 12 games, including a Game Seven overtime winner, helping counter critics who claimed Gaudreau disappeared when it mattered most. GM Brad Treliving has said he would move "heaven and earth" to retain Gaudreau, and it's easy to see why. With his level of production, Gaudreau has every right to expect a double-digit AAV from any interested suitors, and while a contract at that value may not be the best in its final few years, that's simply the cost of doing business in free agency and the reality is Gaudreau is worth every penny at this moment.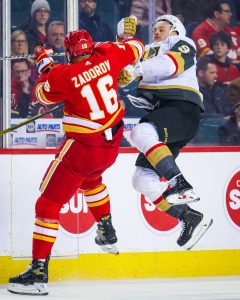 D Nikita Zadorov – Nikita Zadorov came to Calgary without much fanfare. The Flames were his third team in as many years, and the throwback, extremely physical style of game he plays is one that polarizes many fans. What didn't polarize fans as much, though, was the success he had on the Flames' third pairing next to fellow stay-at-home defenseman Erik Gudbranson. The six-foot-six Moscow native gave out some major hits and helped make the team's third pairing one to be feared. While Zadorov plays a rugged, physical style, his game is not notably effective defensively and he was not a major factor on the Flames' penalty kill. That's a curious bit of information, as one would expect a defenseman with Zadorov's profile to be a defensive specialist and penalty kill anchor. But that simply wasn't the role Zadorov played, though, and that has to factor into his market value. If he's a hit-first player but not a shutdown player, that could seriously cut into how he's valued by teams. Zadorov earned $3.75MM in 2021-22 and could fetch a raise on the open market if a team does believe he can be a shutdown defenseman, not just a human wrecking ball.
Other UFA's:  F Calle Jarnkrok, F Ryan Carpenter, F Trevor Lewis, F Brett Ritchie, D Michael Stone, D Erik Gudbranson, F Byron Froese, F Glenn Gawdin, F Justin Kirkland, F Luke Philp, D Nick DeSimone, D Kevin Gravel, D Andy Welinski
Projected Cap Space
This is where things get a bit dicey for Calgary. The team is projected to have nearly $27MM in cap space, but that gets cut down quickly if Gaudreau and Tkachuk both sign extensions worth $9MM or more. The team also has Kylington and Mangiapane's extensions to consider, as well as an Elias Lindholm extension that will need to get done after the next two seasons. The point being made here is that the Flames have an abundance of talented players, and will need to effectively manage their cap in order to retain them all and preserve the necessary room to acquire outside improvements to their roster. Sean Monahan's $6.375MM cap hit looms on long-term injured reserve, and the team could look to send Monahan to another team so they're able to accumulate cap space over the course of next season. It'll be a tricky few months for the Flames, but if Treliving can play his cards correctly he'll have laid the foundation for a contender in Calgary for years to come.
Photos courtesy of USA Today Sports Images.  Contract information courtesy of CapFriendly.