The Flames have had a remarkable season this year, bouncing back from last year's disappointment and clinching a return to the Stanley Cup Playoffs. They sit sixth in the NHL with a 46-20-9 record and are in the conversation for the best team in the Western Conference. But despite these good times for the franchise, there is one looming uncertainty that could pose a serious threat to the team's ability to compete after this season: Johnny Gaudreau's pending unrestricted free agency. Gaudreau, 28, has been the most skilled player to don a Flames sweater in years, and he has reached a new dimension of production this season, with 105 points in 75 games. He has played himself into the Hart Trophy conversation and cemented his status as the team's most important player. But after this season, Gaudreau's $6.75MM AAV contract expires, and he is set to hit the open market as an unrestricted free agent.
Naturally, that situation has been a consistent storyline all season for Calgary. The Flames reportedly began extension talks with Gaudreau last July, but those talks obviously have not borne fruit. After this season began both parties decided they would not negotiate a contract mid-season in order to remove all distractions for the team and player. As a result, Gaudreau's contract situation still looms large over the franchise, so much so that in an interview with Sportsnet after his team clinched the playoffs, Flames GM Brad Treliving was asked about Gaudreau's situation directly. Treliving stated that the two parties' choice to "keep things quiet" on the extension front during the season "should by no means be taken as any indication" that the team does not want Gaudreau back. Treliving even goes further on that sentiment, saying that the Flames will "move heaven and earth" and "do everything [they] possibly can to get Johnny back." Treliving communicated a general sentiment in his comments that the Flames' overall philosophy is to try to retain and support the team's most talented players rather than to trade them away or let them leave. These comments cannot be seen as anything but a strong indication that Treliving intends to apply that philosophy to the contract situation of Gaudreau.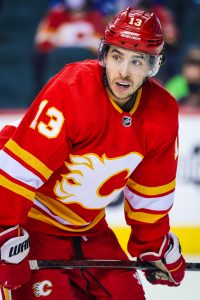 But despite Treliving's intention to "move heaven and earth" for Gaudreau, like with any unrestricted free agent, the decision is not his alone to make. Gaudreau has had a fantastic platform season as he enters the open market, and he looks in line to command a massive contract. The Flames have a Matthew Tkachuk extension to consider after this season and are heading into the final two years of Elias Lindholm's team-friendly $4.85MM AAV deal. There is definitely room for the Flames to give Gaudreau that extension, especially if the team can find a way to move Sean Monahan and his $6.375MM cap hit, but it won't be easy.
Additionally, one external factor complicates things as well. Gaudreau is from southern New Jersey and has in the past flirted with the idea of playing for the Flyers. The Flyers will be under significant pressure this offseason to build a team that can win in 2022-23, and Sportsnet's Elliotte Friedman reported on a 32 Thoughts podcast that the Flyers' strategy for dealing with the financial pressures of losing is typically to "go out and get something shiny" that "the fans find attractive." What would be more attractive to the Flyers fanbase and sponsorship base than a Hart Trophy candidate who grew up rooting for the Flyers?  With all those factors in play, one has to wonder if the Flames are in the position to win a potential bidding war against a highly motivated Flyers club that has that hometown advantage over their player. But if Treliving's comments from yesterday are any indication, the Flames look set to make a major push this offseason to retain their homegrown star.
Photo Courtesy of USA Today Sports Images