There were several questions about the Red Wings in our latest callout for questions for the PHR Mailbag.  Rather than try to condense them to fit them within a full mailbag, let's examine them in a bit more detail in a Detroit-specific piece.  The rest of the mailbag will run on Sunday.
pawdog13: What have you heard about the Red Wings' coaching search? Crickets everywhere!
@jamara23732: Who do you believe the Red Wings will hire as head coach?
The best way to describe Detroit's coaching search thus far is that it's thorough.  GM Steve Yzerman is known to be patient and he's turning over every rock while considering both experienced and first-time options.  Barry Trotz interviewed for the opening back in May but Trotz basically interviewed with every team that has a coaching vacancy and then decided to take next season off.  David Quinn, the former Rangers head coach, has also been interviewed.  He's someone that has a lot of experience working with younger players and with the Red Wings having a younger roster, that could be appealing.  They also interviewed Bruce Cassidy but clearly, that one isn't happening as he's now with Vegas.
Speculatively, I think part of their hold up is that Yzerman wants to have a conversation with Derek Lalonde, an assistant with the Lightning.  Yzerman was still with Tampa Bay when Lalonde joined them so he will have some familiarity and considering what Tampa Bay has done since then, he has only helped boost his stock since then.  Detroit might not be the only team waiting for the Stanley Cup Final to end to have a conversation with Lalonde.
As for who I think they'll hire, I've covered that one in a prior mailbag but I'll mention it here again in Jim Montgomery.  Dallas was doing well under his tutelage before his departure so it's not as if he's a first-time bench boss.  He also has a track record of working with younger players from his days in college.  He's also someone that fits both types of coaching options.  He could be the long-term solution behind the bench which would be great for them but he could also be a transitional coach, one that helps elevate the stock and development of certain players but might not be the right fit in the end.  Either option would be a win for them at this stage.  In reality, your guess is as good as mine with the lack of information out there about their search but Montgomery would be my pick.
gowings2008: Any idea who the Red Wings may target in free agency? Based on the direction the team is headed, I think adding a player like Andre Burakovsky could make sense.
@jamara23732: What free agents do you see the Red Wings pursuing when free agency starts?
I don't expect Detroit to necessarily be shopping at the top end of the market yet.  Are they ready to flip the switch and move to win-now mode?  They're getting closer to that point but I don't think it'll be this summer.  That should keep them out of the bidding wars for the top players.
Looking at their depth chart, their center situation stands out.  Dylan Larkin is in place although he only has one yet left on his contract.  After that, there are a lot of question marks.  Pius Suter isn't a true top-six option and while Michael Rasmussen has shown some improvement, he fits much better on the third line than the second.  Joe Veleno has similar upside.  Oskar Sundqvist, acquired at the trade deadline, is also a bottom-sixer.  There's a definite need for a top-six center.
Vincent Trocheck is someone I expect them to take a serious run at.  He turns 29 next month so he should still have several good seasons ahead of him.  He's not going to push to be a top pivot – that spot is still Larkin's – but he'd allow Rasmussen and Veleno to slot into the last two center spots and give them a very stable group of middlemen.  Good teams need good center depth and Trocheck would give them exactly that.  If that doesn't happen, they might inquire on Andrew Copp and Ryan Strome, similar-aged players that would give them some stability although the upside isn't as great.  I'd be more worried about adding middlemen than wingers at this point so while Burakovsky would certainly help, he shouldn't be their top priority either.
The left side of their back end is another sizable hole but that will be difficult to fill in free agency as the impact rearguards are righties.  I've mused in the past about them taking a look at someone like John Klingberg which would free them up to trade Filip Hronek for a lefty that better fits their needs.  That might be their best shot at adding an impact left-side defender, actually.  Simon Edvinsson will see some time next season but their free agent target on that side might be a veteran like Ian Cole, someone that can play on the third pairing and log some tough minutes on the penalty kill.  Keeping Marc Staal is another option.  Alexander Edler would be a tier a bit above that but that's as good as I think they can do on the free agent front on that side of their back end.
On the trade front, if they keep Hronek and don't add an impact righty, I could see them inquiring about Alec Martinez, a Michigan native.  Vegas still needs to clear money and since they played without him for a lot of this past season, they know they can manage without him if need be.  With two years left on his contract, he'd be an ideal bridge veteran to work with Edvinsson as well.
Johnny Z: Predict the unpredictable: What is Stevie Y's big move this summer? Example: What LD vet does he find? Will he bolster the C position and with who? Does he get Larkin extended under $9M? What veteran goalie does he get?
The defense and center spots were covered above and I'll lean into my Klingberg prediction as their big move with Hronek, who has two years left at an affordable $4.4MM price tag, being flipped for a left-shot defender that's signed or under team control for at least two more years.
As for Larkin, I do think a long-term extension will get done this summer.  He stated at the end of the season that he couldn't see himself playing elsewhere and then changed agents with the belief being that talks on a new deal will start soon.  Unless Yzerman was to low-ball his captain, something should get done.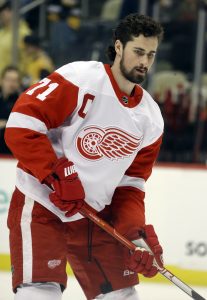 I'm fairly confident it will be under $9MM per as well.  Larkin has never been a point-per-game player and has only come close to that mark twice.  In that sense, he's not a true top center so he shouldn't be expecting to be paid as such.  There are some recent comparables to work off of as well – Mika Zibanejad will get $8.5MM from the Rangers next year, Tomas Hertl is a little over $8MM from San Jose, and Sean Couturier checks in at $7.75MM.  Is Larkin's track record better than those players?  He'd have a hard time making that case.  He's younger so there will be an expectation of more in-prime years that should push his AAV into that range instead of being below it but I'd be quite surprised if his next price tag came in above Zibanejad's $8.5MM.
Now, let's look at the goaltending situation.  I don't think Jussi Olkinuora is the intended backup although I do like that signing to see if he is indeed a late bloomer.  He'll partner up with Sebastian Cossa in Grand Rapids and it's his trajectory that Yzerman will need to be mindful of.  Yes, he's a promising prospect but most goalies will need a few years before being NHL-ready.  With Alex Nedeljkovic's deal set to expire next summer, they need someone on a multi-year deal.
This isn't a great group of veterans to work with so I expect their primary targets to be Ville Husso and Jack Campbell.  Both players don't have the type of clout to command a long-term contract but something in the three-year range is where they should fall.  That lines up with Cossa's timeline in the sense that Husso or Campbell would be expiring when Cossa is ready.  At that point, they can either walk or be extended to partner up with him.  My pick would be one of those two.
If they go elsewhere, I would be looking towards Washington and one of their pending RFAs.  If they want a proven veteran, one of Ilya Samsonov or Vitek Vanecek would be on the move and both of those netminders would be candidates for the medium-term deals I'm suggesting they'll want to give to Husso or Campbell.  They need some stability at the position and getting that should be near the top of Yzerman's to-do list this summer.
Photo courtesy of USA Today Sports Images.