With the offseason in full swing aside from the two teams in the Stanley Cup Final, it's time to examine what each squad will need to accomplish over the coming months.  Next up is a look at the Wild.
This past season was an interesting one for the Wild.  They were one of the top scoring teams in the NHL and knowing the cap adventure that lies ahead (more on that shortly), GM Bill Guerin made some moves to add at the deadline in the hopes of a long playoff run.  Instead, despite finishing fifth overall in points during the regular season, they were ousted in the opening round by St. Louis.  Now, Guerin has some work to do to be able to keep as much of this core together as possible which is the focal point of Minnesota's checklist.
Free Up Cap Space
It's not as if Guerin hasn't known this was going to be at the top of his list at some point.  It would have been the case had they not bought out Ryan Suter and Zach Parise and it still is the case with them being bought out as their dead cap charge went up by $4MM for each player.  That's hard for any team to overcome.  And that's not the total charge, that's just the increase; the total is over $12MM for next season.  (If you want to look ahead a year, it goes up by another $1MM each in the 2023 offseason as well; this isn't just a one-time situation to navigate through.)
At the moment, Minnesota has a little over $7MM in cap space with which to sign multiple forwards, a defenseman, and a second goaltender.  That, on its own, might not sound so bad but once you factor in who some of those players are – that list comprises the rest of their checklist – it's considerably worse.
It's not as if there are some contracts that are well above market value on their books but $12MM in dead space is going to be very difficult to overcome.  A small move or two to free up some extra wiggle room could be the difference in whether they can keep a key player or not.  There's a lot at stake as a result.
Sign Or Trade Fiala
If you read the above and immediately thought of Kevin Fiala, you certainly won't be alone.  The winger has been in trade speculation going back to last summer with this exact situation in mind.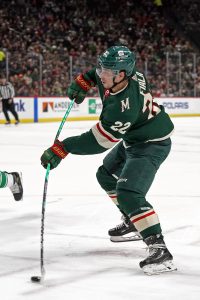 If the two sides would have been able to work out a long-term agreement last summer, that might have been enough to put an end to that speculation.  Instead, Minnesota took the rare step of pre-emptively filing for arbitration before eventually settling on a $5.1MM salary for this past season.  Fiala then went and had a career year, picking up 33 goals and 52 assists in 82 games, all career highs.  Overall, the Wild received really good value on that deal but things are only going to go downhill from here for them.
Fiala is now a year away from unrestricted free agency and while the Wild can't take him to arbitration again, he can take them to a hearing, get a nice raise from the arbitrator, and hit the open market in 2023 in the prime of his career.  A long-term deal could approach the $7.5MM to $8MM range and while Guerin probably wouldn't mind giving that to him, they'd have to part with another core player to make that happen.  At this point, it seems likely that the 25-year-old will be traded.
While Fiala doesn't have a no-trade clause, he holds the hammer on this front as well.  Fiala on a long-term contract has a lot more value than Fiala on a one-year deal.  Teams can't put conditional draft picks in a trade that are dependent on whether or not he signs either.  Guerin will need to work hard to get maximum value for Fiala (likely in the form of futures or young roster players) but will also have to work hard with the pending RFA to find a suitor that he's willing to forego the open market to sign with.  There's a lot of work to do on this front in a short period of time.
Sign Second Goalie
Guerin surprised some with the acquisition of Marc-Andre Fleury at the trade deadline in an effort to give them a second proven veteran goaltender for the playoffs.  He was a little better down the stretch than he was with Chicago and that got him most of the playing time against the Blues.  While it may have seemed like this was just a short-term pickup, Guerin has expressed a firm desire to keep Fleury around to split time with Cam Talbot next season.
While it's certainly fair to say that Fleury will get considerably less than the $7MM AAV he had on his expiring contract, he still should have enough interest out there to get half of that price tag.  Even if Fiala moves for futures, Minnesota can't afford Fleury at that price tag.  They have two options on that front.  One is to try to move a current roster player for someone making less and use those savings to afford Fleury's new deal.  The other is to work out an incentive-laden deal that gives them the ability to roll over the bonuses onto the 2023-24 cap.  Of course, with the dead money going up, that's only pushing the problem over, not fixing it.
If they're unable to keep Fleury, Guerin will need to be aggressive on the open market for a replacement with Kaapo Kahkonen now in San Jose.  Talbot will turn 35 next month and while he's still a capable NHL goaltender, he's not someone that can handle 60-plus games next season.  They'll need a fairly strong second option, one that will be able to play 30 or more games.  That will put them looking in the high-$2MM/low-$3MM range even if it isn't Fleury.  Jesper Wallstedt is their goalie of the future but he's a few years away from being NHL-ready.  They need to add another NHL option in the meantime over the coming weeks.
Re-Sign Middleton
The player Minnesota received in the Kahkonen trade, defenseman Jacob Middleton, is also in need of a new contract.  He's a restricted free agent with salary arbitration rights and is a year away from UFA eligibility.  This is one of those situations where finding fair value is going to be a challenge.
Middleton has just 80 career NHL games under his belt, 66 of which came this season.  Heading into the year, he was a candidate for a deal around the $1MM range but after a strong showing with both the Sharks and Wild, he's going to get more.  If it gets to an arbitrator, the award could be tricky to pin down because of the limited experience but that doesn't give Guerin the hammer by any stretch since a low-ball offer could force Middleton to file for arbitration and see what his value is on the open market next summer.
A long-term contract doesn't seem likely at this point given his limited track record but a deal that buys out a couple of UFA years could be doable.  The AAV would likely jump over $2MM in that situation but it would be a justifiable price.  Of course, the longer the contract, the harder it will be to fit the other pieces of the puzzle in from a salary cap perspective.  Middleton's case isn't as prominent as some of the others but it has to stay in the back of Guerin's mind as he works his way through Fiala's eventual trade and finding a second netminder.
Photo courtesy of USA Today Sports Images.  Contract information courtesy of CapFriendly.