Topics in this edition of the PHR Mailbag include the creative usage of LTIR in recent years, Buffalo's goaltending situation, J.T. Miller's future with Vancouver, and much more.  If your question doesn't appear here and wasn't about Detroit, watch for it in next weekend's mailbag.  If your question was about the Red Wings, watch for that to be covered in a bonus mailbag between now and then.
WilfPaiement: Is there any updated information on Oscar Klefbom? Playing next season? Retiring?
It's the status quo for the Edmonton blueliner.  Klefbom's shoulder injury still lingers and at this point, there's no expectation that he'll be able to resume his NHL career.  He certainly won't be retiring, however.  He's still owed $5.169MM in salary for next season and there's no way he's leaving that on the table to do Edmonton a favor.  Since his deal is backloaded as well, he's not as likely of a candidate to be moved to a team looking to do some LTIR shenanigans.  Speaking of which…
rickg: Are there any opinions on how teams are using the LTIR for the purpose of adding to the roster to better the team, instead of what the LTIR was intended to be used for as a way to replace an injured player on your roster if your team was maxed out and LTIR allowed the team to go past the high-end cap threshold?
There are few things as confusing in hockey as the inner machinations of LTIR.  It might even give 'What constitutes goalie interference?' a run for its money at times.  I'd say by now that most understand the basics which was what the rule was intended to be but these trades that now see injured players going for value that involve transaction sequencing and precise timing of roster moves takes it to a whole different level, one that is much more confusing and harder to explain.
But even if they're harder to explain, are stranger on the surface, and can even flat out baffle people, I have no problem with these types of moves.  The NHL is a hard cap system that doesn't have a lot of potential for wiggle room.  If teams can find a loophole to exploit, go for it.  Use it until enough general managers complain to make it a sticking point in the next CBA discussions.  Right now, there isn't enough of an appetite for trying to close that Pandora's box.
Does the recent Shea Weber for Evgenii Dadonov trade go against the spirit of the LTIR rule?  Of course it does.  But if Montreal and Vegas are both happy at the end of the day and the trade fulfills an objective they wanted to achieve, then good on them for finding a way to make something work.  At least it made for a good discussion point for a bit of time during a quiet part of the NHL calendar when it comes to off-ice movement.
I'll mention that this question came in before that trade happened.  Perfect timing on your part.
Johnny Z: So, does Blashill have the inside track on the Florida coaching job?
The former Detroit bench boss was linked to the Panthers earlier this month but at this point, it's hard to see him being the contender for a position that may or may not be available.  With reports coming out on Friday that Florida is conducting a rather thorough coaching search and has interviewed several prominent veterans, it's hard to see Jeff Blashill coming up as the winner in that particular battle should GM Bill Zito opt to go in a different direction from interim head coach Andrew Brunette.
I think Blashill could be a candidate to be an assistant coach with Florida, however, particularly if Brunette retains the job.  There are openings to be filled and if you have effectively a first-time head coach running the bench, it wouldn't hurt to have someone with recent NHL head coaching experience on the staff.  Blashill, who doesn't seem to be a candidate for any of the other openings at the moment, would be a decent fit in that type of role and unlike the prominent veterans, would likely be willing to accept an associate coach position as well.  He could wind up in Florida, just not as their next head coach.
ckw: Do you think Shane Wright is going to go first overall and if not, who do you see the Habs taking?
I know there's a growing sense that Juraj Slafkovsky could ultimately be the number one pick and I can understand the logic behind it.  Wright's season wasn't up to the admittedly high level of expectations and while Slafkovsky was quiet himself for long stretches, his performance at the Olympics and the Worlds turned some heads.  If he can find a way to play at that level consistently, he's worthy of being the top pick.  But that's a big if.  Even so, this doesn't feel like the type of typical smokescreen you might see at this time of year from the team holding the top pick.
That said, Wright is my expected choice for the Canadiens.  Montreal has been chasing center help for basically the better part of two decades now.  Even when their NHL depth was good, they didn't have that true number one.  I don't think Wright is a true number one either but a combination of him and Nick Suzuki for seven years as their top two options is a lot better than what they've trotted out in recent years.  I have a hard time thinking they can pass on that, especially knowing that their salary cap situation isn't exactly ideal; it's not as if they can go out and sign an impact free agent middleman any time soon.
pawtucket: J.T. Miller gets traded. If yes, to what sort of team and for what sort of package.  If no, which of Horvat or Boeser goes and to what sort of team and for what sort of package.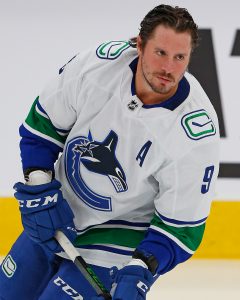 I'm going to say yes, Miller does get traded.  Is Vancouver really prepared to pay upwards of $8MM per season on a contract that starts at the age of 30 for a player who has only twice reached the 60-point mark?  I know he has been much more productive lately but I still see giant red flags when I try to picture that type of contract.  Knowing extending Miller would eventually cost Bo Horvat (they can't afford Elias Pettersson, Miller, and Horvat down the middle), I'd rather take the short-term hit in talent to add some important future assets and gain some much-needed cap flexibility.
As for where, that's a tough one but I'll say Los Angeles.  Anze Kopitar has two years left on his deal and Miller's extension wouldn't start until 2023-24 so there's only one year of overlap.  Kopitar will be in his age-37 season when he signs his next contract so he'll likely be starting to decline at that time; a new top pivot will be needed.  Miller would be a good insurance policy if the likes of Quinton Byfield and Alex Turcotte don't pan out as intended (and if they do, affordable short-term surplus center depth is never a bad thing).  The Kings have the cap space to bring him in now and have some longer-term flexibility.  They also have quality prospects that would make it easier to part with the package it would take.
I'd peg that package as a three-piece deal.  The first-round pick (19th overall) next month would be one of them.  I'd put Rasmus Kupari in their as a second one, a 22-year-old former first-rounder that could be Vancouver's cost-controlled 3C of the future; if he pans out, a Pettersson-Horvat (assuming he'd be extended after moving Miller)-Kupari trio would put them in good shape.  The other is a prospect and looking at what the Canucks have in their prospect pool, a right-shot defender would be a target.  The Kings have a few of those but the one that stands out is Brock Faber, a 2020 second-rounder that's probably a year away from being pro-ready and plays the type of complementary game that would work well alongside someone like Quinn Hughes.
@JoeBad34TD: The Sabres are attempting to get to the cap floor. Bringing on a retired goalie's salary for a 7th rd pick is a waste of resources. Is there anything in the CBA preventing them from overpaying Portillo? I know he is unproven but he offers more than a retired goalie?
Thomas merante: I believe the Sabres are in a goaltending mess, Portillo won't sign, Levi is years away from playing (if he even makes it) and UPL is injured way too often to be looked at as a number one, thoughts on who they may target in FA, thanks.
sabres3277: What do you think the Sabres should do about the goaltending situation? Trade two of the three first-rounders etc. to acquire a high-end veteran goalie, John Gibson? Or give the job to UPL and sign a veteran backup?
Buffalo's goaltending was a popular topic this time around so let's address all of these together, starting with Erik Portillo.  Yes, there is something in the CBA preventing them from overpaying the 21-year-old.  He is restricted to signing an entry-level contract and there are limits on the types of performance bonuses that can be offered, as well as the amounts.
What Buffalo can do that others can't is offer to burn a year of the contract midseason.  Portillo turns 22 in September so he'll become eligible for a two-year deal at that time.  Buffalo can burn the first year of that by signing him once Michigan's season comes to an end, meaning he'd be a restricted free agent in 2024.  If he deregisters from college and becomes a free agent next summer (he'll be four years post-draft and thus eligible to do so), he'll still have to sign a two-year ELC (subject to the same restrictions Buffalo can offer in terms of compensation), meaning he won't get to restricted free agency until 2025.  If you're hoping for some cause for optimism that Portillo will sign with Buffalo eventually, this is it.
Onto the current goaltending situation.  I expect Ukko-Pekka Luukkonen to be one of the two netminders Buffalo has on their opening night roster this season.  They believe he's part of their long-term plans so they need to see him in regular NHL games to better assess his upside.  However, with his limited track record, he's not going to be getting 50-plus starts either so they need a veteran second-string option.
That said, how desirable are the Sabres to free agent goaltenders?  They've missed the playoffs in 11 straight seasons and as things stand, I'd say the odds of making it an even dozen are better than that stretch coming to an end.  Those same free agents know that Luukkonen will be the priority, not them.  As a result, Buffalo isn't going to be on the top of anyone's priority list when it comes to goaltenders except for maybe Craig Anderson if he wants to stay.  If he wants to stay and play 35-40 games while mentoring Luukkonen at a cap hit (and salary) close to the minimum, I suspect that's their preferred option.  In that scenario, they have a better understanding a year from now as to where Luukkonen slots in (as a starter or the backup) and they'll be a year closer to turning things around.  At that point, they're a more desirable target for free agents.
If I had to go outside the organization for a free agent this summer, however, Braden Holtby comes to mind.  He had a good bounce-back year in Dallas and if he's looking for a multi-year deal, Buffalo could be a team willing to go two years and see what a tandem with him and Luukkonen looks like while giving them a little bit of stability at the position.
I wouldn't be considering trading for a goalie at this time, especially not with a pair of first-round picks.  Goalies rarely command much in the way of trade value so why part with some key assets in the middle of the rebuild to get one?  There's no true starter available and what you can get in a trade isn't all that different from the annual free agent carousel.  They need to see if Luukkonen is the goalie of the future before really considering parting with assets (or a long-term contract) for a new netminder.
The Duke: In an attempt to give it a summertime break of sorts, just a simple Crystal Ball prognostication: Now that the dominos are beginning to fall, exactly where does John Gibson play in October? OK, one more little one: With Ellis healthy and Sanheim's stock rising, does Ivan Provorov play elsewhere next season?
The crystal ball appreciates the opportunity to recharge and continues to show Gibson playing in Anaheim next season.  He recently denied reports of a trade request and it's not as if his trade value is particularly high right now after three straight subpar seasons.  With five years left on his contract at an above-market AAV relative to his recent performance, the Ducks aren't going to get the type of trade offer that's good enough to justify trading him.
Last summer, GM Chuck Fletcher acquired Ellis with an eye on bolstering his back end.  They didn't get a lot of time together with Ellis' injury and things went sideways.  But now, with them still going in with a win-now mentality, it seems more likely that they keep those three to see what they can do over diluting their blueline to fill another hole.  If things aren't looking good midseason and it becomes a question of only keeping one of Provorov or Travis Sanheim (a UFA in 2023), then yes, a move will need to be made.  But for now, keeping the core of their defense corps seems likeliest.
MoneyBallJustWorks: Please explain all the Murray to Toronto "rumours". doesn't seem to make sense to me.
Let's go back to Murray's junior days.  He played for the Soo Greyhounds of the OHL.  He was coached by Sheldon Keefe, head coach of the Maple Leafs.  The GM of that team (at least for part of Murray's time there) was Kyle Dubas, current GM of the Maple Leafs.  Former Greyhounds have been brought in previously with both Dubas and Keefe citing familiarity with them being a factor.  Put all of that together and you can see where the speculative link comes from.  They were linked to him two years ago before Ottawa acquired him too for the exact same reason.
If Jack Campbell moves on, they'll need a new starter.  It won't be Petr Mrazek, that much is for sure.  Murray has fallen out of favor in Ottawa so perhaps there's a buy-low type of situation here.  Both Murray and Mrazek have two years left on their respective deals and if the Senators would be willing to retain a sizable portion of Murray's $6.25MM AAV and take back Mrazek at $3.8MM, that could be the foundation of a trade with Toronto sending other assets to cover the holdback in salary.  Is that a great solution for the Maple Leafs?  Probably not but if their other plans fall through, that could be a fallback option.
Y2KAK: Three-peat or Avs?
My pick heading into the series was Tampa Bay in six games and even with Colorado looking quite good in the opener, I'll stick with that.  Andrei Vasilevskiy can steal games while Darcy Kuemper has been up and down with Colorado this season.  Vasilevskiy could steal a game or two and Kuemper could cost the Avalanche a game or two.  That's enough to be the difference-maker.  It's not fair to lay everything at the foot of goaltending in this series but it's the only significant talent gap between the two sides so that's what I keep coming back to.  Based on our poll results, it appears I'm in the minority on that front with nearly two-thirds of the votes coming to Colorado.
Photo courtesy of USA Today Sports Images.