The offseason has arrived for half of the league's teams that weren't playoff-bound plus those who were eliminated in the first two rounds.  It's time to examine what they will need to accomplish over the coming months.  Next up is a look at the Jets.
After being ousted by Montreal in the playoffs a year ago, GM Kevin Cheveldayoff shored up the back end with the hopes that would help Winnipeg get to that next level.  Instead, they underachieved this season, both with and without Paul Maurice behind the bench, and ultimately came up short of reaching the playoffs.  Cheveldayoff once again will have some work to do to try to get the Jets back into the postseason picture.
Hire A Head Coach
With Maurice surprisingly stepping aside midseason, Cheveldayoff made the logical choice to elevate Dave Lowry to the interim head coaching role.  It didn't result in the type of improvement they were hoping for as Winnipeg's points percentage under Lowry (.537) was basically identical to Maurice's (.534).  In other words, the coaching change didn't move the needle.
Lowry was the logical choice at the time in that the team wouldn't have had the opportunity to interview assistants currently employed if they made a full-time hire midseason.  While a handful of assistants are still working at the moment, the team has been able to do a more comprehensive search (beyond Barry Trotz, who is basically singlehandedly holding up the market right now).
While Lowry is expected to interview for the full-time role, a new voice from outside the organization would make the most sense.  A new system from a new coach could be a significant enough change to avoid needing to necessarily make any core changes to the roster.  Cheveldayoff is thought of as one of the managers who tends to be patient with his rosters so it's quite possible that a big addition behind the bench could be their biggest move of the summer.  But with free agency fast approaching (where coaches want to have their input), a new coach will need to be in place soon.
Re-Sign Dubois
When Cheveldayoff decided to shake up his core early in the 2020-21 season with the acquisition of Pierre-Luc Dubois for Patrik Laine and Jack Roslovic, the 2022 offseason became a very important one for the Jets.  That corresponded with the end of Dubois' contract as the 23-year-old is set to become a restricted free agent with arbitration eligibility this summer.  He has already gone through one contentious negotiation, one that ended with a trade request out of Columbus, and now, Dubois is two years away from being eligible to hit the open market.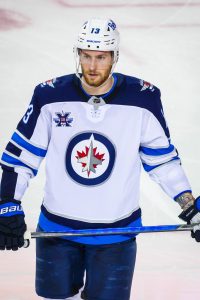 He's coming off a strong season, one that saw him reach a career-high in goals (28) while picking up 60 points.  That has him positioned to land more than the $6MM qualifying offer he's owed but the question is how much higher should they be willing to go?  If they want to sign him to a long-term deal that buys up some UFA years (and Dubois is amenable to signing that type of contract), the AAV is likely to go beyond Kyle Connor's $7.143MM price tag.  Do they want to go that high and reset the benchmark for their younger core?
On top of that, there is also a question of where Dubois best fits.  He was brought in to play center but he has spent a fair amount of time on the wing as well.  A long-term, big-money deal could potentially price them out of re-signing Mark Scheifele in a couple of years; does it make sense to do that for a player who may be better off as a winger than a center?
If it feels like there are a lot of questions for a pending restricted free agent, it's because there are.  The route they go with Dubois will help shape their planning for beyond the 2022-23 campaign so getting this done sooner than later would be ideal.  Dubois is likely to file for an arbitration hearing if something isn't worked out over the next six weeks so this is something that will need to be resolved by late July or early August at the latest.
Create Cap Flexibility
The Jets have around $18MM available this summer but have anywhere between seven and ten players to sign with that money.  A big chunk of that will go to Dubois which won't leave a lot to spread around the rest of the openings.  Freeing up a bit of extra flexibility would certainly help Cheveldayoff to build out the rest of the roster without having to resort to signing several players for minimum-salary deals to stay cap compliant.  Forward depth has been problematic the last couple of years so being able to spend a bit more on their bottom six would help.
In order to do that, they will likely need to trade away from their back end as there really aren't any viable non-core forwards that could be traded to free up space.  They have nearly $25MM tied up in their five most-expensive blueliners which is a lot.  Nate Schmidt didn't have a great trade market a year ago and that likely hasn't changed while Josh Morrissey and Neal Pionk aren't likely to go anywhere.  That whittles it down to Brenden Dillon ($3.9MM through 2023-24) and Dylan DeMelo ($3MM through 2023-24); moving one of them to make a roster spot for a prospect like Ville Heinola or Dylan Samberg would give them some cap relief and also provide a chance for one of them to get an extended look in the NHL.  In a summer where many teams will be looking for some extra flexibility, any little bit helps.
Fill Backup Goalie Slot
Eric Comrie more or less got the backup goalie spot by default with the Jets due to his contract being at the league minimum.  To his credit, he did quite well this season, posting a .920 SV% and 2.58 GAA in 19 appearances, giving Winnipeg solid value from that backup spot.  But Comrie is set to become an unrestricted free agent this summer and after the year he had, he should be able to command more than $750K on the open market.
The Jets will once again need to shop towards the lower end of the market unless they can free up a few extra million in cap space but while Mikhail Berdin is on a one-way deal for next season, his performance with AHL Manitoba isn't good enough to really contend for that spot so they will almost certainly have to look outside the organization if they can't reach a new deal with Comrie.  Considering the opening day of free agency usually results in quite the game of musical chairs for netminders, this is something Cheveldayoff will need to address by July 13th.
Photo courtesy of USA Today Sports Images.  Contract information courtesy of CapFriendly.