The free agent market this summer may be headlined by players in their prime like Johnny Gaudreau and Filip Forsberg but there is also another tier of older talents that can still make a huge impact. Evgeni Malkin, Kris Letang, Patrice Bergeron, and Marc-Andre Fleury could all be going into the Hall of Fame one day and are technically available, once July 13 rolls around.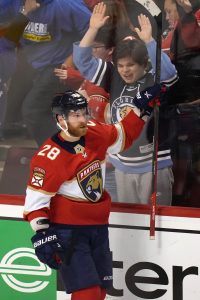 There's another player that should be included in that group: Claude Giroux. The Philadelphia Flyers icon is now 34 and though he may not have a ton of time left in his career, there's no doubting that he can still be an impact player. After scoring 18 goals and 42 points in 57 games with the brutal Flyers squad this season, Giroux showed exactly how productive he can still be by joining the high-flying Florida Panthers and adding 23 points in 18 games. He had another eight points in the Panthers' ten-game playoff run and now must make a decision on where to take his career next.
According to Pierre LeBrun of The Athletic, the first priority would be to stay in Florida. Both Giroux and his agent Pat Brisson told LeBrun that there is a desire to stay with the Panthers if possible, and general manager Bill Zito confirmed that he hopes to find a way to make it happen. Hope, of course, is the operative word, as the Presidents' Trophy-winning Panthers don't exactly have cap space to throw around this summer.
For the first time in a little while, there are no big restricted free agents to sign, but with more than $71.3MM already committed to 16 players, a $637K bonus overage penalty carrying over to next season, and Keith Yandle's buyout penalty jumping to nearly $5.4MM, the Panthers will have to make some moves just to fit their current group in under the $82.5MM ceiling. Getting Giroux seems extremely difficult unless he's taking a huge discount compared to what he could make on the market.
Wherever he lands, Giroux will have an outside chance at hitting the 1,000-point mark this season. The 15-year NHL veteran currently sits at 923 and needs just six goals to hit 300. It would be extremely odd to see him reach those milestones in a non-Flyers sweater, even if he did seem to fit in after arriving in Florida.
Photo courtesy of USA Today Sports Images