Free agency is now less than six weeks away and many teams are already looking ahead to when it opens up.  There will be several prominent players set to hit the open market in mid-July while many teams have key restricted free agents to re-sign as well.  Next up is a look at the Capitals.
Key Restricted Free Agents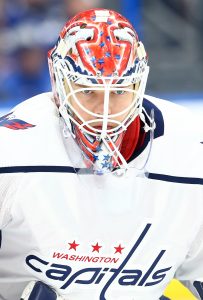 G Ilya Samsonov – After a disappointing sophomore year, the Capitals were hoping that the 25-year-old would have a bounce-back campaign and stake his claim to the starting spot.  It didn't happen.  Instead, Samsonov's performance dipped once again with a save percentage of just .896 while his GAA jumped to 3.02.  In other words, he performed like a backup goalie.  Samsonov is owed a $2MM qualifying offer but is now arbitration-eligible which will help drive the price tag a little higher but it would be hard to see Washington offer a long-term deal.  He still will be RFA-eligible next summer so a one-year contract that gives him one more chance makes the most sense for both sides.
G Vitek Vanecek – Washington opted to trade a second-round pick to Seattle to get Vanecek back a week after they lost him in expansion and it's a move that worked out well for them.  The 26-year-old had a near-repeat performance of his rookie year, posting an identical save percentage of .908 and improving slightly on his GAA from 2.69 to 2.67.  The qualifying offer for under $800K but it's irrelevant as he'll get at least three times that on his next deal.  Unlike Samsonov, Vanecek is a year away from UFA eligibility so they might be inclined to work on a multi-year pact with him which could push the price tag closer to the $3.5MM range.
Other RFAs: D Tobias Geisser, D Lucas Johansen, F Brett Leason, F Beck Malenstyn
Key Unrestricted Free Agents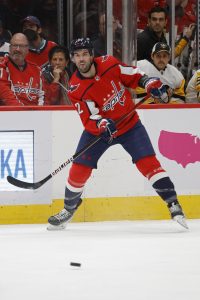 D Justin Schultz – Schultz was a surprise signing in 2020 considering Washington had little cap space at the time which made it seem unlikely that they'd use a lot of it on one player.  His first year with them was good and he was able to hold down a spot in their top four, averaging just over 19 minutes a game.  However, things didn't go as well this season.  His production dipped to 23 points in 74 games (a bit on the low side for an offensive defenseman) while he dipped below 17 minutes in ATOI as he was more sheltered; in the playoffs, that dipped to just over 15 minutes.  The Schultz of 2020-21 was close to being worth his $4MM AAV but this year's version wasn't near that price point.  Still just 31, there will be a market for him – especially as a right-shot defender – but he will be hard-pressed to land a raise in free agency.  A small dip appears likely.
F Marcus Johansson – It took a little while for Johansson to sign last summer, eventually agreeing to a one-year, $1.5MM deal with Seattle before making his way to Washington at the trade deadline for the second go-round with the team.  His per-game numbers were quite similar to his 2020-21 performance so it stands to reason that he should be able to command a similar price tag this time around.  Johansson's positional versatility will help his market but at this point of his career, he's more of a depth scorer than a top-six player like he was just a few years ago.
F Johan Larsson – Larsson has shown flashes of offensive skill in the past but it hasn't yielded much production.  He had a bigger role while he was with Arizona and there was a corresponding increase in production as he was just over a half a point per game before being moved to the Capitals at the trade deadline.  Generally speaking, teams will want to go low on their fourth liners and role players to save some cap space but Larsson has a chance to be an exception as a decent checking center that can chip in a bit from the fourth line.  He should have a chance to at least come close to the $1.4MM AAV he had in each of the last two years.
Other UFAs: G Pheonix Copley, F Shane Gersich, D Matt Irwin, D Michal Kempny, F Brian Pinho
Projected Cap Space
Washington enters this offseason with just under $9MM in cap space and two big question marks with the injuries to Nicklas Backstrom and Tom Wilson.  They could both be LTIR-bound to start the season but at least in Wilson's case, he'll be back after a couple of months.  With Backstrom, everything is on the table still with GM Brian MacLellan saying continuing to play through his injury would be unsustainable.  If they shut him down for a year with surgery, he could stay on LTIR throughout the year and the Capitals would have some flexibility.
Until they know one way or the other, they can't plan for that to happen so for now, the bulk of that $9MM will need to go towards their two RFA goaltenders while they'll also need to sign a defenseman or two with the leftover money.  Unless Backstrom is ruled out for the season, MacLellan won't have much cap flexibility to work with this summer.
Photos courtesy of USA Today Sports Images.  Contract information courtesy of CapFriendly.