The offseason has arrived for half of the league's teams that weren't playoff-bound plus those who were eliminated in the first two rounds.  It's time to examine what they will need to accomplish over the coming months.  Next up is a look at the Islanders.
This past season was a tough one for New York.  They were forced to start with a 13-game road trip to ensure their new arena was ready to go and got hit hard with COVID-related absences soon after.  That put them in too much of a hole to climb out of.  Despite making the Eastern Conference Final the previous two years, GM Lou Lamoriello opted for a coaching change, dismissing Barry Trotz and elevating Lane Lambert to the top role.  However, that can't be the only thing they do this summer if they want to get back into contention; Lamoriello has a few other items on his to-do list in the coming months.
Add Scoring Help
Let's get the obvious out of the way first.  Scoring has been an issue for this team for a while as they haven't averaged three goals per game since the 2017-18 season.  Part of that can be attributed to Trotz's defense-first system but there isn't a lot of firepower on this team.  Only Brock Nelson and Anders Lee cracked the 20-goal plateau this season and over the final two months of the year, Mathew Barzal was regularly playing with Zach Parise and Oliver Wahlstrom; with all due respect to those players, that's probably not the optimal combination for their most skilled forward.
Back at the trade deadline when the Isles were very quiet, Lamoriello opted not to make any changes, stating that his focus was on 'hockey trades' to bring in pieces that better fit his roster.
With the team having barely $12MM in cap space and several roster spots to fill with that money, they don't have the financial flexibility to be aggressive bidders on the free agent market.  Accordingly, this is one of those situations where Lamoriello will make a hockey trade and move out an underachiever for someone that's a better fit.  Wingers Josh Bailey (two years, $5MM AAV) and Anthony Beauvillier (two years, $4.15MM) are candidates to move from their existing forward group while veteran goaltender Semyon Varlamov (one year, $5MM) could also make sense if they find a trade that's acceptable to the 34-year-old who has a 16-team no-trade clause.  Either way, whether it's one of them moving or someone else, New York will need more offensive production to get back into the playoff picture.
Re-Sign Dobson
A good chunk of their cap space is going to be heading towards defenseman Noah Dobson who is set to become a restricted free agent this summer.  After his first two NHL seasons were relatively quiet, 2021-22 was a breakout year that allowed the 22-year-old to finish third on the team in points with 51 including 13 goals.  For perspective, the rest of their blueliners combined for 19.  Not surprisingly, Dobson's ATOI jumped up by more than five minutes a night from his sophomore campaign.  In other words, he had quite the platform year.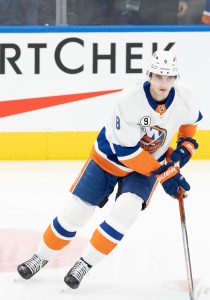 While the Islanders would undoubtedly like to lock Dobson up on a long-term deal, that would go against Lamoriello's tendencies as he has continually opted for bridge contracts for his core RFAs including Barzal and defenseman Ryan Pulock in recent years.  A short-term pact would also allow them some extra cap flexibility to try to upgrade their roster.  That makes the bridge deal the likeliest scenario.
The extremes between Dobson's first two seasons and this one will make it tricky to find the right number and without arbitration eligibility, the Islanders hold more of the leverage.  A two-year deal with an AAV around the $3MM range which is more than what Pulock and Adam Pelech received on their second contracts while a third season could push it closer to the $4MM range.  Anything longer than that would walk Dobson to unrestricted free agency so it's likely that three years is the maximum term that New York will want to go.  It may take a while – Dobson's only leverage is to delay signing in the hopes of getting a better offer later – but eventually, the two sides will come together on a short-term pact.
Rebuild The Defense
Over the past few years, the NHL has started to shift towards a more mobile back end.  The Islanders have been one of the exceptions but now as they work to retool things under a new head coach, this is the right time to try to kickstart that change.
Zdeno Chara and Andy Greene have been successful defensemen in the league for quite a while but mobility has been an issue for both of them while their offensive games are also quite limited.  Both are pending unrestricted free agents and should be replaced with younger, better fits.  Sebastian Aho is more of a mobile blueliner but has struggled in his own end in limited NHL action.  He's also a pending UFA and will need to be retained or replaced.  That's three roster spots that they'll need to try to fill within their limited cap space and in terms of in-house options, only Robin Salo might be able to push for a spot at the end of the roster.
It's also worth noting that Scott Mayfield is a year away from UFA eligibility as well and will be eyeing a sizable raise from the $1.45MM cap hit he's on now.  Any multi-year commitments they make this summer will offset how much they can give to Mayfield a year from now so that's something Lamoriello will have to weigh as he navigates the open market this summer.
With Pelech, Pulock, and Dobson, the Isles have a strong core back end that is either signed or under club control for at least the next four years.  That's a strong foundation to work with.  Now, improvements will need to be made at the bottom end within a very tight cap situation to start moving towards a younger, more mobile defensive group.
Work On Barzal Extension
Three years ago, the Islanders and Barzal eventually worked out a three-year bridge deal, one that will be expiring next summer.  That means once the calendar flips to the start of the 2022-23 league year in mid-July, the two sides will be able to work on a contract extension.  After the season, Barzal stated that he wants to work out a long-term contract and is hopeful to remain with New York for his full career, a proclamation that is certainly encouraging from the team's standpoint.
Barzal will be owed a qualifying offer of $8.4MM which is 120% of his current AAV; that's the lower number between it and his salary for next season ($10MM).  He'll also have arbitration eligibility at that time.  That qualifying number, therefore, serves as the absolute minimum starting point for negotiations as if the 25-year-old doesn't like what the long-term offers look like, he can simply accept the qualifier in 2023 and become UFA-eligible a year later.
The potential challenge here is that Barzal hasn't exactly produced at a level that's worthy of offering considerably more than the qualifier.  While he averaged more than a point per game in his rookie season, the most he has gotten since then is 62 points.  He's undoubtedly their most gifted offensive player but in a more defensive environment under Trotz, his numbers have suffered.  If Barzal thinks things will open up under Lambert, it may make more sense for him to play out next season and see what happens from there knowing the qualifying offer will still be on the table at that time.  But if Lamoriello comes in with a long-term offer in the $9MM range, it might be enough to give Barzal a chance to play for the Islanders for a long time to come.
They may not get a deal done this summer but both sides seem likely to give it a shot.  It isn't as pressing as some of the other elements that will affect their plans for next season but as the offseason goes on and things slow down, that would be an optimal time to get to work on Barzal's file.
Photo courtesy of USA Today Sports Images.  Contract information courtesy of CapFriendly.