Free agency is now less than a month away and many teams are already looking ahead to when it opens up.  There will be several prominent players set to hit the open market in mid-July while many teams have key restricted free agents to re-sign as well.  Next up is a look at the Wild.
Key Restricted Free Agents
F Kevin Fiala — Fiala might be the most high-profile casualty of GM Bill Guerin's decision to buy out both Ryan Suter and Zach Parise last offseason. The Wild are facing a $6.3MM cap penalty from each of Parise and Suter's buyouts for next season, and that figure rises to $7.3MM for the next two seasons after 2022-23. So, that has meant that the Wild have essentially acknowledged their reality with Fiala, that they can't afford the long-term deal he could get from elsewhere and that the best option for both the team and player is a trade this offseason. So, for the Wild, Fiala's restricted free agency isn't about what his next contract will look like but is instead about what the return for him will be in a trade. Fiala had 85 points in 82 games this past year and drove the Wild's second line. Fiala will face questions about his game, namely regarding his playoff woes, as he had only one playoff goal over the past two seasons. Additionally, there is the fair question of how a Fiala-led line would produce outside of an environment where they have another top line to absorb the opposing team's toughest defensive matchups, as the Kirill Kaprizov line did in Minnesota. But even with those questions, Fiala is in line to be paid this summer, especially when one considers the additional leverage he will hold over any team that acquires him via trade.
D Jacob Middleton — The Wild made a slew of trade deadline additions in order to bolster their squad, and one of their lower-profile pickups was acquiring Middleton from the San Jose Sharks. The Wild surrendered goalie Kaapo Kahkonen in the deal, someone who was once considered to be the Wild's "goalie of the future." Guerin's willingness to part with Kahkonen to get Middleton is an indication of how firmly he believed in Middleton's fit in Minnesota. Middleton, 26, was brought to the Wild because of his physicality and overall defensive game. He averaged just under 18 minutes per night as a member of the Wild and also featured on their penalty kill. The Wild clearly like what Middleton brings, meaning an extension with some term attached can't be ruled out. The presence of the buyouts obviously complicates things, but it's not out of the realm of possibility that Middleton gets a contract between $2MM-3MM to stay in Minnesota, contracts similar to the ones other defense-first blueliners such as Tucker Poolman, Dylan DeMelo and Derek Forbort received.
Other RFA's: F Mitchell Chaffee, F Nick Swaney, D Fedor Gordeev, G Dereck Baribeau
Key Unrestricted Free Agents
G Marc-Andre Fleury — The Wild acquired the 2021 Vezina Trophy winner at the trade deadline and alternated between him and Cam Talbot for the rest of 2021-22. The Wild are interested in a return for that tandem, but Fleury may be able to earn a larger contract from elsewhere. Fleury did not play to Vezina Trophy form last year, but he was still solid, especially after his trade to the Wild. He didn't have a great playoffs, but few on the Wild did, and Fleury is at the point in his career where a small dip in performance isn't likely to tank his earning potential anyway. Fleury is still widely viewed as a starting-caliber goalie, so while he'll turn 38 later this year a retirement doesn't seem to be in the cards just yet. What Fleury makes on the open market this offseason will likely depend on if he prioritizes fit over cost on his next contract and therefore whether he is willing to take a smaller contract in order to sign with the team he prefers.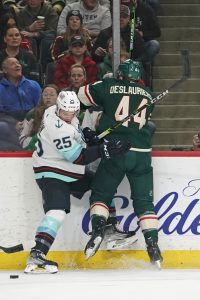 F Nicolas Deslauriers — While the NHL is about speed and skill more than ever before, there is still room in the league for players like Deslauriers and his trip to unrestricted free agency will likely reflect that. The Wild acquired Deslauriers near the deadline to add some grit to their team, and Deslauriers did just that. He didn't do very much else, with only three goals and zero assists in his 25 total games with the Wild, but that's what's about expected from Deslauriers, given that he has only 85 points in over 500 career games. Some fans might scoff at the idea of their team bringing Deslauriers in as a free agent, but he's clearly valued by the league's decision-makers and liked by his coaches. A return to Minnesota is definitely possible, although they could prefer to divert as many cap dollars as possible to scoring help in order to compensate for the expected loss of Fiala, which would then push Deslauriers out.
F Nick Bjugstad — Bjugstad, a Minneapolis native, is no longer the player that scored nearly 50 points on Aleksander Barkov's wing in Florida. Major injury woes have taken their toll on Bjugstad's play, and since scoring 49 points in 2017-18 Bjugstad hasn't crossed the 20-point mark since. In Minnesota, Bjugstad has stabilized his career and become a semi-regular face in the Wild's bottom-six. He didn't play well enough this past year to earn a spot in the Wild's postseason lineup, and despite his bottom-six role he has not featured on the Wild's penalty kill. Bjugstad played on a $900k cap hit last season and, if Minnesota is interested, should be available to them at a similar number for next season.
Other UFA's: D Jordie Benn, F Brandon Baddock, F Kyle Rau, F Nolan Stevens, F Dominic Turgeon, D Jon Lizotte, G Zane McIntyre
Projected Salary Cap Space
This is the area where the Wild face their greatest challenge. The previously mentioned buyouts of Suter and Parise have left Guerin and the Wild's front office operating with a significantly lower effective salary cap than other clubs. The buyouts will cost the team nearly $13MM in cap space this offseason and $15MM for the next two after this summer. As a result, the Wild have only $6.5MM in projected cap space this summer. Trading defensemen with only one year left on their deals such as Dmitry Kulikov or even Matt Dumba could give them some more room, but whatever way you cut it the Wild will find it difficult to make major additions in the next few offseasons without some real creativity involved.
Photo courtesy of USA Today Sports Images. Contract information courtesy of CapFriendly.