The reigning Vezina Trophy winner has been traded again. The Chicago Blackhawks have traded Marc-Andre Fleury to the Minnesota Wild, in exchange for a conditional second-round draft pick in 2022. If Minnesota advances to the Western Conference Final and Fleury wins a minimum of four games in the first two rounds combined, the pick will upgrade to a 2022 first-round pick. Chicago is also retaining 50 percent of Fleury's contract.
Blackhawks general manager Kyle Davidson released the following statement:
This trade immediately puts us in a better position at the 2022 NHL Entry Draft, giving us a pick that will land early in the draft. We are in a better position today at the upcoming draft than we were yesterday. In a short time with the Blackhawks, Marc-Andre made quite an impression on our fanbase and in our locker room. We appreciate his willingness to work with us on finding a deal that worked for everyone. 
In a related move, the Wild have traded Kaapo Kahkonen and a 2022 fifth-round pick to the San Jose Sharks in exchange for Jacob Middleton.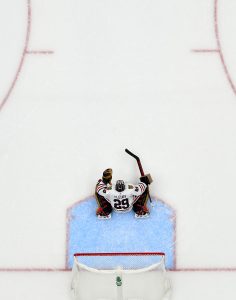 As recently as last night, the talks between Minnesota and Chicago appeared to have broken down, as the veteran netminder took the crease for the Blackhawks against the Winnipeg Jets. Fleury ended up losing that game, allowing five goals on 31 shots. That performance notwithstanding, he'll offer a huge experience upgrade over Kahkonen as the Wild continue their pursuit of the Stanley Cup.
Fleury, 37, won the Vezina with the Vegas Golden Knights last season in the most impressive year of his career, but ended up shipped out to the Blackhawks in a shocking offseason move. From the moment it happened, Fleury's days in Chicago seemed numbered, given his expiring contract and the lack of competitiveness from the Blackhawks after games started. The question was always would he even want to be traded somewhere else, as he ended up with a handshake no-movement clause after arriving in Chicago.
Minnesota now has a netminder with over 900 regular season games of NHL experience, plus three Stanley Cup rings on his shelf. Still, that certainly doesn't mean he's ready to take the Wild all the way. In both of the last two championships he won in Pittsburgh, Matt Murray took over the net at some point in the playoffs, and a similar change happened in Vegas when they brought in Robin Lehner. Over 162 career playoff games, Fleury has just a .912 save percentage, not exactly what most teams need to go all the way.
Among executives in the league who know what Fleury can bring though, Wild GM Bill Guerin certainly ranks pretty high. Their time in Pittsburgh together was quite successful, and now they'll try to do it one more time before Fleury's career wraps up in the coming years (or months).
He'll still have another goaltender to lean on with Cam Talbot, but the fact that Minnesota felt Kahkonen was expendable certainly shows how all-in Guerin is this season. The Wild have huge cap penalties coming next season due to the Ryan Suter and Zach Parise buyouts, meaning this year may be their best chance to contend. Giving up a conditional first-round pick may be a pricey decision for a rental goaltender, but it's hard to argue against the resume that they've brought in.
In dealing Kahkonen to San Jose, the Wild have also shored up the defensive side of the puck by adding a big, mean, physical player in Middleton. The 6'3″, 220-lbs defenseman has finally broken through and become a regular in the NHL this season, averaging more than 18 minutes a night. With the additional acquisition of Nicolas Deslauriers, the Wild have added plenty of size to the lineup to go on a deep postseason run.
For San Jose, adding Kahkonen gives them a potential future starter, though things haven't gone perfectly so far in his young career. The 25-year-old has a .910 save percentage this season in 25 games. Importantly, he's also a pending restricted free agent, one that the Wild would have had to give a hefty raise despite still paying Talbot next season. For the Sharks, they now have two younger goaltenders–along with the injured Adin Hill–who could both provide some great value moving forward.
Sharks acting general manager Joe Will released a statement on Kahkonen:
Kaapo is a quick, athletic goaltender who has shown the ability to win consistently at every level he has played. He provides our club additional depth at the goaltending position this season and in the coming years.
Questions will now be asked about James Reimer though, who currently sits as the starter for the Sharks and is signed through next season. There isn't really room for all three, meaning at some point–either today or in the summer–there could be a market for San Jose to move Reimer out.
Frank Seravalli of Daily Faceoff was first to provide the full details of the Fleury trade, while Michael Russo of The Athletic broke the Kahkonen trade a few minutes after Fleury was acquired. 
Photo courtesy of USA Today Sports Images