With Calgary having another disappointing season, there is an expectation of change coming for the Flames.  One of the players speculated to be in play is winger Johnny Gaudreau but Sportsnet's Elliotte Friedman reported in his latest 31 Thoughts column that extension talks have gotten underway with the 27-year-old who is set to become an unrestricted free agent next summer without a new deal in place.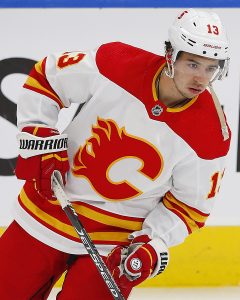 It has been a quiet couple of seasons for Gaudreau.  Back in 2018-19, he put up 99 points, his second straight year of averaging over a point per game.  There was a significant drop-off in 2019-20 to 58 points (with only losing a dozen games to the pandemic-shortened campaign) and there wasn't much of a rebound this season; his 49 points in 56 games yielded slightly better per-game numbers but still nowhere near what they were just two years ago.  That performance is what put him at the forefront of trade speculation but Gaudreau has indicated in the past that he'd like to remain with Calgary.
There are two contractual elements to consider for Gaudreau.  The first is that he has considerable trade protection that is going to kick in once the new calendar year begins on July 28th (which is also the earliest day an extension could be signed).  Right now, he doesn't have the ability to block a trade to any team.  Come the 28th, that changes to just five teams that he's allowed to be traded to without his consent.  If there is any consideration being given to trading him if a new deal can't be reached, it stands to reason that the 28th serves as a soft deadline for that to happen as moving him gets much tougher afterwards.
The second is the price tag.  At $6.75MM, Gaudreau will likely be looking for an increase to forego a shot at free agency.  He was the benchmark contract for Calgary forwards before Matthew Tkachuk got $7MM on his bridge deal and it's likely that Gaudreau will be seeking a bit more than that considering he has outperformed Tkachuk in terms of production for most of their careers.  But with the drop off in scoring the last couple of seasons, is that something that Calgary GM Brad Treliving will be willing to do?  If this isn't a blip but rather a sign of things to come, that type of financial commitment to someone whose numbers are declining isn't really justifiable either.
It's hard to see Calgary bringing back the same core as it has struggled in recent years, not making it out of the first round in the last six years.  Accordingly, a key piece or two will probably be on the move.  Knowing the trade protection that is on the horizon, if the Flames and Gaudreau can't work out a new deal in the coming weeks, expect the trade speculation to quickly intensify.
Photo courtesy of USA Today Sports Images.  Contract information courtesy of CapFriendly.