With a dramatic 6-5 overtime victory over the division rival Minnesota Wild yesterday, the Blues clinched their spot in the playoffs this season. While the story of this Blues team is still unwritten, it isn't too early to look forward to the offseason to examine what the future of this Blues team holds. With the emergence of Ville Husso as the team's number-one goalie and Husso's status as a pending unrestricted free agent, most of the attention paid to the Blues' offseason decision-making has been centered around the situation with Husso and Jordan Binnington, who is the owner of a rich $6MM AAV contract extension. What has flown under the radar as a result has been the pending unrestricted free agency of winger David Perron.
That should not come as a surprise, though, as flying under the radar has become something of a trademark for Perron. Since he was selected from St. Louis to play for Vegas in the Expansion Draft, Perron has quietly become a star scoring winger in the NHL, flirting with point-per-game production several times over the past five years. After his campaign in Vegas where he had 66 points in 70 games, Perron signed in St. Louis, and with the Blues for the past four seasons Perron has a combined 218 points in 245 games, which is a 73-point pace over 82 games. That's the kind of production that makes a player an elite winger, but Perron isn't often viewed as the elite winger his production says he is. So, that can complicate his contract situation, as he has been by all accounts one of the better scoring wingers in the NHL for the past five seasons, but doesn't carry the same name recognition that other scoring wingers hold. As an example, Max Pacioretty, one of the other successful scoring wingers from Perron's 2007 draft class, has 187 points in 218 games over these past four seasons, which is 70-point pace. So Pacioretty has had similar levels of production to Perron (actually slightly lower) over the past four seasons' worth of games, but Pacioretty is routinely mentioned as one of the league's best left wingers while Perron typically maintains a lower profile.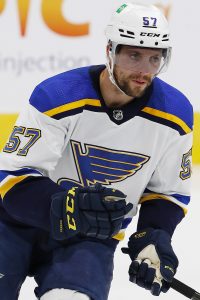 So, why is that relevant for Perron's free agency situation? Because relative to his production, Perron has been underpaid. Perron's contract in St. Louis carries a $4MM cap hit, a number that is significantly below market value for wingers who score at a 70+ point pace. To use the Pacioretty comparable again, his extension with the Golden Knights holds a $7MM AAV, and the going rate for wingers like Perron and Pacioretty is around $7MM, if not more. So that begs the question, is a $7MM+ contract something Perron will be aiming for this offseason? Moreover, given that Perron is already 33 years old, will he be able to get a contract at that number with any real term attached to it, beyond just one or two years? The market will obviously dictate the answers to those questions, but since Perron's career has reached new heights as he's aged (rather than getting worse with age, as happens with most players) it will be fascinating to see how the open market values him. Wingers who can score like Perron don't grow on trees, so despite his age, it cannot be put out of the question that Perron will be able to earn a major contract.
While talented scorers like Perron don't grow on trees for most NHL clubs, they seem to be readily available for Perron's Blues. The Blues' top three forward lines are an embarrassment of riches, and the team has seven players above 50 points on the year, and two more (Ryan O'Reilly and Brandon Saad) are set to reach that plateau by the end of the season. The team's wealth of weapons up front further complicates Perron's free agency situation, as, given the raise he is in line to receive, St. Louis may not be in a position to retain him. St. Louis' forward corps has significant money on the books, with Brayden Schenn, Pavel Buchnevich, and Saad already locked into long-term deals. Additionally, two centerpiece young talents in Robert Thomas and Jordan Kyrou are set to be restricted free agents after next season. Two franchise icons in O'Reilly and Vladimir Tarasenko also are set to be free agents after next season as well.
All of this is to say that the Blues are going to have some major decisions to make in the near future, and it's very possible that given the contracts set to expire, the situation with Husso this offseason, and the team's need to add to their defense, there simply isn't enough room to pay Perron what he deserves. While Perron's third tour of duty as a Blue has been a success, and Perron obviously has a real connection with the market and the organization, if he wants to be paid like the elite winger he has been for the past five seasons, it's going to be difficult for him to get that contract in St. Louis.
Photo courtesy of USA Today Sports Images