2021 was certainly another eventful year, both on and off the rink.  Over the coming days, PHR will take a look back at the top stories from around the game on a month-by-month basis.  Next up is a look at October, a month that yielded a frenzy of signings as the regular season got underway.
Price Enters Assistance Program: While Canadiens goaltender Carey Price was expected to miss the start of the season as he worked his way back from offseason knee surgery, it was a big surprise when he revealed that he had voluntarily entered the NHL/NHLPA player assistance program.  While Price has since exited following the minimum 30-day period, he has yet to play this season and shut down on-ice workouts about a month ago while awaiting a meeting with his knee specialist to determine the next steps.
Crazy Eights: Eight was the magic number for a lot of teams when it came to signing their key players to contract extension.  Many of those deals were handed out with the majority of them being max-term contracts.  Up front, the Panthers stopped Aleksander Barkov from reaching the open market, inking him to an eight-year, $80MM deal.  The Rangers did the same with top center Mika Zibanejad, handing him $68MM over the next eight seasons.  Meanwhile, Montreal made sure to avoid the risk of another offer sheet as they quickly locked up Nick Suzuki to a deal that pays him $63MM over the next eight years.
The money was almost as big on the back end.  Charlie McAvoy is staying in Boston for the long haul as they bought out his final RFA year plus seven more with a $76MM contract.  Toronto is keeping their top blueliner in the fold for eight more years with a $60MM extension while the Islanders handed Ryan Pulock $49.2MM for eight seasons to keep him as the anchor on the back end.  Nashville also extended Mattias Ekholm but his extension was one of the few that bucked the trend in October as he received $25MM over four seasons.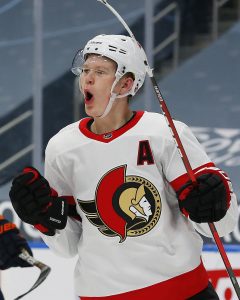 Finally Signing: While it took a while, the three remaining restricted free agents put pen to paper on new contracts.  Ottawa held firm on their desire for winger Brady Tkachuk to sign a long-term contract and while they didn't get a max-term deal, they came close as the two sides worked out a seven-year, $57.5MM contract, making him the highest-paid player on the Senators.  The deal also contains a no-move clause in the final three years of the contract, the only ones eligible for any form of trade protection.  Ottawa soon after gave Tkachuk the captaincy and they now have another long-term core piece locked up through his prime years.
Meanwhile, the Canucks had a pair of restricted free agents in defenseman Quinn Hughes and center Elias Pettersson.  While they didn't have to sign at the same time, it was widely expected that they would considering they're represented by the same agency and the length of one contract would affect the other since they didn't have the cap room to sign both to long-term deals.  In the end, the duo basically signed together as Hughes received the long-term deal (six years, $47.1MM) while Pettersson settled for the bridge contract (three years, $22.05MM).  Hughes will be an unrestricted free agent when his deal is up while Pettersson will have one RFA year remaining with a qualifying offer of 120% of the AAV ($8.82MM).
Kane Suspended: The NHL came down hard on then-Sharks winger Evander Kane for a violation of COVID protocol, handing him a 21-game suspension for what was later reported to be the usage of a fake vaccination card.  It gave San Jose a short-term reprieve from having to decide if he was going to be around the team this season or not (and we all know what decision they eventually made).  At the same time of their announcement, the league revealed that the other investigation they were conducting into allegations of domestic abuse could not be substantiated.
Beach Fallout: Following the releasing of findings into an investigation into allegations of sexual assault by Brad Aldrich in 2010 on what was later revealed to be former Chicago forward Kyle Beach, Blackhawks GM Stan Bowman immediately stepped aside.  Bowman had been at the head of the Blackhawks since 2009 and admitted he made a mistake with how he handled things when he was made aware of the situation.  Meanwhile, two days later, Panthers head coach Joel Quenneville resigned.  He had been coaching Chicago at the time and also had been made aware of the situation back then.  He will have to meet with NHL Commissioner Gary Bettman before being permitted to coach again in the NHL.  Andrew Brunette took over on an interim basis and still is running the bench in Florida.
Photo courtesy of USA Today Sports Images.