The Nashville Predators have been working for some time on an extension for Mattias Ekholm, and have finally reached an agreement. Elliotte Friedman of Sportsnet reports that the two sides have signed a four-year extension worth a total of $25MM. The $6.25MM average annual value will be a substantial increase over Ekholm's current deal, which carries a cap hit of $3.75MM and is set to expire at the end of this season. In a statement, Predators GM David Poile explains exactly why:
When you think about foundational pieces on our hockey team, Mattias Ekholm is certainly at the top of the list, and we couldn't be happier to get this deal done with the start of the regular season upon us. An alternate captain who leads both vocally and by example, Mattias brings stability and size to our defense corps and has embraced serving as a mentor to the younger players on our team. We have a group of young, right-shot defensemen that includes Alexandre Carrier, Philippe Myers, Dante Fabbro and Matt Benning who all have the opportunity to learn from and play with Mattias on the side opposite him, and we're excited about the stability that will provide us on the blue line.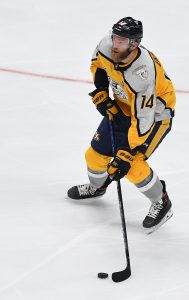 Ekholm, 31, has been a key part of the Predators defense for years now, making his debut back in the 2011-12 season and becoming a regular in 2013. One of the most consistent two-way presences in the league, he has recorded at least 23 points in each of the last six seasons, with a career-high of 44 in 2018-19. With Ryan Ellis now in Philadelphia, he will likely be asked to carry even more responsibility on special teams and is easily the team's most reliable option behind captain Roman Josi.
Still, signing Ekholm at this point is a curious move for the Predators, who don't appear to be in a true win-now mode at this point. Big contracts to Matt Duchene and Ryan Johansen haven't worked out, leaving their offensive group a work in progress to this point. Viktor Arvidsson, a big piece of that attack was shipped out this summer, while Filip Forsberg is on the final year of his current deal. If anything, it seemed more likely that Poile would enter this season ready to pull the trigger on some deadline deals that could restock the cupboard and set up the Predators for future success.
An extension for Ekholm certainly removes him from the deadline equation, and locks him into things with the Predators through 2025-26. There's real risk that this contract won't look very team-friendly a few years from now, though Ekholm has certainly provided plenty of surplus value to this point. The contract he will finish this year is one of the best bargains in the league, perhaps giving the team one last shot to compete with this group before more substantial changes are made.
Photo courtesy of USA Today Sports Images